Re: Very strange news from the metal finisher
November 9, 2012 at 7:49 pm
#14701
RockinEZ
Participant
The metal finisher called this morning and told me the bell had been chrome plated….
I don't see it. I worked with the bell for the last few months, and it looked brass.
The photos above look brass. I saw no indications of plating.
I told them to go ahead and polish the bell.
Who knows what I will get back? The metal finisher says it will be shiny chrome.
My money is still on brass.
Does this look chrome plated to you?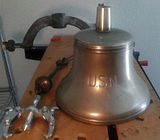 The puller on the bench is steel. I would expect chrome to be more that color.
Anyone ever hear of a US Navy bell being chrome plated?
It is a new one on me.