Reply To: Split: They gotta be kidding! Part II
October 9, 2012 at 7:40 pm
#12643
halanb
Participant
15a – CARL WAGNER BRONZE ROCKY MOUNTAIN SHEEP RAM HEAD BELL #106/1000
Carl Wagner is the artist of this Ram Rocky Mountain Sheep bell made of bronze.
Ringer inside bell is bronze mountain sheep hoof.
Bronze bell weighs approx 10 pounds. It measures 5 1/2″H x 4 1/4″W.
This is not mass produced. It is a one of a kind limited edition.
This is #106/1000. Signed by the artist.
Another of the Carl Wagner bells, one of the more common, but apparently no problems with the bell.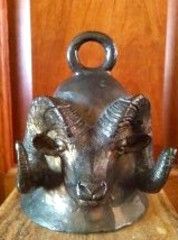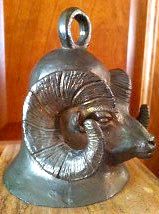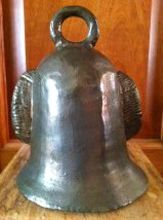 At this weight (10 lb) you might expect to get at least 2 of them.
At this price you might expect to get about 10 of them.
Second time around, the seller cut the price by 80-90% and managed to sell it,
still at a somewhat inflated price.
http://www.ebay.com/itm/370656386146?ssPageName=STRK:MESINDXX:IT&_trksid=p3984.m1436.l2649
=================================================================================================
15b – TIFFANY & CO. STERLING SILVER DINNER BELL ENAMELED #M187 RARE! MUSEUM QUALITY
RARE Sterling Silver hollow handle DINNER BELL ENAMELED #M187 ALL STERLING by TIFFANY & CO. It is NOT monogrammed. There is a little enamel loss to the orange flower (see pic), otherwise excellent condition. The entire bell is hand hammered. The body of the bell has a raised beaded design and acid etched ferns. The handle has a large blue flower, a large orange flower, and 2 small green flowers on opposite sides. Beautifully done, circa 1873-1891 (M datemark). Measures 4″ in height. Bell diameter is 2 1/4″.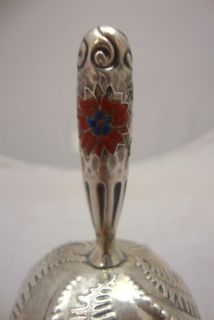 Yes, I know you pay extra for the Tiffany name, but …
http://www.ebay.com/itm/150826816194?ssPageName=STRK:MESINDXX:IT&_trksid=p3984.m1436.l2649
=================================================================================================
15c – B E L L S – huge collection of old, antique bells, 850 bells
This is a HUGE collection of over 850 bells.
700 of them are solid brass,silver, copper, iron or other metal,
while the rest are porcelain, crystal, and glass.
Most of them are valuable antiques, and only a few dozens are quite modern.
I've built this collection over 15 years – this is a great opportunity to expand or build your own bell collection.
Mostly they are in excellent condition, just several are missing clappers. They are sorted by type, and carefully packed .
The cost of shipping is only for 48 lower states and depends of the place of destination.
There are 9 cardboard heavy boxes of bells, from 12 to 57 lb each box , about 330 lb and shipping will be expensive.
Two immediate problems with the description:
(1) few are valuable,
(2) few are antique.
The asking price is about $12 per bell, and I suspect you could buy them for less.
If one accumulates a collection like this and you enjoy the bells, then fine, but who would buy them?
Anyone who buys bells in this class could probably not afford the entire set.
Anyone who could afford the entire set would probably want a better grade of bell.
http://www.ebay.com/itm/190730260814?ssPageName=STRK:MESINDXX:IT&_trksid=p3984.m1436.l2649
=================================================================================================