Reply To: Split: Split: They gotta be kidding! Part III
August 30, 2014 at 4:21 pm
#12651
halanb
Participant

ANTIQUE Dinner Bell Bronze Sculpture Josef KRATINA RODIN Figures Nudes US statue
Stunning Art Nouveau bronze Dinner Bell in the shape of elegant Lady holding up her dress
In great condition with no damages on patina, the subject is typical of the Art Nouveau period
It measure about 7 cm high, 6cm long and 5 cm wide
This marvelous bronze Scuplture signed KRATINA
Josef KRATINA – Czech sculptor, lived in Paris for a few years, student of Rodin
Married to Ruzena (Rose) Kracick
Kratina and Ruzena Emigrated to New York ca.1907
Their daughter Lydia Kratina marries in 1933
the Slovak painter and graphic artist Koloman Sokol
Many pictures in the listing, some rather dark and some rather unflattering.
Seller says 7 cm in height, but actually 6 cm, or slightly under 2.4 inches.
Art Deco lost wax bronze lady figurine bell, so always in demand, but a rather small figure.
Sculptor is a listed name, but not well known nor highly sought.
I would expect a normal sale at about 10% of the Buy-It-Now price.
Clapper is a replacement with a knurled nut.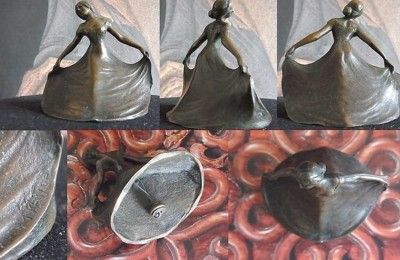 The Kratina bell is often paired with a similar lady by Pater Tereszczuk.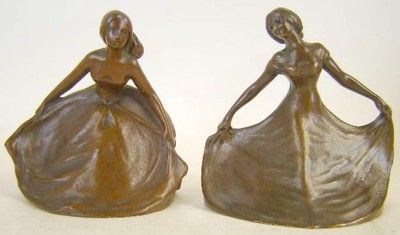 http://www.ebay.com/itm/201093047019?_trksid=p2055119.m1438.l2649&ssPageName=STRK%3AMEBIDX%3AIT#ht_10101wt_1078
===================================================================================(2750)=