Re: Re: They gotta be kidding! (Part 8)
November 25, 2011 at 5:41 pm
#12634
halanb
Participant
SUPERB FRENCH ART DECO SILVER GILT GOLD MOONSTONE ENAMEL AGATE BELL PUSH
THIS PIECE IS AN EXTREMELY FINE AND HIGH QUALITY ANTIQUE FRENCH BELL PUSH FROM THE ART DECO OR SLIGHTLY EARLIER EDWARDIAN ERA.
THE FINIAL IS MOONSTONE IN A GOLD RUBOVER MOUNT, THE DOME IS BEAUTIFUL PEACH COLOURED GUILLOCHE ENAMEL OVER 18CT GOLD WITH A FINE ENGRAVED SILVER GILT LOWER BAND. THE BASE IS CARVED FROM A SOLID PIECE OF AGATE.
THIS REALLY IS EXCEPTIONAL QUALITY.
SIZE (approx) (25.4mm to the inch) 54MM ACROSS X 35MM TALL
WEIGHT (approx) (31.1g to the troy ounce) The weight is 92g. Gross.
Yeah, okay, it is an Art Nouveau bell push, looks nice, but nothing special about this object to distinguish it from hundreds of similar items. Fairly small (~2″) and the 2nd photo shows that it will not sit flat on a table so it must have been mounted in something else. Has been 'around the block' several times with no takers.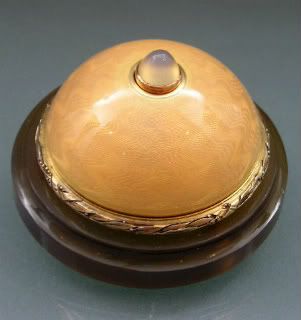 http://www.ebay.co.uk/itm/SUPERB-FRENCH-ART-DECO-SILVER-GILT-GOLD-MOONSTONE-ENAMEL-AGATE-BELL-PUSH-/230701217614?pt=UK_Antiques_DecorativeAntiques_Collectables_EH&hash=item35b6dd374e
===============================================================================================================