Re: Re: So, what is this worth? (Parts 1-87 & 88; now 9 pages)
March 5, 2012 at 8:12 pm
#15186
halanb
Participant
89a – A WONDERFUL BRONZE DIVINATION BELL W INTERESTING DESIGN YORUBA TRIBE OF NIGERIA
This is a wonderful 19thC divination bell from the Yoruba tribe of Nigeria.
It has very unique and interesting form. There is a detailed face.
The bottom of the bell has an open design.
The patina is nicely developed. The bronze has darkened wth age. In good condition.
The ringer is made of iron.
We guarantee that this item has been tribally used.
Height approx 15 cm (6 in)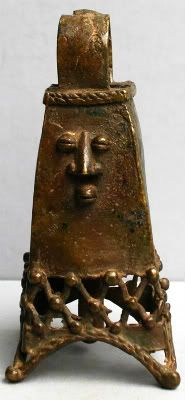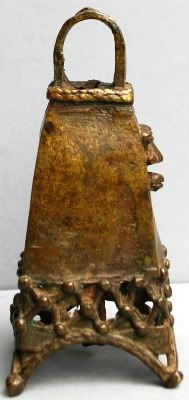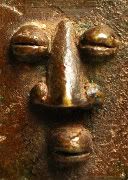 http://www.ebay.com/itm/120867849786?ssPageName=STRK:MEWAX:IT&_trksid=p3984.m1423.l2649
=================================================================================================
89b – RARE – MERIDEN FIGURAL BELL – Girl Holding Plunger on Oval Base circa 1890
A beautiful figural bell by Meriden in silverplate. A girl stands beside a bell with her hand on the plunger. When the plunger is tapped down, the bell rings – and makes a very nice, bold ring. A handle runs from one side to the other over top the girl and bell. The platform they sit on is oval in shape and is etched with a design on the front and back. The platform is footed. The girl is held on to the base by screws from underneath (one screw is missing) but she is held on by the other screw.
Marked MERIDEN B. COMPANY in circle mark with scales on bottom. Also impressed #8
Measures: 8 3/4 inches high x 6 1/2 inches wide x 4 inches deep.
Excellent condition – Silver plating in excellent condition with no wear.
We saw one of these previously in Part 28b-3, but, as robfromcanada pointed out,
that one was missing the top loop.
http://www.ebay.com/itm/300669576060?ssPageName=STRK:MEWAX:IT&_trksid=p3984.m1423.l2649
=================================================================================================
89c – MONUMENTALE CLOCHE ELEPHANT BRONZE, Paris, Sgn, XIXe. NOVELTY FRENCH HUGE BELL
Voici une superbe clochette géante de comptoir ou de bureau, à bouton dissimulé dans le turban du cornac, en bronze fondu, joliment ciselé et gravé, à patine 2 couleurs, sur un socle ovale en marbre noir, une pièce très importante, environ 30cm x 30cm, pesant plus de 5 kilos! Bel objet Orientaliste, Epoque Napoléon III, la sonnette à remontoir, en bon état de marche, rend un son très agréable et continu, elle est signée JP Paris. C'est une pièce incroyable, un must pour collectionneurs, en vente pour 5 jours aux enchères, pas de buy it now.
Dimensions: voir photos.
Etat: Excellent, pas de défaut, la cloche sonne de façon très agréable…..
MONUMENTAL BRONZE ELEPHANT BELL, Paris, Sgn, XIX. HUGE FRENCH BELL NOVELTY
Here's a great giant bell desk or office, hidden button in the turban of the mahout, cast bronze, beautifully chased and engraved, with two color patina on a black marble oval base, a very important piece, about 30cm x 30cm (12in x 12in), weighing over 5 pounds! Orientalist beautiful object, Napoleon III Period, wind-up bell, in good working order, makes a very pleasant and continuous ring, it is signed JP Paris. This is an incredible piece, a must for collectors, sold at auction for five days, no buy it now.
Dimensions: see photos.
Condition: Excellent, no defects, the bell sounds very nice …..No problems
The mechanical bell mechanism is a standard item and used with a number of different mounts. The most common form is shown in the last two pictures, with a cylindrical base and a simple push mechanism, and usually sells in the $75 range.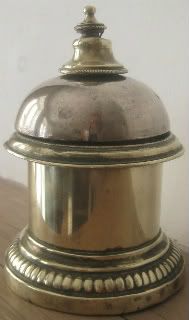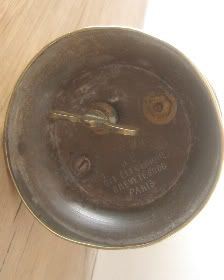 [http://www.ebay.com/itm/350541972924?ssPageName=STRK:MEWAX:IT&_trksid=p3984.m1423.l2649
=================================================================================================