Re: Re: So, what is this worth? (Parts 1-70 & 71; now 7 pages)
December 19, 2011 at 3:38 am
#15179
halanb
Participant
Part 72 – Three more bargains
=================================================================================================
72a – Antique Meriden Silver Plate Cruet/Condiment set Circa 1890s w/ Maids Call Bell
"Victorian" / "Edwardian"
Meriden Silver Plate Cruet / Condiment Set
With "Maids / Butlers" Call Bell.
The Meriden Britannia Company was formed in 1852 in Meriden Connecticut. They were one of the original companies that joined together to form the International Silver Co. in 1898. Meriden was noted for their Heavy Silver Quadruple Plating. This Set is antique and has been well loved and used. There is a bell in the center which makes it quite unusual. The bell has a beautiful tone and looking at the wear, the Maids and Butler were called often to the table side.
The skirt on this piece has a nice trailing Ivy pattern. Base holds Six Condiment Bottles. One stopper is missing. Both crystal stoppers have some chip damage. Screw tops fit tight. Set is very sound, sturdy and quite heavy. For it's age, it's in very good condition.
Set measures approximately 15 inches high and 7 1/2 inches across and widest point.
Please see (Hallmark) Markers Mark and edition Number 19 on Base.
Meriden produced limited-edition silver and silver-plate items. These are clearly marked by the numbers incised into each piece.
Common item for metal bell collectors. A few problems (missing stopper, chips) but Meriden was one of the best makers and I would have to think that this item slipped by mostly unnoticed.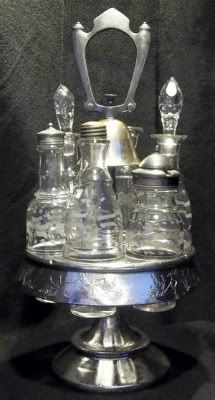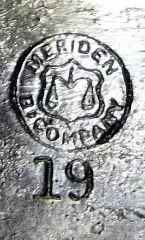 http://www.ebay.com/itm/130615613057?ssPageName=STRK:MEWAX:IT&_trksid=p3984.m1438.l2649
=================================================================================================
72b – VINTAGE BEAUTIFUL ORNATE BRASS BELL ANGEL FACE / CHERUB / ANTIQUE / RARE
UP FOR AUCTION IS THIS BEAUTIFUL BRASS BELL . THIS BELL STANDS 3 1/2 INCHES TALL AND IS ORNATELY DECORATED WITH CHERUB FACES FOUR IN ALL AND BEAUTIFULLY ETCHED , BELL IS VERY HEAVY AND SOUNDS GREAT . DONT MISS OUT ON THIS GREAT BELL YOU WONT BE DISAPPOINTED.
Top quality lost wax figural bell, another that I think slipped by. Seller says "brass", but pic3 gives a hint that it is actually nickel plated. See pic4 for a comparison of this bell with a bronze version. Note that the stub handle on the nickel bell is the same design as a part of the bronze handle, then inverted with a short spacer added.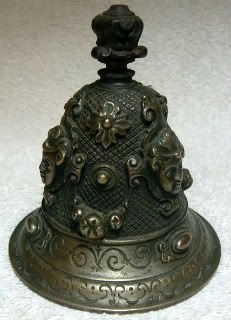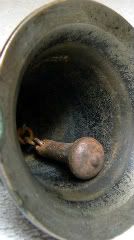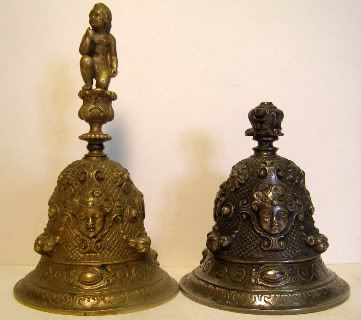 http://www.ebay.com/itm/320809551248?ssPageName=STRK:MEWAX:IT&_trksid=p3984.m1438.l2649
=================================================================================================
72c – MEXICO "VICTORIA" STERLING SILVER BELL – MAKER ANA NUNEZ BRILANTI
MEXICO "VICTORIA" STERLING SILVER BELL
CREATED BY ANA NUNEZ BRILANTI
The Eagle mark was instituted by the Mexican government in
1948 which was used until ca. 1955.
I have included a few pictures of the markings from the internet
which is inside the bell and hard to interpret. The only thing thats
missing on the pictures is the bell also has sterling and 139 on it.
The bell is 3 3/4″ tall, the bottom is 1 1/2″ per square and weighs 2 ozs.
Ana Nunez Brilanti moved to Taxco in 1940 and began making silver items. The firm continues to this day, under the direction of her grandsons. Unusual, but useful, to have this much information about a bell.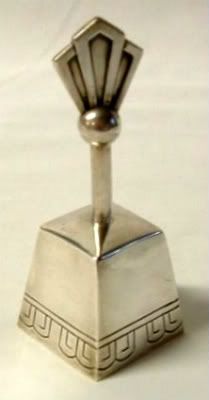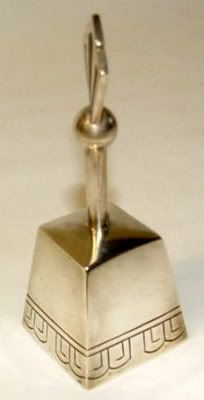 http://www.ebay.com/itm/160696077819?ssPageName=STRK:MEWAX:IT&_trksid=p3984.m1438.l2649
=================================================================================================