Re: Re: So, what is this worth? (Parts 1-147 & 148; now 16 pages
January 20, 2013 at 8:36 pm
#15287
halanb
Participant
149a – ANTIQUE SOLID SILVER BELL FORM INKWELL WWI WEDDING BELL ANNA & JIM 1914 C1913
A FABULOUS ANTIQUE NOVELTY SOLID SILVER INKWELL IN THE FORM OF A BELL.
FULLY HALLMARKED WITH THE BIRMINGHAM ASSAY STAMP,DATE LETTER O C1913 AND MAKERS INITIALS AJZ FOR THE HIGHLY SOUGHT AFTER SILVERSMITH A&J ZIMMERMAN.
POSSIBLY A WEDDING GIFT ENGRAVED WITH THE NAMES ANNA & JIM MARCH 28TH 1914 JUST 4 MONTHS BEFORE WWI.
THE BELL MEASURES 9.5CM MAX HEIGHT X 9CM MAX DIAMETER AND WEIGHS 208.5grammes 7.35OZ.
THE INKWELL IS IN GOOD FAIR CONDITION. THE INNER GLASS LINER IS MISSING.
THERE ARE FEW DINGS AND DENTS,FOOT RIM AND NEAR THE BACK HINGE,THE LID ALTHOUGH FLUSH IS SLIGHTLY MISHAPPEN.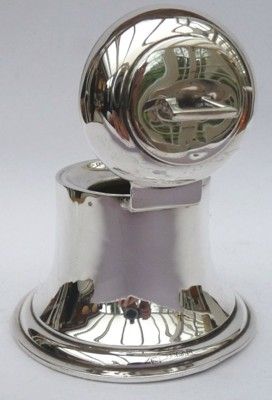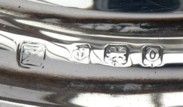 http://www.ebay.com/itm/380551013967?ssPageName=STRK:MEWAX:IT&_trksid=p3984.m1438.l2649
=================================================================================================
149b – ANCIENNE CLOCHE DE TABLE OU DE RECEPTION EN FORME DE TOUR EIFFEL EN REGULE
OLD TABLE OR RECEPTION BELL IN THE FORM OF THE EIFFEL TOWER IN POT METAL
No further information was supplied.
This particular bell has a twist mechanism, though it is also found as a simple tap bell.
Wikipedia: Pot metal is a colloquial term that refers to alloys that consist of inexpensive, low-melting point metals. The primary advantage of pot metal is that it is quick and easy to cast. Due to its low melting temperature no sophisticated foundry equipment is needed and specialized molds are not necessary. The primary component of pot metal is zinc, but often the caster adds other metals to the mix to strengthen the cast part or to improve the flow of the molten metal. With a low melting point of 419 °C (786 °F), zinc is often alloyed with other metals including lead, tin, aluminium and copper. Pot metal can be prone to instability over time, as it has a tendency to bend, distort, crack, shatter, and pit with age.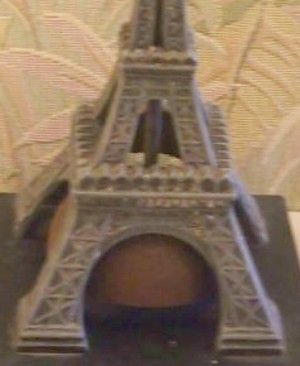 http://www.ebay.com/itm/160953520992?ssPageName=STRK:MEWAX:IT&_trksid=p3984.m1438.l2649
=================================================================================================
149c – Antique / Vintage Ornate Gilded Metal And Porcelain Lady Bell. Counter Bell.
Well made antique / vintage gilded metal and porcelain lady bell.
The skirt is very detailed with a floral pattern, pleats and belt.
The body and face of the lady looks to be hand painted.
Small old chip / fault to ladies back.
O/all height15.4 cms ( 6 1/16″) X 7 cms (2 3/4″) dia approx.
Possibly made from a porcelain half doll (see Pic 5).
From About.com: Half dolls are just that–generally, the upper half of a human figure, without legs. Half dolls were produced without legs so that they could be attached to something useful–very commonly, pin cushions, but also whisk brooms, tea cozies, and numerous things that could grace a ladies dressing table, such as powder boxes. The vast majority of Half Dolls were produced between 1900 and the 1920s, although some were produced earlier than that and some later. Some half dolls are still reproduced today. Most half dolls were produced in Germany, by firms such as Dressel & Kister, F. W. Goebel, Ernst, Bohne & Sohne, Heubach, Hertwig, Karl Schnider and many others. Japan also flooded the market with inexpensive models. Most half dolls are between 2 and 6 inches tall, although there are smaller and also a few larger examples. Half dolls are generally made of porcelain (glazed bisque, sometimes called china) although there are also models made in unglazed bisque.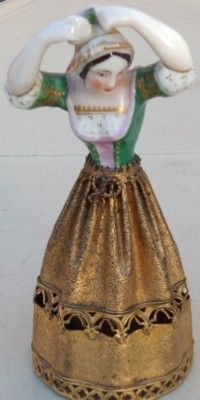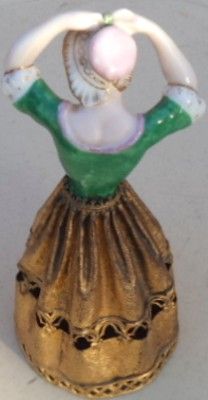 http://www.ebay.com/itm/230912113902?ssPageName=STRK:MEWAX:IT&_trksid=p3984.m1438.l2649
=================================================================================================