Re: Re: So, what is this worth? (Part 99)
April 10, 2012 at 1:47 am
#15205
halanb
Participant
99a – TRAMP ART COOL METAL ART PIECE WITH WORKING BELL
Extremely awesome Tramp Art figurine.
A ton of great art work done by this artist.
One of the coolest pieces I have ever seen.
Much work went into this great piece. The details are amazing.
6″ tall.
Working bell!
Tramp Art is somewhat similar to Trench Art (see above).
The glamorous definition would have a tramp creating items in a hobo jungle. A more realistic definition would place it as a branch of Folk Art – relatively simple items, sometimes whimsical like this item, created outside the 'fine art' circles, often made of inexpensive or salvaged materials. Metal items, like this bell, were often a composite of small plumbing or electrical fixtures, nuts, bolts, horseshoe nails, sheet metal, etc.
If copper/brass, they are soldered together; if iron, they are brazed together.
You don't see these very often with a bell motif, but they are fun to collect.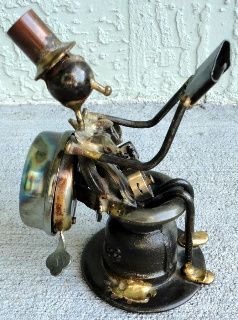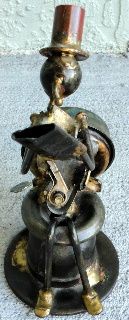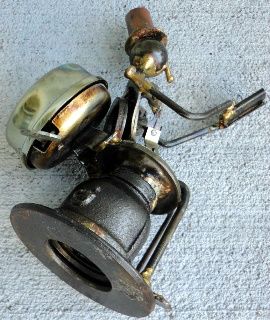 http://www.ebay.com/itm/251033915213
=================================================================================================
99b – Sonnette de table bronze crabe
Curieuse sonnette de table en forme de crabe. Bronze. France. Fin XIX ème siècle.
Le mécanisme est grippé. Dimensions : 17, 5 X 14, 5 cm.
19th Century bronze desk bell in the form of a crab. The bell mechanism does not function.
French. Measures 17.5 x 14.5 cm (7 x 5.8 in).
Note: the English translation was provided by the seller, who says "the mechanism does not function".
Literally, I think this would be "the mechanism is jammed", which might mean something slightly different.
In any case, it is an unusual mechanical desk bell with an interesting design, and one that would not
be found in many collections. I suspect it is brass, not bronze, but that would make no difference.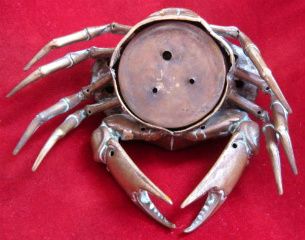 http://www.ebay.com/itm/320880643505
=================================================================================================
99c – Very rare French bronze Chinese Monk Mandarin moving head hit gong hotel bell
Very rare antique French bronze hotel bell
You move the head and that movement allows to hit the gong
Excellent definition
18 cm (7.2 in) 12 cm (4.8 in) approx. marble base included
Showing normal wear
The listing includes a link to a Youtube video that demonstrates how it works.
(Pull the head to the rear and a hammer strikes the back of the gong.)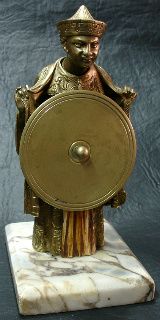 http://www.ebay.com/itm/130674669923
=================================================================================================