Re: Re: So, what is this worth? (Part 96)
April 3, 2012 at 2:17 pm
#15209
halanb
Participant
96a – Original : Porte Montre à Sonnette et baguier du 19ème siècle
Le porte montre avec sonnette est formé de deux coupelles en porcelaine peinte à décor de grisaille sur monture en métal doré.
Une sonnette est fixée en dessous avec un balancier actionnant la sonnette.
Le porte montre est en bon état, il y a un éclat à l'intérieur de la coupelle ovale.
Largeur 17cm
Profondeur 12,4cm
Hauteur 16,4cm
Poids 0,250kg
Original: Bell with holders for watch and rings, from the 19th century
The bell is formed with two porcelain bowls decorated with painted grisaille on gold metal frame.
A bell is attached below with a lever to strike the bell.
The item is in good condition, there is a glow inside the oval dish.
Width 17cm (6.8in)
Depth 12.4 cm (5in)
Height 16.4 cm (3.4in)
0.250 kg (9 oz) weight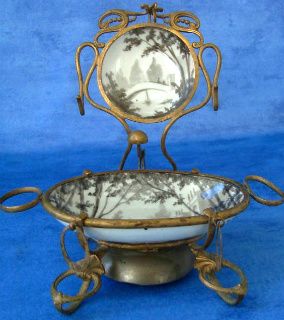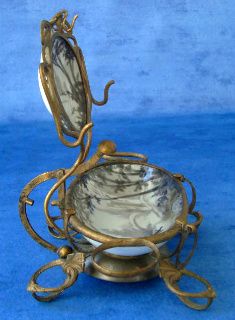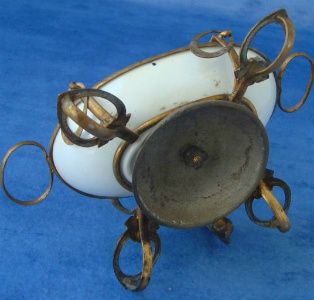 http://www.ebay.com/itm/260987315645
=================================================================================================
96b – Super interessante Tischglocke/Türglocke in Form einer Eule.
Ein super schönes Sammlerstück und sehr selten zu bekommen.
Messing mit Glasaugen.
Höhe ca. 6 cm.
Größe ca. 12,5 cm x ca. 12 cm.
Leider hat jemand die Feder überzogen.
Wenn sie sehr vorsichtig aufgezogen wird fängt sie an zu Klingeln.
Läst sich sicherlich mit etwas Geschick reparieren.
Eingeschaltet wird sie am Schnabel.
Sie funktioniert als Tischglocke um die Frau heranzuholen oder als Türglocke,
für den Besuch.
Super interesting dinner bell / bell in the form of an owl.
A super nice collectible and very rare to get.
Brass with glass eyes.
Height about 6 cm (2.5 in).
Size approx 12.5 cm x 12 cm (5 in x 4.8 in).
Unfortunately, someone has covered the spring.
If it is pulled very gently it begins to ring.
Nuisance repair may require some skill.
The switch is the beak.
It functions as a dinner bell to zoom in on the woman or as a door bell
for the visit.
There seem to be quite a few of these offered for sale recently, often with a Buy-It-Now price anywhere from $599 to $1599. A knowledgeable mechanical bell collector, Robfromcanada, warns that many of them are low quality reproductions, so Buyer-Beware. This appears to me to be one of the older ones, and sold at a relatively low price.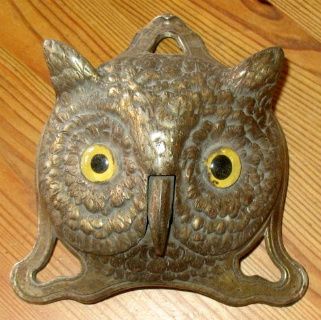 http://www.ebay.com/itm/170814526353
=================================================================================================
96c – FRENCH FLINT GLASS with bronze DEVIL figural handle and coordinated clapper
The bell is square shaped green glass and probably made in France in the 19th century. The handle is a bronze Devil that is hand-painted and stands on a decorative metal disc. The coordinated metal clapper is in the shape of a pitchfork. The bell measures 4″ high and 1 3/4″ across.
This piece is in excellent condition with no chips or cracks !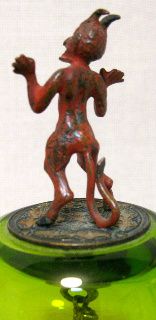 http://www.ebay.com/itm/140730450823
=================================================================================================
96d – Rarest 19thC French Flint Lavender Glass/Sterling Bell-Chicken & Egg-Baccarat?
You are viewing a fine and rare 19thC French flint lavender glass bell featuring a chicken handle and an egg clapper. The chicken seems to be enamel over silver. The clapper has the chicken leg coming down and holding an egg. The bell measures approximately 4.5″ tall and 2.25″ wide. The bell is unmarked except for the word "sterling" on the top of the bell. The bell is in excellent estate condition and has no chips, cracks, fleabites,etc.
This is probably the most common of the flint glass bells. It was listed for less than one day, and sold with a Buy-It-Now.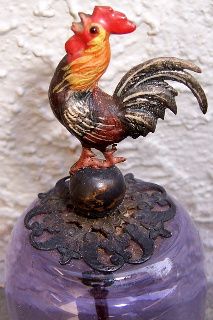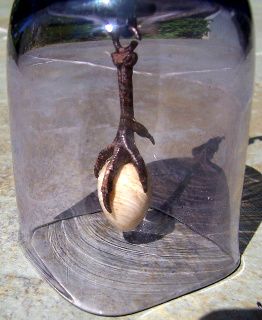 I have already used the allowed number of 3 links, but you can search eBay for item# 230771573938
=================================================================================================