Re: Re: So, what is this worth? (Part 86)
February 23, 2012 at 4:59 pm
#15198
halanb
Participant
86a – Seltene und schöne Messing Tischklingel mit Porzellanei, Russland?
Sehr seltene Tischklingel / Tischglocke für Bedienstete
stammt wohl aus einem alten Damenzimmer und womöglich aus Russland
Die Klingel hat einen tollen hellen Klang und funktioniert einwandfrei.
Schöne Handwerkskunst aus Messing, daß handbemalte Ei ist aus Porzellan und ebenfalls in Messing gefasst.
Nur bei genauem Hinsehen erkennt man einen Haarriss sonst keinerlei Beschädigungen gefunden.
Höhe gesamt ca. 13cm, Das Ei ist ca. 8cm groß und ca. 4,3cm im Durchmesser
Die Klingel ist ca. 6,5cm im Durchmesser.
Rare and beautiful brass table bell with Porcelain, Russia?
Very rare desk bell / desk bell for staff, probably comes from an old ladies' room, and possibly from Russia.
The bell has a nice bright sound and works fine.
Beautiful craftsmanship in brass with hand-painted porcelain egg and also made ​​of brass.
Only on closer inspection you can see a hairline crack found no other damage.
Total height about 13 cm (5.2 in). The egg is about 8 cm (3.2 in) tall and approximately 4.3 cm (1.7 in) in diameter. The bell is about 6.5 cm (2.5 in) in diameter.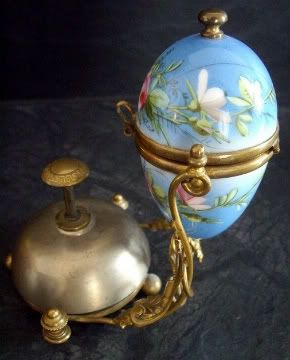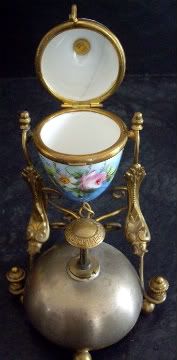 http://www.ebay.com/itm/320848290898?ru=http%3A%2F%2Fwww.ebay.com%3A80%2Fsch%2Fi.html%3F_from%3DR40%26_trksid%3Dp3984.m570.l1313%26_nkw%3D320848290898%26_sacat%3DSee-All-Categories%26_fvi%3D1&_rdc=1
=================================================================================================
86b – Unusual Late 19th Century Japanese Lizard Decorated Table Bell
Unusual Late 19th Century Japanese table bell with bronze lizard decorated handle.
Beautifully crafted from a selected wooden branch/root & decorated with little bronze caps & the most beautiful cast bronze lizard.
Condition is really excellent with lovely natural patina.
One of the lizard's green glass eyes is missing & a couple of the little root end caps are missing also.
Really unusual high quality item in good working order.
Please see detailed pictures for condition overall.
Size: 27 cm (10.8 in) high x 7.8 cm (3 in) bell mouth diameter.
Weight: 248.4 grams (9 oz).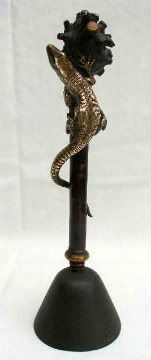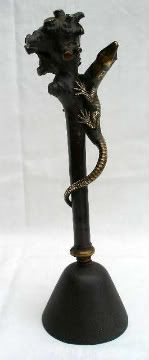 http://www.ebay.com/itm/170787598720?ru=http%3A%2F%2Fwww.ebay.com%3A80%2Fsch%2Fi.html%3F_from%3DR40%26_trksid%3Dm570.l2736%26_nkw%3D170787598720%26_fvi%3D1&_rdc=1
=================================================================================================
86c – Antique Majolica Black Child Bell
I am selling a great old Continental piece of Majolica. It is the figure of a Black child. She is also a bell which is approximately 8 1/2″ tall. The clapper has a wooden ball but I am doubtful that it is original as the metal is shiny. The condition of this piece is very good. It is slightly rough on the edges of the dress but there are no chips or cracks. The numbers on her are 405 0 and 54. I do not know the country of origin.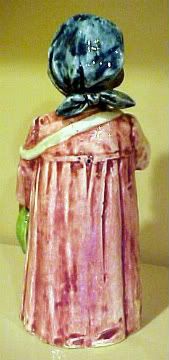 http://cgi.ebay.com/ws/eBayISAPI.dll?ViewItem&_rdc=1&_trksid=p4340.l2557&item=270914975129&nma=true&rt=nc&ru=http%3A%2F%2Fwww.ebay.com%3A80%2Fsch%2Fi.html%3F_from%3DR40%26_trksid%3Dp3984.m570.l1313%26_nkw%3D270914975129%26_sacat%3DSee-All-Categories%26_fvi%3D1&si=r3ieg7ioMlWMUk6%252FEAdguXpJYlw%253D&orig_cvip=true&rt=nc
=================================================================================================