Re: Re: So, what is this worth? (Part 82def)
February 7, 2012 at 1:27 am
#15193
halanb
Participant
Some problem children
=================================================================================================
82d – 1800s large brass lady bell hemony 6.5″ high very heavy old patina
Large old brass lady bell weighs 1.4 kg and measures 6.5″ inches high. There is no clapper in her as the steel holder cast into the bell has rusted away over the years. There are tiny traces of gold or bronze gilt still on the bell that when flicked rings loud and clear. A nice addition to any vintage lady bell collection.
Seller says first half of the 19th century. My guess is last half of the 20th century. The large Hemony bells made by Pearson Page are uniformly well done. There have been some recent copies, and this is the poorest copy that I have ever seen.
Yes, it is about half the usual price for this bell. Is that cheap enough to ignore the deficiencies?
Buyer's choice.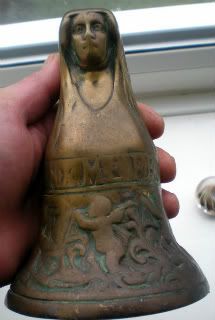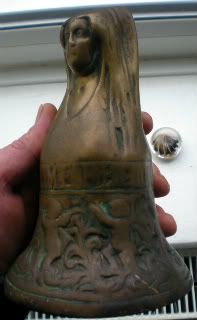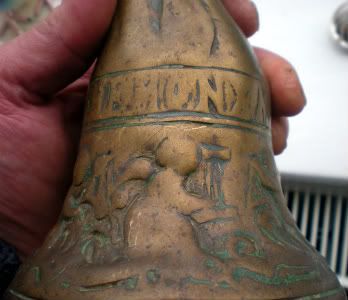 http://www.ebay.com/itm/250984200070?ssPageName=STRK:MEWAX:IT&_trksid=p3984.m1423.l2649
=================================================================================================
82e – VINTAGE, RARE, CARL WAGNER, BRONZE ELEPHANT BELL, WITH FOOT CLAPPER, #69/500
This is a Bronze sculpture made by Carl Wagner
Produced in 1978, signed by C. Wagner and numbered 69/500 on the underside of the bell
This awesome bronze Elephant bell measures: 6 1/2″ tall, 6 1/4″ wide from ear to ear.
Weighs just under 5 lbs. Very detailed and the clapper is an Elephants foot
This is 34 years old and has Oxidation and marks on it from use.
Carl Wagner unexpectedly passed away last year at the age of 72. So this will certainly be increasing in value.
This is a genuine Carl Wagner bell, no problems with provenance. However, the bell is from Florida and appears to have considerable verdigris (chloride corrosion). If the buyer likes the color or is willing to accept it, then s/he got about a 25% discount on the normal price. If the buyer wishes to remove the corrosion, that can sometimes be difficult.
The prices of Wagner bells have been falling, and sales in the past six months have mostly been in the $225 – $250 range.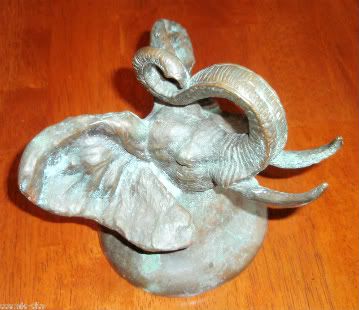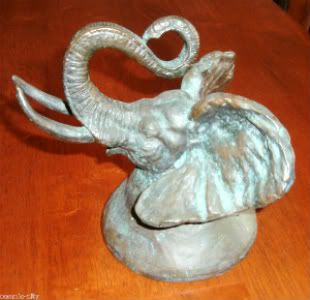 http://www.ebay.com/itm/250983153876?ssPageName=STRK:MEWAX:IT&_trksid=p3984.m1423.l2649
=================================================================================================
82f – RARE BRASS DOUBLE HEMISPHERE COUNTER-TOP BELL – 7″TALL – V.G. COND – VERY LOUD
Here is a really charming and most unusual old brass counter top bell. It is mounted on a marble base and stands 7″ tall and 4 1/4″ wide. The bell is in great shape and works fine. It is actually quite loud. There appear to be two separate halves to the bell and two separate "dingers" that work on gravity as the bell is rotated on the side axis. The bell looks like it could be easily dissambled for repair or cleaning although I have not tried to do so. It is quite possible that this piece was originally silver plated as there appear to be some traces of silver left. Now there is just some patina on the brass. The marble base measures approximately 3 1/4 x 3 1/8″ and there is a 1″ chip on the bottom edge of one side. My best guess is that this bell was probably used on a hotel registration desk or someplace similiar.
No real problems, often found in this condition, a nice bell, but somewhat overpriced in my opinion.
http://www.ebay.com/itm/260946187478?ssPageName=STRK:MEWAX:IT&_trksid=p3984.m1423.l2649
=================================================================================================