Re: Re: So, what is this worth? (Part 8)
March 26, 2011 at 10:36 pm
#15109
halanb
Participant
Two Art Nouveau period bell pushes were recently sold on French eBay. These are not themselves bells, but push switches to activate an electrical bell at a remote location, usually for a servant in a home or a secretary in an office. They were most popular in the Art Nouveau years 1890-1920, though some persisted until the end of the Art Deco period (1940). Some are quite plain and may be purchased for a few dollars. Others are quite elaborate, often from noted designers and manufacturers in France and Germany/Austria. One variety would sit horizontally on a desk. The other would hang from electrical cords from the ceiling, often in a corner of a room and often a replacement for mechanical bell pulls. Their use was superceded by intercoms or telephones.
Some readers will be familiar with the book by Anselm Lange, Europäische Tischglocken. He also wrote a less well known companion, Elektrische Tischklingeln, devoted to the subject of bell pushes. Both books may be found through Bookfinder (http://www.bookfinder.com/) or similar Internet services. They are often located in Germany, but international shipping is possible.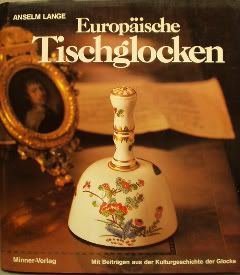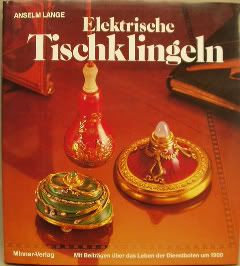 ======================================================================================
(1) A.CLERGET RARE SONNETTE BRONZE DORE FEMME ART NOUVEAU
TRES JOLIE SONNETTE EN BRONZE DORE REPRESENT UNE JEUNE FEMME AU LONG CHEVEUX PERIODE TYPIQUE 1900 ART NOUVEAU SIGNE A.CLERGET.
Very pretty Art Nouveau lady bell in gilt bronze, depicting a young woman with long hair, probably around 1900 Art Nouveau, signed A. Clerget.
Alexandre Clerget (1856 – 1931) was a noted French sculptor, and the artist's signature is an additional cachet to the piece. It looks like a desk type, but the keyhole on the rear shows that it was meant to hang on a wall.
The listing has closed: http://cgi.ebay.com/ws/eBayISAPI.dll?ViewItem&item=370493082783&ssPageName=STRK:MEWAX:IT
======================================================================================
(2) Ancien intérupteur ou sonnette en bronze
Rare et original interupteur ancien fin du 19ème en bronze, bel objet de collection, dim H 8 cm.
Rare and original antique switch, end of 19th Century, in bronze, beautiful collector's object,
height 8 cm (3.2 in).
This is the hanging type, though the two cords are missing. They would run from the base,
through the lady's hands, and then up to the ceiling.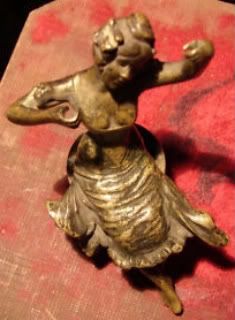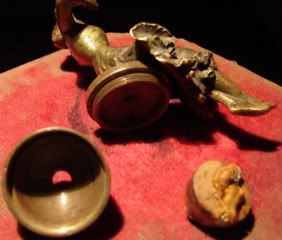 The listing has closed: http://cgi.ebay.com/ws/eBayISAPI.dll?ViewItem&item=260754706397&ssPageName=STRK:MEWAX:IT
======================================================================================