Re: Re: So, what is this worth? (Part 79)
January 13, 2012 at 10:05 pm
#15188
halanb
Participant
79a – 1936 BERLIN OLYMPICS BELL
Wikipedia: The Bell Tower of Berlin Olympic Stadium was a 77 metres high observation tower that was built in 1934 after plans by professor Werner March. The steel skeleton construction was covered with limestone plates.
After the Second World War the Soviet troops accidentally set the tower's contents on fire and it was no longer stable. Therefore the British engineers blown it up in 1947. The Olympic Bell – weighing 9.6 tons, survived the fire and remained in its place in the tower – fell 77 metres, cracked and has been unable to sound since then. In 1956 the bell was rescued, only in order to be used as a practice target for shooting with anti-tank ammunition. The old bell survives to this day and serves now as a memorial.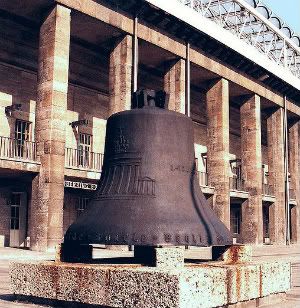 ==========
KPM BERLIN Germany 1936 OLYMPIC GAMES BELL III REICH WW2
For sale is a porcelain bell with original wood base made by KPM Porcelain factory for the 1936 Olympic games in Berlin.
Brandenburger Tor and German Eagle with Olympic rings, 1-16 August, 1936. 11 Olympische Spiele Berlin. Ich Rufe Die Jugend Der Welt
Perfect condition
Marked inside with blue sceptre sign.
Size: Bell: h: 12 cm, d: 10 cm
Porcelain replica sold as a souvenir at the games. (Note: The clapper is missing.)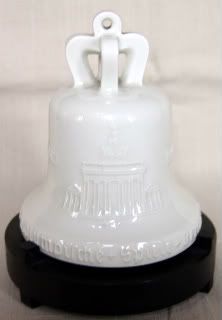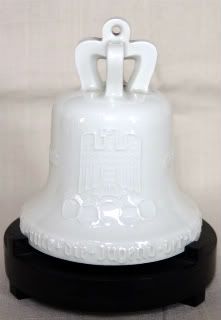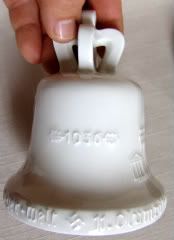 http://www.ebay.com/itm/KPM-BERLIN-Germany-1936-OLYMPIC-GAMES-BELL-III-REICH-WW2-/110796266120?pt=Antiques_Decorative_Arts&hash=item19cbf8da88
Note: One of these sold for $65 at the ABA Convention in St Louis last year, where the REAL bargains are.
=================================================================================================
79b – 1950 BERLIN LIBERTY BELL
Wikipedia: The Liberty Bell (in German, Freiheitsglocke) in Berlin, Germany, is a bell that was given as a gift from Americans to the city of Berlin in 1950 as a symbol of the fight for freedom and against communism in Europe, and was inspired by the American Liberty Bell. Since 1950, the bell has been located in the Rathaus Schöneberg, the former city hall of West Berlin.
The 10-ton bell arrived from the British foundry of Gillett and Johnston to a ticker tape parade in New York City. It carries the inscription That this world under God shall have a new birth of freedom. The bell subsequently visited 21 American cities, and people in every state were encouraged to sign a "Declaration of Freedom". 16 million signatures from American citizens were collected and are enshrined in Berlin along with the bell. The bell then traveled to Berlin, and was permanently installed in the West Berlin city hall on United Nations Day, October 24, 1950. More than 400,000 Berliners, some 100,000 of them having risked crossing the border from East Berlin, filled the square before the city hall (now John-F.-Kennedy-Platz) to witness the dedication ceremonies. General Clay gave a speech and pushed the button that started the bell ringing. Its deep tones were heard throughout East Berlin and into East Germany. The East German communist party launched a noisy demonstration several miles from the dedication site, and party propagandists denounced the Freedom Bell as a "war bell", a "hunger bell" and a "death bell". Communist central committee member Hans Jendretzky warned: "The rope of the death bell will become the gallows rope for those who ring it."
The Governing Mayor of West Berlin, Ernst Reuter (SPD), declared that Germany "will never rest or relax until freedom will shine over the countries of Eastern Europe that are at present forced to live in slavery".
The bell is rung daily at noon, and at midnight on Christmas Eve and on New Year's Eve.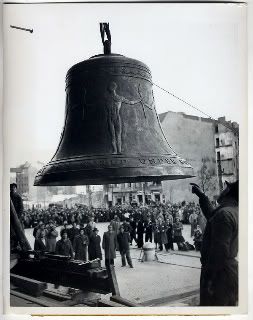 ==========
Goebel Porzellan Berliner Freiheitsglocke / Berlin / Glocke
Berliner Freiheitsglocke – Umlaufendes Schriftband: "That this world under God shall have a new birth of freedom" – gemarkt GOEBEL, mit der blauen Marke von 1960 – 1972
Höhe 9 cm – Durchmesser 9 cm – unbeschädigt.
Goebel Porcelain Berlin Liberty Bell / Berlin / bell
Berlin Liberty Bell – Circumferential inscription: "That this world under God shall have a new birth of freedom" – GOEBEL, with the blue mark of 1960 – 1972
Height 3.6 in – 3.6 in diameter – undamaged.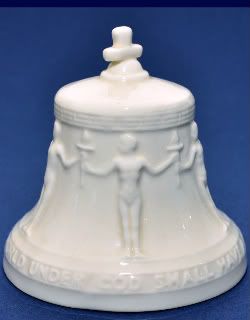 http://www.ebay.com/itm/170698733229?ssPageName=STRK:MEWAX:IT&_trksid=p3984.m1438.l2649
=================================================================================================