Re: Re: So, what is this worth? (Part 77)
January 7, 2012 at 6:23 pm
#15185
halanb
Participant
77a – Antique Spanish Colonial Catholic Bronze Prayer Bell 1770 – Santa Fe Collection
Here is a nice 5 1/2" Spanish Colonial Catholic prayer bell. Clapper is in place, has a great sound.
Made of bronze. 1750-1800.
So, whaddya think? Yes, there were certainly some bells from that period. Yes, there are known to be many reproductions sometimes passed off as older bells. The bidder must decide.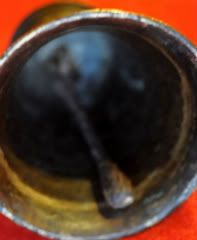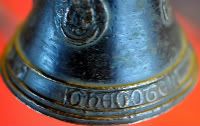 http://www.ebay.com/itm/160704553700?ssPageName=STRK:MEWAX:IT&_trksid=p3984.m1438.l2649
=================================================================================================
77b – ANCIENNE SONNETTE DE TABLE BRONZE ARGENTE BATEAU VOILIER 19 EME
RARE ET ANCIENNE SONNETTE DE TABLE EN BRONZE ARGENTE
elle est numèrotée 19 certainement une serie limitee je n ai trouvé que ce marquage
En forme de bateau,le gouvernail sert de clè pour remonter la sonnerie
Quand vous appuyez sur le Marin la sonnette se déclenche
Elle mesure 22cm de long / 11cm de large / 20cm de hauteur /poids 1 kilo
OLD BELL SILVER BRONZE TABLE SAILBOAT 19 CENTURY
RARE AND OLD SILVER BRONZE TABLE BELL
It is numbered 19 certainly a limited edition, I've not encountered this mark.
Boat-shaped, the back rudder winds the bell.
When you press on the sailer, the bell rings.
It measures 8.8 in long / 4.4 in wide / 9 in height / weight 2.2 lb
Another of the old mechanical bells, always in demand.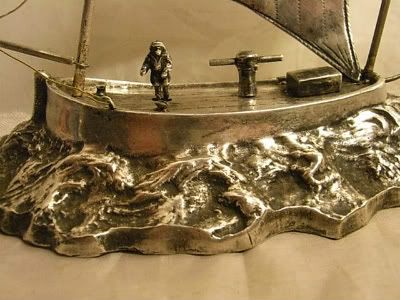 http://www.ebay.com/itm/110799595610?ssPageName=STRK:MEWAX:IT&_trksid=p3984.m1438.l2649
=================================================================================================
77c – Rare Vintage Britannia Standard 958 Silver Bell 4.5″x2.5″ 185g
The usual British standard is Sterling Silver with 92.5% silver content, marked (925) or (.925).
The sterling hallmark is a figure of a Lion Passant.
The early London hallmark was a Crowned Leopard Head.
In 1697, Parliament changed the silver standard to 95.84% (958) and called this Britannia Silver.
The Lion Passant was replaced with a Britannia figure.
The Crowned Leopard Head was replaced with a Lion Head Erased.
The new standard was not popular with silversmiths, and in 1720 Parliament reverted to Sterling Silver.
Britannia figure and Lion Head Erased.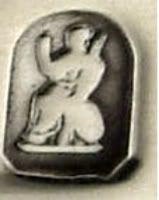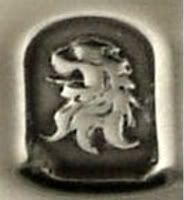 As you can imagine, items from this period are rare and expensive, and the marks are often hard to read. However, the Britannia silver standard remained for anyone who wished to use it, and there are later items with these hallmarks. This particular bell was made by Lionel Alfred Crichton (LAC), London, 1905. Both the clapper and the bell are so marked.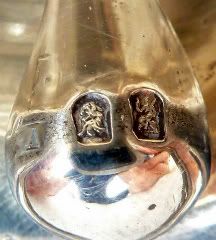 http://www.ebay.com/itm/220889673178?ssPageName=STRK:MEWAX:IT&_trksid=p3984.m1438.l2649
==================================================================================================