Re: Re: So, what is this worth? (Part 7)
March 16, 2011 at 4:14 pm
#15108
halanb
Participant
Information about this bell comes from Larissa, who is associated with both the ABA
and the Russian bell website http://www.showbell.ru/blog/
This is similar to the theme discussed in robfromcanada's article The Value of Provenance
in the Jan-Feb 2011 Bell Tower.
The Wiener Werkstätte (Vienna Workshop), among the great design collectives
of the 20th Century, was founded by architect Josef Hoffmann and painter
Koloman Moser and operated from 1903-1932. At the Wiener Werkstätte,
artists and craftsmen worked side-by-side on a wide range of handcrafted works
characterized by meticulous attention to form and detail. In a 1905 manifesto,
Josef Hoffmann declared: "Our strength must lie in good proportions and
materials well handled." Exceptional quality and a high level of craftsmanship
were hallmarks of the Wiener Werkstätte and an antidote to the superficial
excesses of the late 19th Century.
VIENNA AND THE WIENER WERKSTÄTTE
DESIGN AUCTION TO INCLUDE IMPORTANT WORKS BY OTTO
WAGNER, FATHER OF AUSTRIAN MODERNISM, JOSEF HOFFMANN
AND KOLOMAN MOSER, FOUNDERS OF THE WIENER WERKSTÄTTE
AUCTION: 3 MARCH 6 PM
VIEWING: 22 FEBRUARY – 3 MARCH 10 am – 6 pm
LOCATION: Phillips de Pury & Company, 450 Park Avenue, New York 10022
Item 28 – JOSEF HOFFMANN 1870-1956
Very rare and important unique dinner bell, model no. S 2990, ca. 1913.
Silver, ivory. Executed by the Wiener Werkstatte, Austria. Outside edge
impressed with 900,WIENER/WERK/STATTE,MADE/IN/AUSTRIA
and JH. Clapper impressed with partially obscured 900 and WW.
9 3/4 in. (24.8 cm.) high, 3 1/2 in. (8.9 cm.) diameter
The present lot, the only known dinner bell in this specific configuration,
represents the Werkstätte's fundamental aim of exquisitely
crafted, unique fabrication out of the costliest materials, as Christian Witt-
Derring has written. A visual pun, the gadrooned and flaring body recalls the
corolla of a bellflower, a favorite motif of the Werkstätte. Despite the bell's
abstracted form, its debt to nature rings clear.
Estimate $ 70,000–90,000
PROVENANCE Tony Subal Gallery, Vienna; Private European Collection
EXHIBITED Austrian pavilion, Deutscher Werkbund exhibition, Cologne, 1914
LITERATURE Die Kunst, vol. 17, Munich, 1914, p. 482; Astrid Gmeiner and
Gottfried Pirhofer, Der …sterreichische Werkbund, Salzburg and Vienna, 1985, n.p.;
Joann Skrypzak, et al., Design: Vienna 1890s to 1930s, exh. cat., Chazen Museum of
Art, Madison, Wisconsin, 2003, p. 68 for a similar example.
Josef Hoffmann's preparatory drawing for the present lot is included.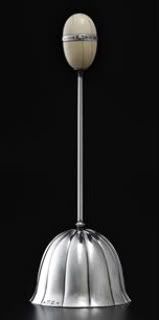 It is difficult to find information about this auction, so I will tell you that it was
either withdrawn from the sale or it did not reach the opening bid.
In either case, it was not sold.
===========================================================================