Re: Re: So, what is this worth? (Part 66)
November 29, 2011 at 2:28 am
#15173
halanb
Participant
66a – Update to Part 64a
FRENCH 1900 OWL Figural MECHANIC BELL, SONNETTE à REMONTOIR CHOUETTE
Here is a nice bell celluloid or galalite table bell, a sophisticated model, black owls head shaped, feathers black, the yellow beak forming push button, the big eyes of blown glass. The bell is automatic, and in very good condition. Pretty model, something rare, a spectacular bell, one century old, which we guarantee.
Dimensions: 9.5 cm and 7 cm.
French or German work, unmarked 1900s or early twentieth century.
Condition: good, it sounds wonderfully, good working order, there is some traces of wear, one eyebrow has been glued, well done, that is not visible….
The bell was relisted with a description in English and made available on US eBay.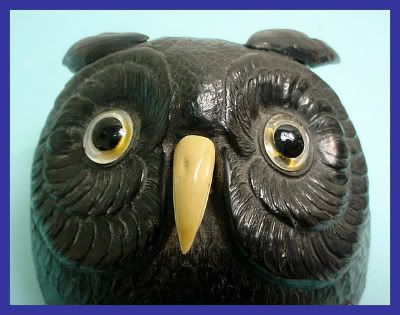 http://www.ebay.com/itm/260902246042?ssPageName=STRK:MEWAX:IT&_trksid=p3984.m1438.l2649
===============================================================================================================
66b – Vintage Brass Lady Bell in Traditional Dress – 5″
This Vintage Brass Lady bell which stands approx. 5 " high is in very good condition with what appears to be a horse nail for the clacker. This seems to have been in the bell for a long time so could be original. The lady in taditional dress is wearing a cross & chain and has a purse hanging from her waist and holding a fan?. She is wearing a really attractivr dress and head wear.
Just when you think you must have seen about every lady bell out there, a new one will appear.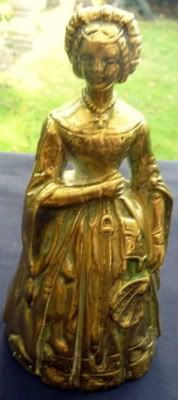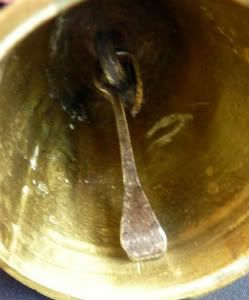 http://www.ebay.com/itm/380386597920?ssPageName=STRK:MEWAX:IT&_trksid=p3984.m1438.l2649
===============================================================================================================
66c – old antique BRASS LADY BELL heavy solid ELIZABETHAN ENGLISH WOMAN 5″
This is a beautiful antique heavy solid brass lady bell. She is dressed in Elizabethan style with high ruffled collar and bell-shaped skirt below very narrow waist. No marks, I think English. 5″ tall. Nice old original patina and this bell has lovely loud ring.
Compared to the lady bell immediately above, this design is rather common. However, there are two sizes and variations within each size. The more common size is 4″ and the lady has her left hand on her waist. The less common size is 5″, like this bell, and the lady has her right hand on her waist. You will probably encounter ten of the 4″ bells for each one of the 5″ bells.
These are from the older series of sand-cast bells by Pearson Page, c. 1920. From one bell to another, there may be considerable variation in the dress decoration patterns. I suspect that was because there were differences in the sand core patterns when created. Perhaps one carver felt more creative than another, or a single carver wished to vary the design slightly.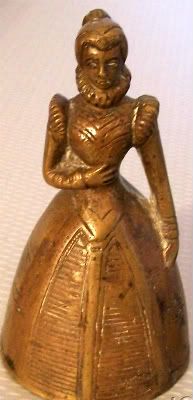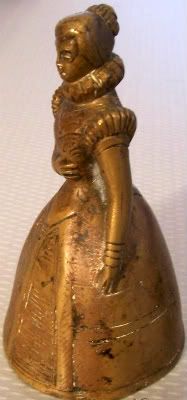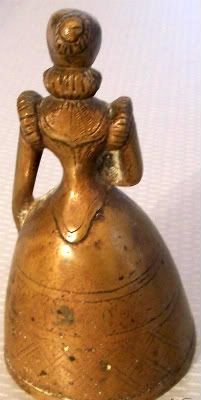 In my opinion, it sold at a very reasonable price for this uncommon version.
http://www.ebay.com/itm/260899866204?ssPageName=STRK:MEWAX:IT&_trksid=p3984.m1438.l2649
===============================================================================================================