Re: Re: So, what is this worth? (Part 64)
November 21, 2011 at 10:36 pm
#15169
halanb
Participant
64a – RARE UNUSUAL BRASS LADY BELL LEGS CLAPPER – LADY WITH BASKET OF FISH.
IT'S COMPLETE WITH A LEGS CLAPPER.
APPROX: 13 CM TALL.
VERY GOOD USED CONDITION.
Another of the early Pearson Page lady bells, c. 1920, brass, sand-cast. Good detail over most of the bell, somewhat weak around the mouth and chin which is not uncommon, but about as good as can usually be found. Note the parting lines, the separation between the two parts of the mold, on the interior of the bell in the last photo.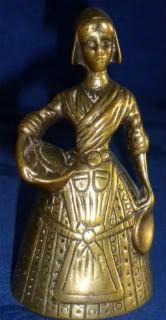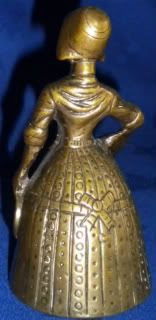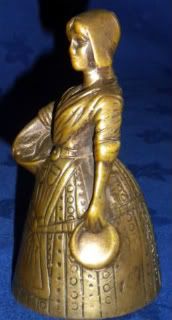 http://www.ebay.com/itm/250929279614?ssPageName=STRK:MEWAX:IT&_trksid=p3984.m1438.l2649
===============================================================================================================
62b – Very old (late 1800s?) GILDED BRONZE call table desk counter bell (pitakat)
Was originally totally gilded, but much has worn off from age. Extremely highly detailed decoration of two medallions of Caesar?, sheafs of wheat, ribbons and flowers around the base. Folded leaf handle. Great tear drop clapper has made an inside ring from use. Good sound. Good condition- no damage. 4-1/4″ high x 2-3/4″ diam.
Excellent detail and, if I am correct, also of historical interest. I think it represents Rome and its dependence on a yearly grain import to feed the city. This was a problem and steps were taken to deal with it as early as 400 BC. Sufficient grain was not available in Italy, but had to be imported from Sicily, Egypt, and North Africa. Various politicians dealt with it, including Gaius and Tiberius Gracchus, Pompey, Clodius Pulcher, Julius and Augustus Caesar, Vespasian, and others. Many Italian farmers were forced off their land as their farms were consolidated into large estates, they had no choice but to move to Rome where finding work was difficult. "Bread and Circuses" came about with the desire to pacify the large Rome population by providing low-cost or later free grain and various entertainments.
I have a bell with the same base, but with a sheaf of wheat for the handle. There may be other variants, but I have not encountered them. I would assume the portraits are Julius and Augustus Caesar. The sale bell is shown in the first set of photos, and my bell in the second set for comparison.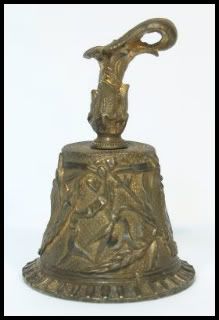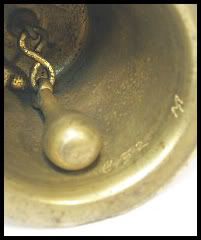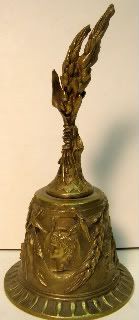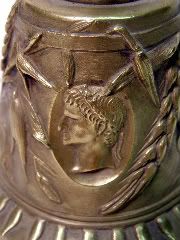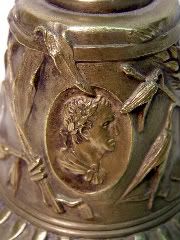 http://www.ebay.com/itm/Very-old-late-1800s-GILDED-BRONZE-call-table-desk-counter-bell-pitakat-/220887385874?pt=LH_DefaultDomain_0&hash=item336dea0712
===============================================================================================================