Re: Re: So, what is this worth? (Part 64)
November 24, 2011 at 9:28 pm
#15171
halanb
Participant
64a – CLOCHE, SONNETTE à REMONTOIR CHOUETTE; FRENCH 1900 OWL Figural MECHANICAL BELL
Voici une belle sonnette de table en celluloïd de couleur ou en galalithe, un modèle très élaboré, en forme de tête de chouette aux plumes noires, au bec formant bouton poussoir, aux gros yeux de verre soufflé. La sonnette se remonte par dessous, est automatique, et en très bon état de marche. Quel joli modèle, un peu rare, une clochette spectaculaire, pièce ancienne, que nous garantissons.
Dimensions: 9,5 cm et 7cm.
Travail Français ou Allemand, sans marque, des années 1900 ou tout début XXe.
Etat: bon, elle sonne à merveille, nous garantissons.
TABLE BELL OWL, Figural MECHANICAL 1900 FRENCH BELL
Here is a nice celluloid color table bell, a sophisticated model, shaped like a head of owl feathers black, the beak forming push button, the big eyes of blown glass. The bell is wound from below, is automatic, and in very good condition. What a pretty model, somewhat rare, a spectacular bell, old item, which we guarantee.
Dimensions: 9.5 cm and 7 cm.
French or German work, unmarked 1900s or early twentieth century.
Condition: good, it sounds wonderful.
Compare this mechanical bell with the ones in Part 61c. Those had the figure in cast metal, while this one is made of celluloid. These are generally thought to have been made in Germany, c. 1900. The celluloid molding is somewhat fragile , is often found damaged, but this one appears to be in top condition.
It was offered by Danielle & Denis Cordier, now of Nimes, France, who have been selling top quality items on eBay and other sites for over ten years. Many ABA members who collect in this area will have purchased one or more bells from them. I am somewhat surprised that it did not meet the reserve price, though it was only listed on French eBay where it might not have been seen by many English-speaking potential customers.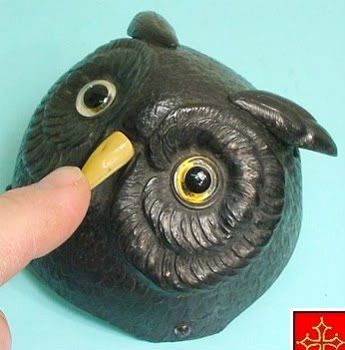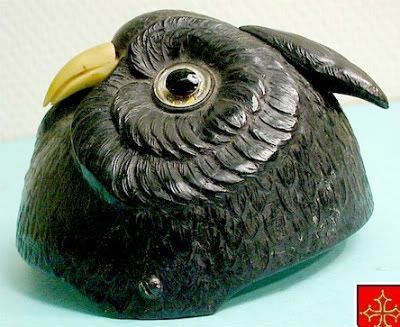 http://www.ebay.com/itm/350508326511?ssPageName=STRK:MEWAX:IT&_trksid=p3984.m1438.l2649
See Part 66a below.
===============================================================================================================
64b – Antique lovely Art Nouveau erotic Lady bronze push bell signed Morear ? Moreau ?
As you can see it on the several pictures, it's an antique Art Nouveau bronze push bell .
I sold several push bell on eBay also, but never so nice like this one.
It has a signature , could be Morear / Moreau ?, sorry but is not clear for me.
And it has numbers.
Ca. 1890 /1920 approx. ( Art Nouveu period )
Original pátina.
5 " or 13 cm approx.
Yes, it is an Art Nouveau type bell push. Yes, there was a family of French sculptors of that period named Moreau, and they made many lady figures of this type. Perhaps it is the pictures or the color, but somehow this one just does not look "right" to me. The casting seems more crude than I would expect, more like it were a copy of a better made item. I am not surprised that nobody offered an opening bid.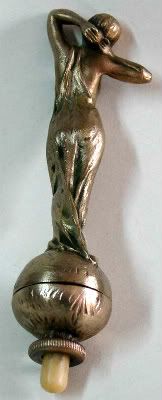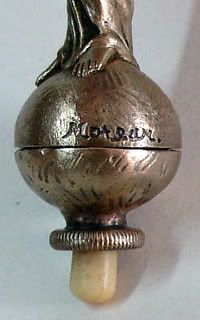 http://www.ebay.com/itm/130603212467?ssPageName=STRK:MEWAX:IT&_trksid=p3984.m1438.l2649
Second chance – Since there were no takers at $499, she has relisted the item for $900.
Ya better jump on it, as it might be $1500 next time around!!!===============================================================================================================
64c – ANTIQUE 16 " Solid Bronze Ships Bell WWII U.S. Navy USS RAIL Pearl Harbor Ship
This is an ANTIQUE Original Solid "Bell Metal" (some call it white bronze) Bronze Ships Bell from the USS Rail (AM-26)…She has some streaking on the sides from rust running down from the mounting bracket onto the bronze…The USS Rail was a Lapwing-class minesweeper built and launched in 1918 for the United States Navy during the closing months of World War I…There is an abundance of information on this ship to be found online so check for yourself…This ship was in Pearl Harbor on December 7, 1941 and actually participated in the battle. She fired upon the attacking Japanese aircraft including having shot one down, as well as participated in the rescue of the brave sailors in the water , and later patrolled the channel.
Something for the Big Bell Boys so they won't feel neglected. Well out of my area, so I won't make any comments other than to note that it drew considerable interest. Read the entire listing for more information.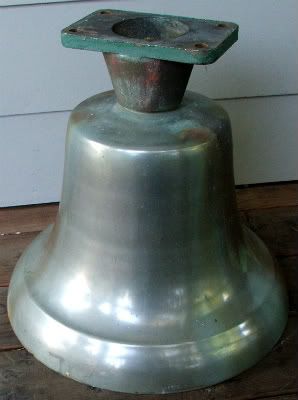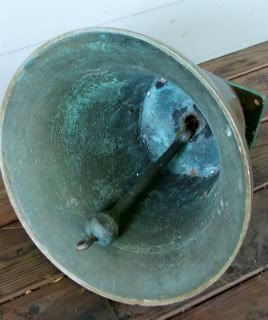 http://www.ebay.com/itm/ANTIQUE-16-Solid-Bronze-Ships-Bell-WWII-U-S-Navy-USS-RAIL-Pearl-Harbor-Ship-/360408877945?pt=LH_DefaultDomain_0&hash=item53ea0b0b79
===============================================================================================================