Re: Re: So, what is this worth? (Part 60)
October 30, 2011 at 2:56 am
#15167
halanb
Participant
60a – Tereszczuk Tischklingel Originale Wiener Bronze push servant bell ringer KAUBA
Sie bieten hier auf eine wunderschöne antike Original Wiener Bronze.
Bronze klingel Figur, signiert mit P. Tereszczuk
Klingelknopf aus Bein. Original Elektrokabel hängen. ( ca.: 20 cm )
Funktion der Klingel nicht überprüft.
Masse : ca.: 110 mm
Tereszczuk table push bell, servant, original Viennese bronze bell ringer KAUBA
You are bidding on a beautiful antique original Vienna bronze.
Bell push, bronze figure signed by P. Tereszczuk.
Original electric cable attached. (Approx. 20 cm, 8 in)
Function of the bell is not checked.
Dimensions: approx: 110 mm (4.4 in)
Another bell push by Peter Tereszczuk, with his two little daughters as the subjects.
Note: Karl Kauba was another Art Deco sculptor. He has nothing to do with this item, but the seller inserted it in the title in the hopes of attracting viewers.

http://www.ebay.com/itm/260876535069?ssPageName=STRK:MEWAX:IT&_trksid=p3984.m1438.l2649
===============================================================================================================
60b – Beautiful & rare large brass lady bell with feet clappers, with patina
This is a stunning 19th century brass lady bell of a medieval lady, which is heavy and large in size.
The brass has acquired a lovely warm brown patina and on top of her head you can see the original
soldering of the clapper attachment. The clapper consists of two feet.
On the back of the brass there is still a registration mark (though not very legible anymore, see photo),
which is typical of the Victorian period.
Condition: Very good. Height: 20 cm (7.9 inch).
This 8″ Mary, Queen of Scots, is one of the largest figurine lady bells. Most lady bells are solid above the waist and hollow below. One curious feature of this bell is that it is hollow throughout the entire figure. That presents a problem as to how the clapper would be attached. The solution was to use a tapered plug, driven into the head, with a loop at the lower end. Sometimes they will work loose and the owner may solder them, as was done here.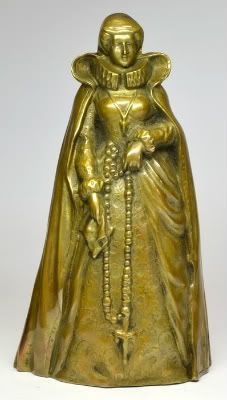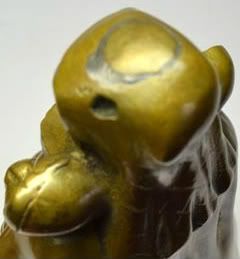 http://www.ebay.com/itm/280757952079?ssPageName=STRK:MEWAX:IT&_trksid=p3984.m1438.l2649
===============================================================================================================