Re: Re: So, what is this worth? (Part 59)
October 28, 2011 at 6:17 pm
#15166
halanb
Participant
59a – Antique Brass Bell w/Stag Deer & Antlers ~ Hoof Clapper ~ Rare!
Approx. 5″ tall x 4-1/2″ x 4-3/8″ at the base.
A beautiful and rare piece. Heavy! Weighs over two pounds.
One of the points of the antler is curved and may be broken – it is a little rough.
Unusual clapper in the shape of a hoof.
No manufacturer's marks.
This eBay seller is a consignment service operating on behalf of the owner. The bell description would have either come from the owner or from what can be observed by the seller, and not much is provided.
Many readers will recognize the design as the Carl Wagner Elk (Wapiti) bell. (See The Bell Tower, Jan-Feb 2010.) They were made in 1977, originally sold for $33, but now sometimes fetch up to 10 times that much.
There are third party copies of the Wapiti bell known to exist, and this appears to be one of them. Carl told me that he had heard of them, but knew nothing of where or when they were made. He further stated that he signed and dated all of his work. (He did this by impressing the signature, date, and other information in the wax model before it was invested, so it would appear incised in the final bronze bell.)
An original Carl Wagner would have "WAPITI" near the exterior rim of the bell, between the legs of the elk. This one does not. It would have the signature, date and number near the interior rim of the bell. This one does not. The seller did not mention Carl Wagner, possibly/probably had never heard of Wagner, nor did s/he claim it is a Wagner bell. Therefore, I would consider it a "copy", but not a "fake".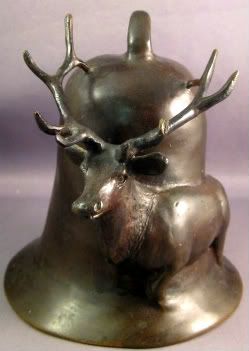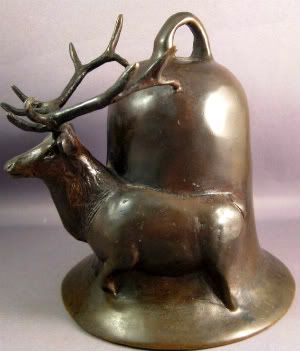 http://www.ebay.com/itm/160668804575?ssPageName=STRK:MEWAX:IT&_trksid=p3984.m1438.l2649
Compare this bell with the one in Part 36c above in this posting.
================================================
From Part 36c: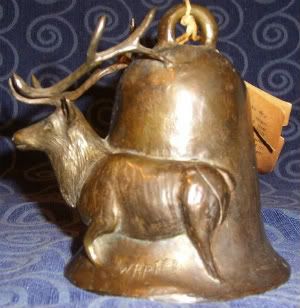 http://cgi.ebay.com/ws/eBayISAPI.dll?ViewItem&item=170670935315&ssPageName=STRK:MEWAX:IT
===============================================================================================================
59b – RARE clochette de table en VERRE – le Chat la Souris PLOMB NUREMBERG 19ème
Etonnante et rare clochette de table de la fin du XIXème siècle.
Le corps de la clochette est en verre épais soufflé étiré à la pince, bulle.
La préhension représente un chat bondissant sur une souris qui forme le battant.
Plomb de Nuremberg.
Bon état d'usage.
H : 10 cm
RARE glass table bell – Cat Mouse LEAD NUREMBERG 19th Century
Amazing and rare bell table from the late nineteenth century.
The body of the bell is thick glass blown stretched with forceps, bubble shape.
The handle is a leaping catabove a mouse the form of the clapper.
Nuremberg Lead.
Good working order.
H: 10 cm (4 in)
This looks like what is known as a Flint Glass bell, yet, to me (and keep in mind that this is not my primary area of interest), there appear to be some differences from a typical version. There is a more common version of the Cat & Mouse, and I have included pictures of one of them or comparison.
– Flint Glass bells have a square base, as does this one. Usually the top has a rounded edge but then is flattened, while this one is rounded all across the top.
– They are usually colored glass, though some in clear glass may exist.
– The glass bell is usually convex in the center. This one appears somewhat concave – hourglass shaped.
– The figure is normally mounted on an ornate circular plate that fits on the top of the bell. There may be a smaller plate inside the bell, and a screw eye that serves as the clapper hanger and screws both together. I can't tell what is under the leaping cat but to me it looks more like solder or metal epoxy. Instead of a screw eye, there is just a loop of wire inside the bell.
– Whatever it is, this is certainly an unusual version.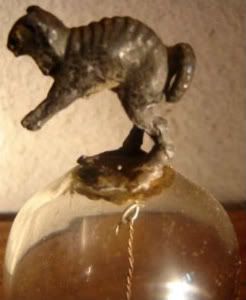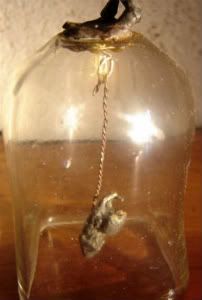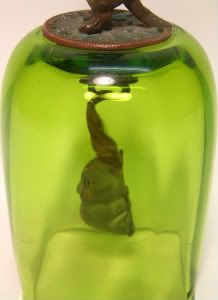 http://www.ebay.com/itm/350500312157?ssPageName=STRK:MEWAX:IT&_trksid=p3984.m1438.l2649
===============================================================================================================