Re: Re: So, what is this worth? (Part 55)
October 17, 2011 at 1:31 am
#15162
halanb
Participant
55a – Richard Fisher US Bells Bronze Door Bell
A Richard Fisher bronze bell is handcrafted in cast bronze, it has a contemporary look and is made on
the east coast of the good old USA. An elegant and simple door bell with a braided lanyard.
The measurements are 2 3/4″ high by 2 3/4″ wide. Total length is 8″ from the tip of the hanger bracket
to the knocker plus 6″ is the length of the lanyard.
Dick Fisher has been handcrafting bells since 1970. His US Bells (Prospect Harbor, Maine) foundry specializes in cast bronze wind and door bells, dinner bells, ship's bells, estate bells, sculpture and hardware. The bell designs are all original and encompass a variety of bells, for both indoor and outdoor use. All U.S. Bells are cast in silicon bronze at their own foundry. This is a small family run business. Dick is involved with the bells, while other family members work in pottery, wood, jewelry, and various crafts.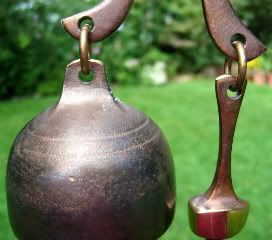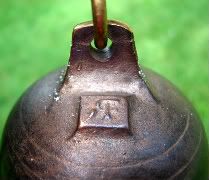 http://www.ebay.com/itm/Richard-Fisher-US-Bells-Bronze-Door-Bell-/270824266337?pt=LH_DefaultDomain_0&hash=item3f0e625a61
================================================================================================================
55b – Paolo Soleri Cosanti Bronze Omega Seed Wind Bell Chime
This is a handmade bronze bell wind chime made by Cosanti under the guidance of Paolo Soleri. It is called the "Omega Seed". The wind bell is 26″ long and quite heavy with the initials P S and the Cosanti foundry mark. It has been hung out side and has a wonderful green verdigris.
In contrast with U.S. Bells, the Cosanti and Arcosanti bell foundries and ceramic studios (Paradise Valley, Arizona) produce thousands of items per year to support the Cosanti facilities and Arcosanti project.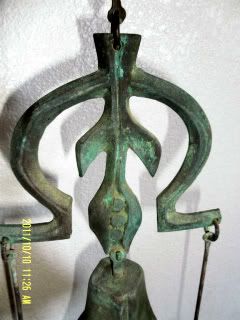 http://www.ebay.com/itm/270831733269?ssPageName=STRK:MEWAX:IT&_trksid=p3984.m1423.l2649
===============================================================================================================
55c – Tereszczuk Tischklingel Originale Wiener Bronze push servant bell ringer KAUBA
Bronze klingel Figur, signiert mit P. Tereszczuk.
Original Elektrokabel hängen. ( ca.: 20 cm )
Funktion der Klingel nicht überprüft.
Masse : ca.: 115 mm
Push bell bronze figure, signed with P. Tereszczuk.
Original electric cable hanging. (Approx. 20 cm (8 in))
Function of the bell is not checked.
Size: about 115 mm (4.6 in)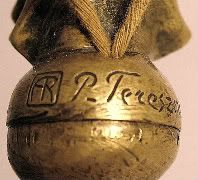 http://www.ebay.com/itm/260866822168?ssPageName=STRK:MEWAX:IT&_trksid=p3984.m1423.l2649
===============================================================================================================