Re: Re: So, what is this worth? (Part 45)
September 10, 2011 at 2:14 am
#15152
halanb
Participant
45a – VINTAGE ELECTRIC BERMUDA BELL….LOUD DING SOUND/RARE!
Seller provides no description other than the title, but most readers will be familiar with the so-called "Bermuda" bells. The standard version is shown in Pic 1, and often sells in the $75 – $175 range. Originally made from about 1890 onwards and first intended to be mounted under the floor boards of a carriage, they later became popular with hot rods and continued to be made until the 1950s. The standard version in Pic 1 is activated by a foot-operated pushrod. Each bell has a different tone. One is struck on the downstroke, and the other on the spring-return upstroke, for a ding-dong sound.
There was also an electrified version made in the 1950s. Pic 2 shows such a bell with electrical wires instead of a plunger. Pic 3 shows how it was operated, with a momentary solenoid, that appears to strike both bells at the same time.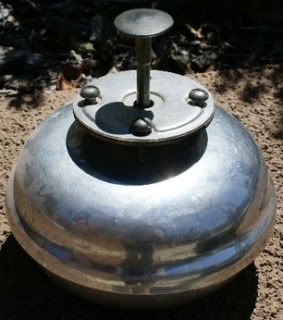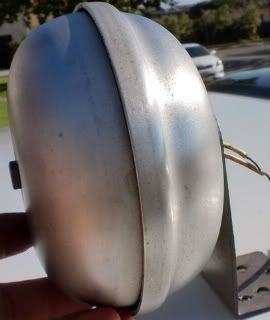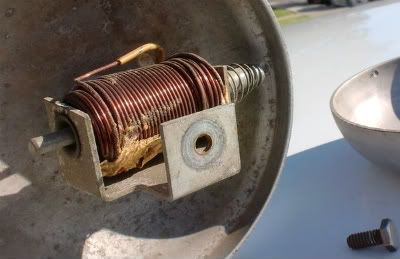 http://cgi.ebay.com/ebaymotors/VINTAGE-ELECTRIC-BERMUDA-BELL-LOUD-DING-SOUND-RARE-/190569574172?pt=Vintage_Car_Truck_Parts_Accessories&hash=item2c5ed4ef1c
=================================================================================================
45b – RARE ANTIQUE BRONZE BELL w/ LG. WINGED GRIFFIN NR
Here is a wonderful Victorian period (late 1800s) bronze Table Bell with large detailed winged griffin on top, bell is 7 5/8 in. high x 5 ¾ in. wide, all solid bronze with old original patina, weighs 3 pounds 5 ounces, excellent condition, has very high quality long sounding ring when it's rung, great antique bell. Not sure if it's a large dining table or hotel bell but what ever it was used for it's large & wonderful.
I like this bell, but it looks to me like a marriage. The parts may date to the late 1800s, but I suspect the combination was done considerably later. The two screws detract from the composition.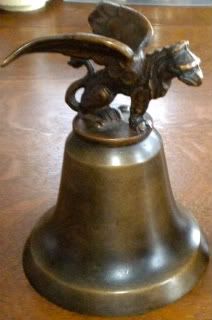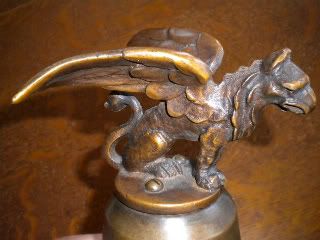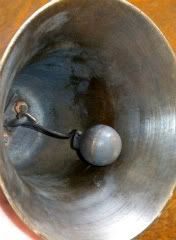 http://www.ebay.com/itm/130570704884?ssPageName=STRK:MEWAX:IT&_trksid=p3984.m1423.l2649
=================================================================================================
45c – Bizette Lindet; Lapin bronze argenté; clochette 1930
Superbe clochette Art Déco signé BIZETTE (1906-1998), vers 1930/40,
surmonté d'un lapin cubisant, rappelant les productions de Sandoz ou Lalique de cette période.
Hauteur: 11 cm. Parfait état.
Superb Art Deco table bell, signed BIZETTE (1906-1998), circa 1930-1940,
topped with a rabbit eating, similar to the products of Sandoz and Lalique of this period.
Height: 11 cm (4.5 in). Perfect condition.
Bells from the Art Deco period are hard to find and always interesting. The sculptor was André Bizette-Lindet, and his name (Bizette) is inscribed on the base of the figure (Pic 3).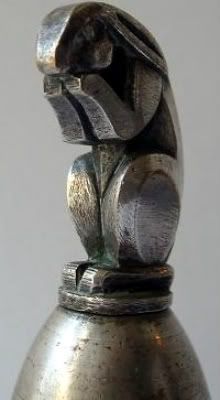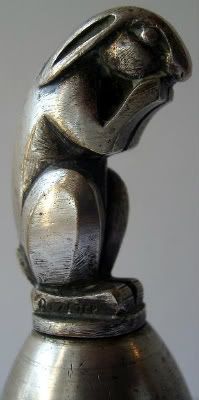 http://www.ebay.com/itm/130569809494?ssPageName=STRK:MEWAX:IT&_trksid=p3984.m1423.l2649
=================================================================================================