Re: Re: So, what is this worth? (Part 44)
September 8, 2011 at 3:38 am
#15151
halanb
Participant
Back from vacation, and back to "work."
=================================================================================================
44a – Rare Mechanical Hotel Service Strike Figural Bell
You don't see a lot of figural mechanical bells like this one come up often. It operates much different than your standard bells. To operate this , you push down on the birds tail and when you let go, it snaps back and strikes the bell.It has a nice ring. Made from either bronze or brass and sits on a dark marble stand. There are no cracks or damage to the bell and it works fine every time. Other than some scratches to the marble, it is in great condition. The size is aprox. 6 " tall x 6 " long x 4 " wide.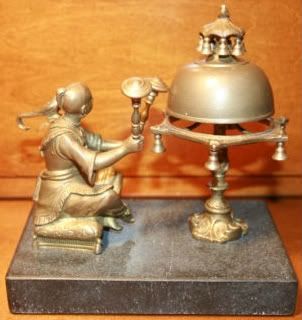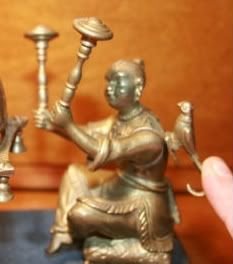 http://cgi.ebay.com/ws/eBayISAPI.dll?ViewItem&item=260845435950
=================================================================================================
44b – Antique Bronze German / Austrian 1886 University Bell
Late 19th Century made bell that must have been made in celebration of a German University.
Bell base says the following around bottom of it:
AN DAS 500 JAEHR UNIVERSITATS – JUBILAEUM 1886 ZUR ERINNERUNG
Top of Bell says 1386 and the name Ruprecht T above scupted face on one side and 1886 with name Freidrich Baden above sculpted face on other side.
This one is most likely a one of a kind item that is very special,
made with heavy bronze weighing over 1 pound, 2 ounces!
Beautiful bell with exquisite detail, but hardly "one of a kind" as the seller claims.
It was made to commemorate the 500th anniversary of Heidelberg University,
and hundreds or thousands were sold or given away to mark that event.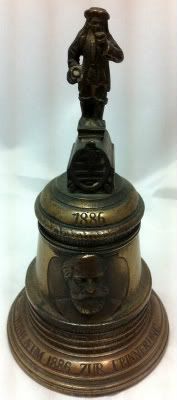 http://cgi.ebay.com/ws/eBayISAPI.dll?ViewItem&item=140592799231
=================================================================================================
44c – ANTIQUE SILVER BELL FIGURAL WOMEN LARGE MARKED 800
UNUSUAL ANTIQUE BELL
800 SILVER MARKED
FIGURAL LADY PUSH DOWN AND SHE RINGS
4.5″
HOLDING WREATH AND FLOWERS
Very unusual tap bell, in that the entire figurine is the "tap."
http://cgi.ebay.com/ws/eBayISAPI.dll?ViewItem&item=190569574155
=================================================================================================