Re: Re: So, what is this worth? (Part 43)
August 23, 2011 at 6:20 pm
#15150
halanb
Participant
43a – LOVELY VINTAGE LARGE LADY BELL EDITH CAVELL 7.5 inches
This is a really nice old large brass lady bell in the form of an historical nursing figure EDITH CAVELL.
It stands approx. 7.5 inches in height and is 2.6 inches across the base.The bell is marked on the base as can be seen REMEMBER EDITH CAVELL. This is a large heavy brass bell [ weighing almost 1.1 kg ]. It probably dates to about 1915 – 1930 and is in pretty good condition [ no clapper ] and is nicely cast.
Edith Cavell was a British nurse, arrested in 1915 for helping allied soldiers escape from German-occupied Belgium, convicted of treason, and executed by a firing squad. She became an immediate propaganda figure and received worldwide press coverage. Many commemorative items were produced and sold, and this bell was most likely one of them. The bell is well-known, but now infrequently encountered.
Her story is somewhat complex, and the Wikipedia article gives an overview.

http://www.ebay.com/itm/370534128266?ssPageName=STRK:MEWAX:IT&_trksid=p3984.m1423.l2649
=================================================================================================
43b – ANTIQUE DATED 1669 BRONZE RARE F.HEMONY DUTCH BELL
antique bronze bell, dutch dated 1669, franz hemony
words to the rim read f.hemony-me-fecit-anno-1669
gauntlet handle, original clapper, deep natural patina, in good condition
6 inches high 0.7kg
This is the so-called Mailed Fist Hemony bell. More information about these bells can be found by using the search box at the upper right of these pages.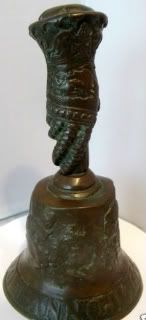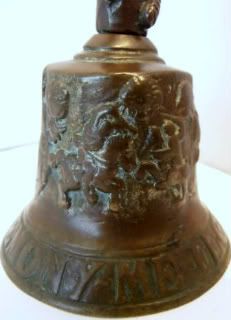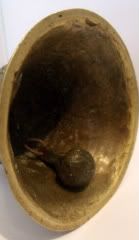 The handle detail is well above average, but otherwise it seems to me a fairly standard example,
and I myself would not have paid the hammer price.
http://www.ebay.com/itm/170680881865?ssPageName=STRK:MEWAX:IT&_trksid=p3984.m1423.l2649
=================================================================================================
43c – ANCIENNE CLOCHE DE TABLE/SERVICE ARTICULE EN BRONZE
Ancienne cloche de table ou de service en bronze a tête articulée,représentant une femme dansant en jouant du tambourin,hauteur 12 cm,diamètre de la base 5,5 cm,la tête remue en même temps que le marteau,tres bon état,patine bronze ancien,sort du grenier,nettoyage a parfaire.
OLD TABLE/SERVICE BELL, BRONZE ITEM
Old bronze table/service bell with an articulated head, representing a woman dancing while playing the tambourine, height 12 cm, base diameter 5.5 cm, the head moves along with the hammer, very good condition, patina bronze. Antique, out of the attic, needs a complete cleaning.
Another of the Oriental nodders that we have seen previously, and the last picture shows that apparently it is properly rigged. There is also a male version with tambourine. It could be that the bell was painted and the rather nasty gunk on the surface is old primer with the metal peeking through in places. Whatever it is, the seller is correct that it needs a good cleaning.
(I usually do not like to clean bronze, other than washing, but in this case if it were mine I would try paint remover, steel wool, a wire brush, or whatever it takes to get down to base metal. Such treatment would, of course, destroy any patina but there is really no patina here to be saved. Once cleaned, it could be left as plain metal, sprayed with lacquer to prevent oxidation, repainted, or treated with a chemical patina.)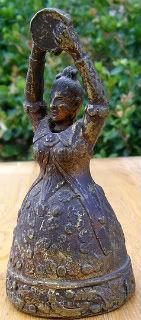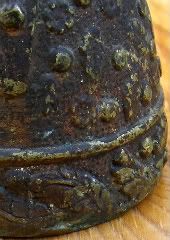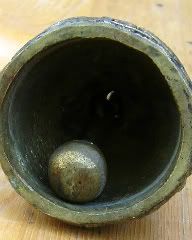 The somewhat nasty appearance seems to have held the sale price down.
http://www.ebay.com/itm/220832131342?ssPageName=STRK:MEWAX:IT&_trksid=p3984.m1423.l2649
=================================================================================================