Re: Re: So, what is this worth? (Part 41)
August 17, 2011 at 9:58 pm
#15148
halanb
Participant
41a – RARE ANTIQUE 18th C. ORNATE FRENCH BRASS DESK BELL
SUPERB ANTIQUE FRENCH BRASS DESK BELL, 18th CENTURY
A truly lovely ornate French bell, 4 1/2″ high x 3″ diameter.
This superior antique bell is authentic, very ornate and in very good condition.
It has fine detail & original large brass clapper.
A beautiful sweet ring tone.
Much more likely to be 19th Century, but a good honest desk bell, as can be seen from the care taken to finish the interior and supply a good quality clapper. There are hundreds of these figural bells for sale at any given time, so why not pick a decent one at an inexpensive price? The green material in the crevices is most likely dried polish, which can be removed without much trouble.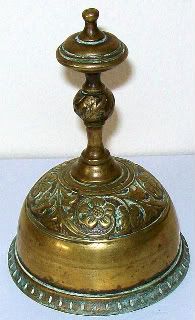 http://cgi.ebay.com/ws/eBayISAPI.dll?ViewItem&item=250868888036&ssPageName=STRK:MEWAX:IT&_trksid=p3984.m1423.l2649
=================================================================================================
41b – VINTAGE ARP BELL STAMPED JB39
THIS BELL IS IN VERY GOOD CONDITION. IT IS THE ORIGINAL BELL FROM THE PERIOD.
IT MEASURES JUST OVER 10″ HIGH.
This is an ARP (Air Raid Precaution) bell made for use by British Air Raid Wardens in WW2. They were made to common specifications by a number of manufacturers. Some of the bells identify the maker and year of manufacture, others do not.
This bell is marked JB / 39. James Barwell, Bellfounder, Fiddian Foundry, Great Hampton St, Birmingham, handbells to church bells from 1842-1971. James Barwell had acquired Fiddian's firm of 'Steam and Water' in 1842 and retained the trade name. JB is frequently found on the bell shoulder. Fiddian is sometimes stamped on the brass collar at the base of the wooden handle, but the seller does not mention nor the picture show if this one is so marked.
(You might also encounter an ARP bell marked G&J. Gillett & Johnston (Croydon, Sussex, UK) has been manufacturing, installing and servicing clocks of all types, for clients around the world, since 1844. They are still in business though they no longer make bells. They manufacture, restore, and/or service dials, bells, carillons, weathervanes & coats of arms. Perhaps the firm's most prestigious installation was for the Laura Spelman Rockefeller memorial carillon at the Riverside Church in New York City. The carillon has the largest note span of any carillon, and the largest tuned bell in the world. The Low C bourdon of that carillon weighs 20 tons.)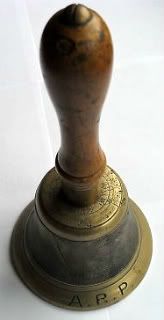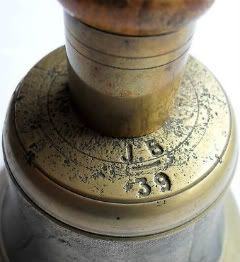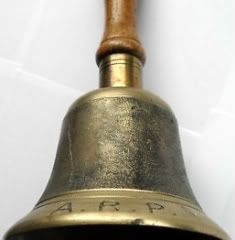 http://cgi.ebay.com/ws/eBayISAPI.dll?ViewItem&item=300587403931&ssPageName=STRK:MEWAX:IT&_trksid=p3984.m1423.l2649
=================================================================================================
41c – Old WW1 trench art brass hand bell + clapper
For your consideration I have a vintage brass "trench art" hand bell which I think dates to 1917.
It does come with a clapper so is readily usable though I don't think it is tuned to any key/note.
Trench Art is the name given to items supposedly made by soldiers in the trenches of WW1 or in POW camps. You can find a large variety of such items by searching eBay. Some of the simpler examples may have been made under such conditions. However, many of them appear to have required tools that would only have been available in commercial enterprises, and were probably made for sale to the soldiers as souvenirs. Many of the items use expended brass cartridges or artillery shells as the base material.
The 1st picture shows the bell currently offered for sale. The size is not given, but the bell may be from a 105mm artillery shell. The 2nd picture is one that was previously sent to the ABA website for identification. It appears smaller and may have used a 75mm shell. The 3rd picture shows a hand-carved wooden letter opener that indeed may have been made by a soldier. The last two pictures show vases that would require a hydraulic press and possibly metal dies.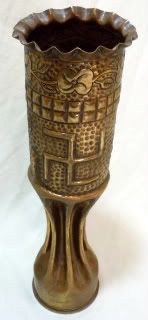 http://cgi.ebay.com/ws/eBayISAPI.dll?ViewItem&item=180707480516&ssPageName=STRK:MEWAX:IT&_trksid=p3984.m1423.l2649
=================================================================================================