Re: Re: So, what is this worth? (Part 39)
August 11, 2011 at 6:18 pm
#15147
halanb
Participant
39a – TISCHGLOCKE – BIEDERMEIER – HOLLAND – WACKLER – MESSING – UM 1800
Sie bieten auf eine sehr schöne Glocke!!!
BIEDERMEIER, "HOLLAND", "TISCHGLOCKE-HANDGLOCKE", FIGURLICH SOGENANTER WACKLER
"HOLLÄNDISCHE TRINKFESTER HERR SITZTEND AUF EINEM TISCH"
SIGNIERT: DONNARD DU LION? "MESSING" SCHWERE AUSFÜHRUNG
Kopf ist mit dem Klöppel verbunden, beim Kopfwackeln bewegt sich der Klöppel.
Mit original Klöppel! wohl um 1800
Maße: Hoch: 11,5 cm Durchmesser unten: 6,5 cm Gewicht: ca. 450 Gramm
Table bell – Biedermeier (style) – Holland – Brass – c. 1800
You are bidding on a beautiful bell!
BIEDERMEIER, "HOLLAND", "TABLE BELL- Hand BELL"
DUTCH GENTLEMAN DRINKING ON AN UPTURNED TABLE"
SIGNED: Donnard LION? "BRASS" HEAVY
Head is connected to the clapper, the head wobble moves the clapper.
With original clapper! probably around 1800
Dimensions: Height: 11.5 cm (4.6 in) – Bottom diameter: 6.5 cm (2.6 in) – Weight: 450 grams (16 oz)
This is one of the old nodders that every serious metal table bell collector should have in the collection. Often described as a Scot (possibly based on the hat and whiskers), hawking a brand of pomade (greasy hair dressing), with a drum at his feet to attract the attention of a crowd. Seller says brass and from Holland, but possibly bronze and from France.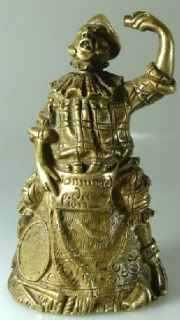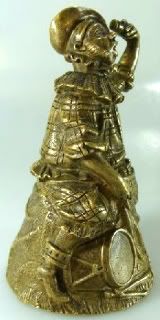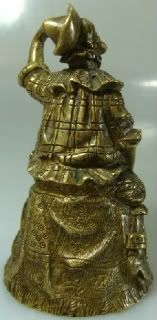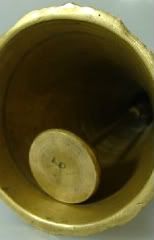 This was a 30-day listing and near the end of that period. Buy-it-now price of 430 euros or Make Offer. Someone made an offer, got a nice discount.
http://cgi.ebay.com/ws/eBayISAPI.dll?ViewItem&item=330588633197&ssPageName=STRK:MEWAX:IT
=================================================================================================
39b – Antique old bronze hotel Bell
I offer for sale this very rare bell, maybe a hotel table bell which is approx 19.5 cm (8 ins) high and can be seen illustrated on the frontispiece of two specialist collector publications by L.Elsinore Springer and Dorothy Malone Anthony. I know from these books that it is an Indian Princess Bell inspired by a love story written by the French author Chateaubriand. The story was published in 1801 after he had travelled in North America. Atala, the daughter of an Indian chief, fell in love with Choctas, her fathers prisoner and the chief of another tribe. She freed him and they fled. However Atala recalled a promise to her mother that she would not marry so she took her own life.
In typical Indian pose Atala should hold two beaters so that when the upper one is tripped the lower one raises then falls to ring the bell. Unfortunately on this example the upper beater is missing but with slight adjustment the bell can still be tripped & functions correctly by hand as can be seen in the youtube video Atala bell . The bell is very old in heavy bronze (1507 gm), with some markings, Paris ( ?) & something more and I know from one antique dealer that it is very rare so it will only be shipped "to be signed for".
Yes, this bell is highly-sought and always sells for a high price. Yet, lost in all the "noise" are two important considerations: the upper beater is missing and needs slight adjustment. The latter is seller-talk for, "I don't know what is wrong, have no clue how to repair it, can't be bothered to try, maybe it can't be repaired, but of course you could easily do it yourself." Good luck! With a substantial discount, fine, but it escapes me why anyone would pay a premium price for a defective item.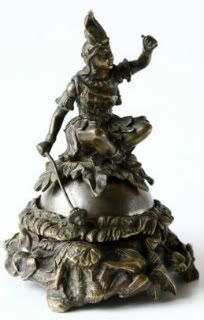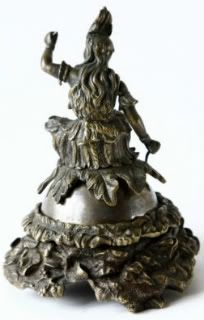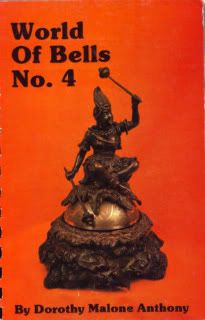 http://cgi.ebay.com/Antique-old-bronze-hotel-Bell-/170675585175?pt=Antiques_Decorative_Arts&hash=item27bd0ec097
=================================================================================================
39c – RARE Mexican Sterling Dinner Bell WILLIAM SPRATLING
Description : Dinner / Table Bell – weighs 7.24 troy ozs.
Maker : William Spratling.
Pattern : Dinner Bell with three rattles and a handle of twisted open worked stems. The top of handle has a ball finial. Above each rattle is an applied figural bee.
Marked : with the older Spratling mark WS (hard to read because part of the mark is covered up where the one rattle is attached) See Photo, It is also marked with the eagle mark (See Photo).
Measurements : 4 5/8″ in height and measures 2 7/8″ in width.
Monograms: none.
Condition : Great Estate Condition – there is a tiny ding on the top of handle – very minor and just pointed out for accuracy.
Spratling silver is eagerly sought and sells for high prices. William Spratling made silver items in Taxco in the period 1930-1945, a substantial enterprise with over 100 employees. However, the company was bankrupt and dissolved at the end of that period. The designs were later sold and continued under a similar name. Seller implies this was from the first period and may be correct, but I don't know enough about the marks to date it.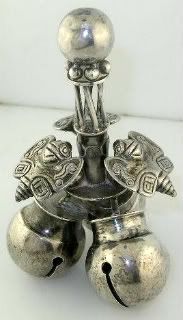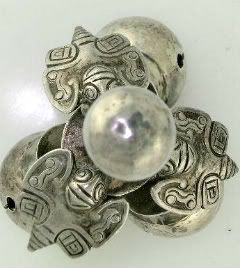 http://cgi.ebay.com/RARE-Mexican-Sterling-Dinner-Bell-WILLIAM-SPRATLING-/350478929467?pt=Antiques_Silver&hash=item519a2c0e3b
=================================================================================================