Re: Re: So, what is this worth? (Part 36b)
July 31, 2011 at 4:14 pm
#15143
halanb
Participant
36b-1 LARGE VINTAGE BRASS BELL WITH REAL LEATHER STRAP
LARGE VINTAGE BRASS BELL WITH REAL LEATHER HANDLE SRAP AND ALL ORIGINAL DETAILS
22.5CM TALL BELL DIAMETER 10.3CM
It is unusual to find a musical handbell, in what appears to be good condition, that is not part of a set. From the clapper retard pads and the large rivet in the leather handle, it looks as if it may be a Whitechapel bell, probably around F5. Those bells can be purchased individually, at a cost new in the $400 – $450 range. Used ones, even well worn and with missing pieces, often sell for over $100 as many collectors like to have one as an example.
Most table bells in this size would have a bronze alloy in the range of 95% copper and 5% tin, which makes them very durable. Musical handbells are cast with an alloy more like large church bells, around 80% copper and 20% tin. This gives them a more precise tone and allows tuning, but also makes these thin wall bells very brittle. Drop one on a hard surface and it may shatter.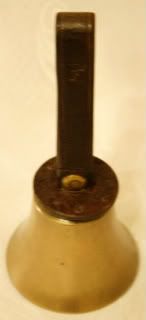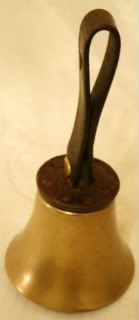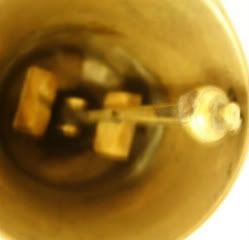 http://cgi.ebay.com/ws/eBayISAPI.dll?ViewItem&item=280714190163&ssPageName=STRK:MEWAX:IT
=================================================================================================
36b-2 PRAYER WHEEL,TIBETAN
Here's a very unique piece, a prayer wheel, you won't find these every day.
A prayer wheel, or Mani wheel, is a cylindrical container on a spindle handle. Traditionally, the mantra Om Mani Padme Hum is written in Sanskrit on the outside of the wheel, and printed copies of the mantra are wound round the spindle inside the container. Also sometimes depicted are Dakinis, Protectors and very often the eight auspicious symbols Ashtamangala. According to the Tibetan Buddhist tradition based on the lineage texts regarding prayer wheels, spinning such a wheel, always clockwise when viewed from the top, will have much the same meritorious effect as orally reciting the prayers.
The seller is correct in that you won't often find a prayer wheel like this (brass, bone, horn, decorative stones) every day at such an attractive price. However, you can easily find many for sale by searching eBay. Most are offered from China, all rather dubiously claiming to be "antique", and offered for tens, hundreds, or even thousands of dollars. A few may be worth it, and some do sell at the ABA convention auctions for several hundred dollars, but those are ones that can be examined in person. If you want one and are buying it from pictures on the Internet, my advice would be to find one that is pleasing to you and costs no more than $50.
http://cgi.ebay.com/ws/eBayISAPI.dll?ViewItem&item=270785743875&ssPageName=STRK:MEWAX:IT
=================================================================================================
36b-3 DECORATIVE, BRONZE / BRASS HAND BELL, TABLE BELL, C1900
A SUPERB, CAST BRASS OR BRONZE, TABLE HAND BELL, WITH FINE DECORATION, MEASURING 4 3/8″ HIGH, AND IN VERY GOOD CONDITION, WITH A CRISP RING, SOME MINOR AGE RELATED WEAR, NO SERIOUS DAMAGE, AND NO REPAIRS.
This is a copy of the Tsar Bell (Tsar Kolokol) from the Kremlin, by one measure the largest bell ever made (20 ft high, 200 tons), though damaged in a fire before it could be installed. The bell was cast in 1735, and copies have been made since around 1850. The early ones were very precise models and highly desirable. This looks to be a somewhat inferior later copy and, in my opinion, not worth the sale price.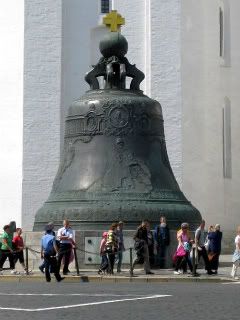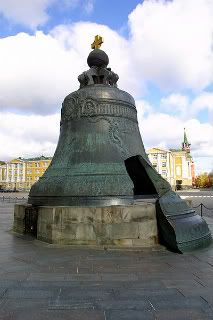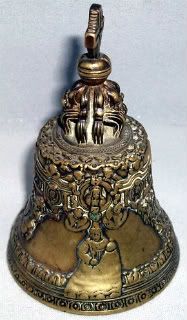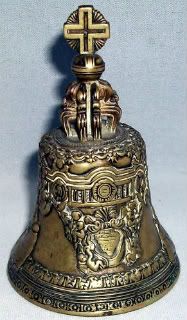 http://cgi.ebay.com/ws/eBayISAPI.dll?ViewItem&item=270785490225&ssPageName=STRK:MEWAX:IT
=================================================================================================