Re: Re: So, what is this worth? (Part 35b)
July 27, 2011 at 3:46 am
#15141
halanb
Participant
35b-1 CLOCHE ETAIN ART NOUVEAU signée LEDRU SUSSE frères
Cloche de Table ART NOUVEAU en ETAIN signée LEDRU Copyright by SUSSE Frères – Magnifique décor tout le tour, femmes nageant, poissons et Eole Dieu du vent – Manque le Battant – elle est à nettoyer, l'étain a des craquelures superficielles. Hauteur 13,5 cm – Diamètre 9,2 cm.
PEWTER BELL, ART NOUVEAU, Signed LEDRU, SUSSE FRERES
Table bell, Art Nouveau, in pewter, signed LEDRU, Copyright by Susse Freres.
Beautiful decoration all around – women swimming, fish, and the God of Winds blows.
Missing the clapper, needs cleaning, the pewter has superficial crazing/cracking.
Height 13.5 cm (5.4 in), Diameter 9.2 cm (3.7 in).
Created by Auguste Ledru (1860-1902), Art Nouveau sculptor. Cast by Susse Freres, one of the leading foundries in 19C France. They normally worked in bronze, though this bell is pewter. It is possible there was also a more expensive bronze version, with the pewter example a lower cost option.
The seller mentions "superficial" cracking or crazing, but it looks more than that to me. Originally the pewter would have had a shiny surface, like silver. Over time, pewter with lead content will form a surface scale, much like rust on iron, and can chip or flake off. If mine, I would probably send it off for professional polishing by a firm that specializes in antique repair.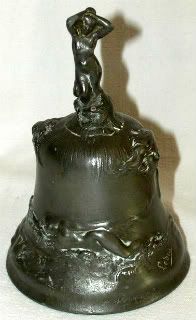 http://cgi.ebay.fr/ws/eBayISAPI.dll?ViewItemnext&item=260820920431.html
=================================================================================================
35b-2 Lg 7″ Antique Figural Man Brass Bronze Hand Bell
Offered for bids is a brass bell measuring 7 1/2" high. Bell is cast in the form of an man in 18thC or 19thC clothing holding what looks like a pineapple ? to his chest in his right hand & perhaps a flask or powder horn ? in his left. Condition is very good, with a rich unpolished patina. Not signed.
In the case of American Brilliant Period cut glass bells, Al Trinidad wrote in Glass Bells, "By their handles you will know them." In the case of early period (1907-1933) Pearson Page figural bells, "By their bases you will know them."
Springer (Collector's Book of Bells) shows six bells with this base in plate 320. There is a seventh with the lady figure in picture 5 below, and there may be others. It was common for Pearson Page to swap figures on standard bases, some of which are shown in pictures 4 & 5. They were offered as plain brass, lacquered brass, and in a variety of chemical patina colors.
These figural bells used to appear frequently, but this is the first I have seen for a while. They would sometimes sell for twice the current opening bid, though I think it is somewhat high these days and there were no takers.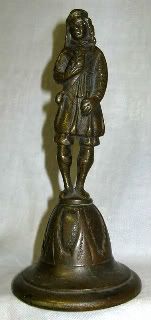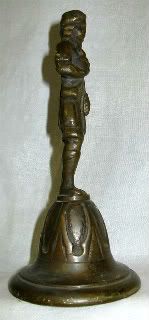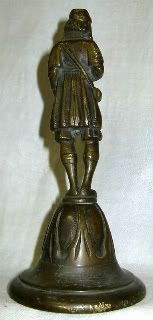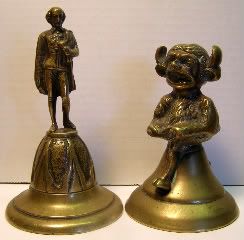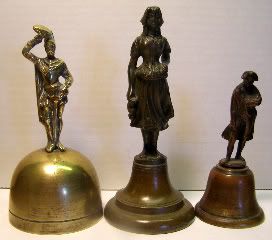 http://cgi.ebay.com/ws/eBayISAPI.dll?ViewItem&item=380355983577&ssPageName=STRK:MEWAX:IT
=================================================================================================