Re: Re: So, what is this worth? (Part 34)
July 26, 2011 at 12:10 am
#15139
halanb
Participant
And now, a few silver items from Britain for your consideration: =================================================================================================
34a Art Deco Asprey Silver Plated Bell Cocktail Shaker 1930
An iconic art deco silver plated bell shape cocktail shaker by Asprey & Co. Fantastic design in the form of a hand bell. Classic art deco by the famous retailer Asprey & Co London. Made by Hukin and Heath for Asprey . Genuine and original 1930's . Fully marked on the base with provisional patent and registration number. In excellent condition and fully functional . Height approx 11″.
Frankly, this is one of the pieces that I do not understand or the prices paid for them, probably because I do not collect cocktail shakers. It would be of interest to me because of the bell shape, but for no other reason.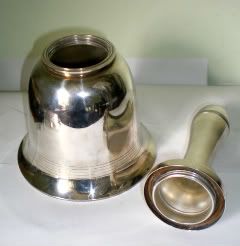 http://www.ebay.co.uk/itm/Art-Deco-Asprey-Silver-Plated-Bell-Cocktail-Shaker-1930-/350475643627?pt=UK_Collectables_Breweriana_SM&hash=item5199f9eaeb
==================================================================================================
34b Antique silver plate childs rattle whistle & bells 19th
An unusual child's rattle. With whistle and four bells. Cast metal 19th century. Size: Length 3 1/2 inches.
Condition: I think the item once had a handle, the mount for which is now missing.
The mouthpiece is slightly damaged and does not sound.
There are three very small cracks in the body which appear to be casting flaws. Slight wear to plate.

Talk about your bells and whistles! Yes, only one whistle, but four bells, and a lady figurine.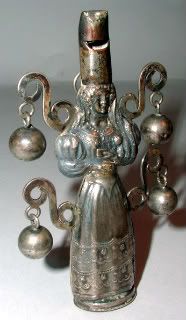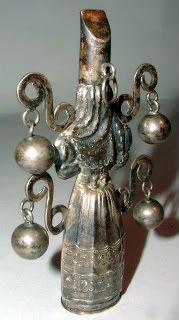 http://www.ebay.co.uk/itm/Antique-silver-plate-childs-rattle-whistle-bells-19th-/110714101911?pt=UK_Antiques_Silverware_RL&hash=item19c7132097
=================================================================================================
34c Superb SOLID SILVER & Faux Ivory TABLE BELL London 1900
This sterling silver table bell has been made to a Georgian design.
It has a barley twist ivory handle and the body is English hallmarked silver.
The bell has its original chain and clapper, the latter is also hallmarked for sterling silver.
Hallmarks on the bell are clear and show maker CB for Charles Boyton, Lion Passant for sterling, London assay mark and date letter e for 1900.
The bell is in very good condition and the clapper has a wonderful resonance. The ivory handle has a thin split as seen in photo.
Height is 5 ½ ins (14cm) and diameter of bell is 3 ¼ ins (8cm). This is a quality piece from an age of elegant dining.
If you collect authenticated silver tea bells, then this is one to have as it is well documented. A glance at the silver marks shows again the fondness that Brits have for polishing silver (and brass) items. The marks would have originally been much higher relief, but they illustrate what you should look for. Some of the marks go back to the 15th Century, and can easily be found online. The initials are those of the maker, were required and registered. The Lion Passant denotes sterling (.925) silver content. The Uncrowned Leopard Head denotes London from 1822 on. The last mark is for the year of manufacture, normally running thru 20 upper and lower case letters, with the font and shield design changing every 40 years. From 1784 – 1890 there was also a Duty Mark, showing the head of the reigning monarch.
Note that the seller uses "Faux Ivory" in the title, as required by the current goofy eBay rules, but reverts to "ivory" in the text.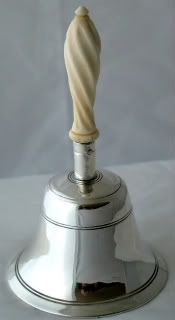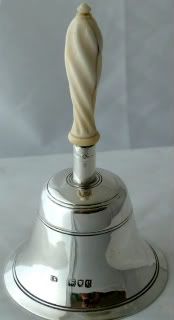 http://www.ebay.co.uk/itm/Superb-SOLID-SILVER-Faux-Ivory-TABLE-BELL-London-1900-/170669612548?pt=UK_Antiques_DecorativeAntiques_Collectables_EH&hash=item27bcb39e04
=================================================================================================
One more, for lagniappe:
34d Antique silver bell Birmingham 1930
A wonderful antique silver bell, the handle beautifully carved. It has hallmarks for Birmingham 1930 and the makers mark of William Base & Sons of Kenyon Street, Birmingham.
It is heavy as it is cast silver with beautiful decoration.
There is no mistaking its unique quality and design, which is sure to make it a treasured piece by any discerning collector. It weighs approximately 9 oz. Height 16cm & Diameter 7.5 cm
This bell is in truly excellent condition and is sure to make an outstanding contribution to your collection.
I include this bell as a curiosity, not a recommendation that it be purchased. Yes, it is sterling and properly marked, but to me has little appeal. The Gorham "Old Florentine" bore that inscription, was silver-plated, and made around the period 1880-1915. This appears to be an exact copy, made in 1930. I myself would prefer the Gorham, equally appealing, and much less expensive.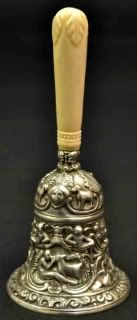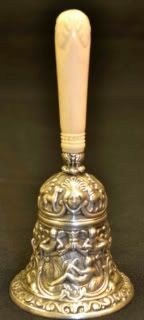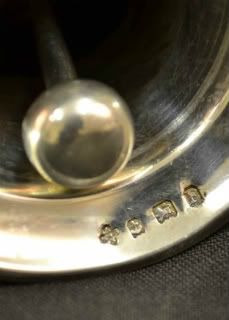 I do not include a link as this is an item perpetually for sale at a hugely inflated price – £695 or $1134.
=================================================================================================