Re: Re: So, what is this worth? (Part 31a)
July 14, 2011 at 2:59 am
#15089
halanb
Participant
31a-1 Muffin Man Hand Bell
A superb example of a hand bell often referred to as a Muffin Man's Bell as they used to walk through the streets in Victorian times selling freshly baked muffins and ringing their bell to announce their prescence much as the ice cream vans of today. It has a sweet mellow two tone ring. The brass is a wonderful colour often referred to as bell metal. It is unusual in having a white porcelaine handle as they are usually made of wood. Everything about it is in excellent original condition and it is free of any damage or repairs of any kind. It measures 8.5 inches in length excluding the hanging ring. I feel that this is a rare piece of our social history as well as a desirable and collectable item in its own right. It dates from about 1870.
Compare this bell from England with the Ezra Cone Gong Bell from Part 14b. Obviously similar, but some differences in the shape of the bell and the internally threaded conical section protruding from the center of each bell. Is it a different version of the American Gong Bell that made its way to England, or is it a version produced over there? I would appreciate information from any reader who is familiar with this bell.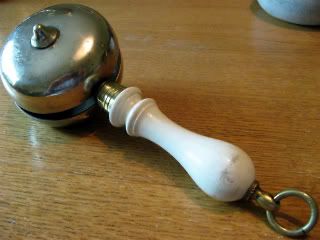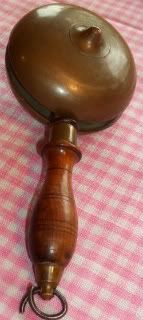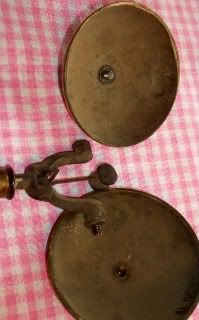 http://cgi.ebay.com/ws/eBayISAPI.dll?ViewItem&item=150627438853&ssPageName=STRK:MEWAX:IT
=================================================================================================
31a-2 BERTHOLD MULLER Figural STERLING BELL Use / Scrap 8 OZ
Berthold Muller Sterling Silver Dinner Bell ~ Figural Roman Solder at Top
Total height is approximately 6″ in height (staff would add another 1 & 1/2″ or so to overall height); 3 & 1/4″ x 3 & 1/4″ circular at base ~ Roman soldier along measures approximately: 2 & 3/4″ in height; 1 & 1/2″ in width (includes outstretched arms) Dime is shown to reference larger size ~ Weight is approximately: 8 NON-TROY OUNCES or about 228 grams
ITEM DETAILS: This auction features an antique Berthold Muller sterling silver figural bell. The top portion bears a complete, 3D image of a standing Roman solider. He bears extremely fine and exquisite detail for the small size, and is holding a staff in his left hand and larger style shield rests at his right. This is so detailed, even the tiny image of his belt buckle is visible! The Roman stands amoungst curled silver pieces which leads into the large bell portion. This is somewhat non-descript (i.e. – no real detail) aside from the somewhat upraised silver pieces at the top of the base. The inside of the bell still bears the chain and clapper piece, as well. In purchasing this piece, I did have to do some research. I was not only fascinated by it, but also somewhat baffled by the markings at first. Thankfully, most of what I found did clear up my confusion. Essentially, this piece was created in Germany, but imported to England; a whole subgroup of items often termed as, "Hanau Silver." This particular piece is hallmarked for Chester, England with a date mark of what I believe to be 1906 ("F" in script — please see pictures for this). It is also bears a few "pseudo" marks (which was not too unusual), along with a standard "925" for sterling silver. In addition to the many hallmarks seen on the side, the bell's clapper (the piece hanging from the inner chain) is also marked with, "925," as well. It is a truly amazing find! This piece came from the estate of a 92 year old highly distinguished lady. She was a world traveler and clearly cherished the finer things in life. I am truly honored to be able to offer the few items I was able to acquire from her estate.
A lot of information, but most of it to the point for this top quality figural. I suspect what the seller calls "pseudo" marks are the original German markings, and then it was re-marked upon entry to England to satisfy their requirements to be offered for sale in the UK.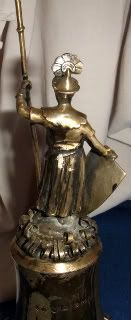 http://cgi.ebay.com/ws/eBayISAPI.dll?ViewItem&item=250848366318&ssPageName=STRK:MEWAX:IT
=================================================================================================
31a-3 GORHAM WOMAN FIGURAL STERLING DINNER BELL c1874 151 G
Gorham figural sterling silver dinner bell – with woman on top holding up ring – gilt gold band around base of figure. Marked 1860 1885 with B monogram. Great condition please view photos.
Circa 1874 – marked 290, with sterling Gorham marks and the letter G, ~5″ high, 2 3/8″ diameter, 151 gm.
The 1860-1885 dates probably signify that it was a silver wedding present. Those and the Gorham "G" mark serve to date the piece conclusively. I will use my last allowed link in this portion, but see Part 31b below for a link to Gorham silver marks. These same symbols were also used for the silver-plated Gorham tea bells.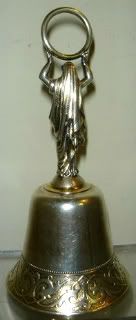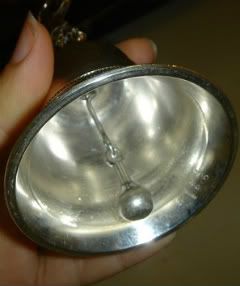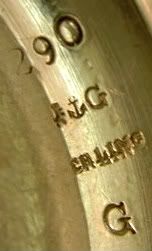 http://cgi.ebay.com/ws/eBayISAPI.dll?ViewItem&item=150626343911&ssPageName=STRK:MEWAX:IT
=================================================================================================