Re: Re: So, what is this worth? (Part 283)
April 9, 2015 at 2:09 am
#15452
halanb
Participant

This posting is solely on variations of Saint Peter's Bells
For some reason, there were five of these bells listed on UK eBay this past week.
I will show the two that sold, after an introduction to the Saint Peter's bell.
=============================================================================================
Introduction – Cast bronze bell after Luigi and Giuseppe Valadier's original Great Bell of St Peter's Basilica (1786) in Rome, Italian, late nineteenth century
A miniature version of the Great Bell known as 'Campanone', designed by the Italian goldsmith Luigi Valadier and cast by his son Giuseppe in 1786. It was dedicated to the Virgin Mary, the Saints Peter, Paul and Gregory the Great, as well as Pope Pius V. 'Campanone' was blessed by Pope Pius VI in the year that it was cast and installed in St Peter's Basilica. It is the largest of the six bells in the Basilica's bell tower.
Height 15.0 cm x Width 8.0 cm
For more information, see: http://museumvictoria.com.au/reb/history/visions-of-colonial-grandeur/the-courts/italian-court/cast-bronze-bell-after-luigi-and-giuseppe-valadiers-original-great-bell-of-st-peters-basilica-1786-in-rome-italian-late-nineteenth-century/
This bell is on display in the Royal Exhibition Building in Melbourne, Australia.
It is the usual style with:
..(1) the POPE'S TRIPLE CROWN, symbolic of his claim to temporal, spiritual and purgatorial authority.
..(2) four CHERUBS, kneeling with hands on heads of serpents. This represents the triumph of church over sin.
..(3) the TWELVE APOSTLES stand around the body of the bell in groups of three holding emblems of their office. The overhanging cathedral lamps represent spiritual light.
It would have had a small cross on top, now broken off as is often found.
It does not have an underplate.
These replicas were known to have been made before 1883 and again in the HOLY YEAR 1950.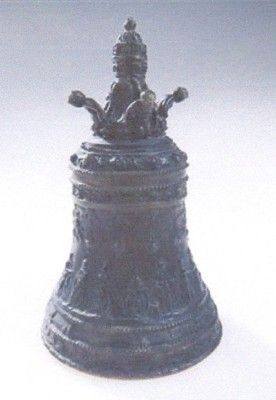 ===========================================================================================
ARCHITECTURE PRINT : Italy Church Bell in St. Peter's Basilica Rome Vatican
Type of print: Lithograph – Original vintage antique print
Year of printing: 1857
Publisher: Thomas Richards, London
Overall dimensions of print: Including blank margins : 10 x 14 inches.
This shows the design for the bell.
You can compare the features with actual cast copies of the bell to see how good the casting detail is.
Look especially at details of the apostles' faces. Each apostle has an attribute, an object unique to, and used to identify, that person.
The TWELVE APOSTLES stand around the body of the bell in groups of three holding emblems of their office. These are JUDE (ship), PETER (crossed keys), ANDREW (cross), JAMES THE GREATER (scallop shell), JOHN (chalice), PHILIP (cross and two loaves bread), JAMES THE LESSER (saw), MATTHEW (three purses), THOMAS (carpenter's square and spear), BARTHOLOMEW (three flaying knives), SIMON THE ZEALOT (open book and fish), MATTHIAS (open bible and axe).
The overhanging cathedral lamps represent spiritual light.
Lithograph offered on eBay for $16.80, no bids received.
===========================================================================================
Variant of Saint Peter's bell with bell ropes.
This style is seldom seen, also cast in bronze, 6.5 in.
Details are better than any of the bronze versions with a normal tiara that I have seen.
I have seen a superior casting in zinc, with a tiara and cross.
===========================================================================================
Italian bronze hand bell in Renaissance style
Dark brown patina, finely cast with the Apostles, the grip cast with the papal tiara.
Height 19cm., diam. 9.2cm.
This bell has both the ropes and an extended version of the tiara.
I have never seen this style previously, and it has the best casting details I have seen in bronze.
Offered at Sotheby's Amsterdam several years ago.
Estimate 1,200 — 1,600 EUR
LOT SOLD. 720 EUR (Hammer Price with Buyer's Premium)
http://www.sothebys.com/en/auctions/ecatalogue/2007/an-important-private-collection-from-hanover-am1020/lot.1072.html
===========================================================================================
RARE ANTIQUE ST PETER'S BELL, APOSTLES BELL WITH UNDERPLATE, BRASS OR BRONZE
This is a replica of The Great Bell " Campanone" designed by Luigi Valadier. It is the largest of the six bells in the Basilica's Bell Tower at The Vatican. It is complete with the underplate with the fallen dove and decorated with cherubs playing instruments.
The bell itself is sadly missing the clapper but I would think this should be easy to replace.
It has the cross on top which is often missing from these bells. The cross is leaning, which I thought was damaged, but apparently it is always shown like this as this is how the cross appeared to Paul looking out his dungeon window. I don't know if this is true or not though.
It is said these bells date to the late 1800's early 1900's. This one is in excellent condition as you can see. There is a slight dent on the base rim and a couple of little nibbles on the underplate rim but really the only problem is the clapper.
It stands about 5.5 inches high and the diameter is about 3.5 inches with the underplate being 6 inches diameter.
As you can see from the pics this is beautifully cast and very detailed with the pope's crown on top of cherubs riding dolphins. The apostles are shown all round also. I believe this is brass due to the colour but it is very heavy at over a kilo and is so finely cast I did wonder if it were polished bronze?
I have not cleaned it in any way and is how I acquired it.
Some mis-information in this listing.
The fallen dove mention is probably from Lois Springer. Nobody knows what it actually represents.
The cherubs are not playing any instruments.
The cross should be straight. It is made of thin metal (~1/16″), and is easily bent or broken off.
The clapper could be replaced, but it would be hard to find one that matches the original.
Brass and bronze are essentially the same density.
Sold at a low to average price.
http://www.ebay.com/itm/RARE-ANTIQUE-ST-PETERS-BELL-APOSTLES-BELL-WITH-UNDERPLATE-BRASS-OR-BRONZE-/191547066050?ssPageName=STRK%3AMEBIDX%3AIT&_trksid=p2047675.l2557&nma=true&si=m8R26lsog59Db53QDnrJi0R5ptQ%253D&orig_cvip=true&rt=nc
======================================================================================137=
Antique bronze church hand bell
Presenting antique bronze church hand bell very nice early example with lovely age related patina sand cast and quite heavy 20 cm high 10 cm diameter with aposels (sic) around side of bell in very good condition with no damage.
Style with no cherubs, and a large Fleury Cross (so-called because the ends of the cross are in the shape of a fleur-de-lis). This version always has much inferior details, and I could not recommend it.
First offered at 150 GBP ($223), no bids received.
Relisted at 85 GBP ($126), not clear if it sold. (Still too much to pay for one of these.)
http://www.ebay.com/itm/Antique-bronze-church-hand-bell-/371296647722?ssPageName=STRK%3AMEBIDX%3AIT&_trksid=p2047675.l2557&nma=true&si=m8R26lsog59Db53QDnrJi0R5ptQ%253D&orig_cvip=true&rt=nc
===========================================================================================