Re: Re: So, what is this worth? (Part 276)
February 7, 2015 at 6:45 pm
#15445
halanb
Participant
Several bells from German eBay
========================================================================================
276a – FIGURALE TISCHGLOCKE MESSING
Tischglocke Messing!
Größe: 12cm, DM:6,5cm
ohne Klöppel
BRASS FIGURAL TABLE BELL
Brass table bell!
Height: 12 cm, Diameter 6.5 cm
Missing clapper
Fairly standard lady bell, but good quality, and an attractive price.
We have seen this nun previously in several finishes, including brass, gilt, and silver plate.
This one is brass, and has polishing residues from previous cleaning(s).
I suspect the reddish material is Cuprous Oxide, sometimes an intermediate phase
before the darker and more familiar Cupric Oxide is formed.
http://www.ebay.de/itm/FIGURALE-TISCHGLOCKE-MESSING-Nr-4-/161581221972?ssPageName=STRK%3AMEBIDX%3AIT&_trksid=p2047675.l2557&nma=true&si=cIs7iyDYXPmb3i0nmF92dLHIU2I%253D&orig_cvip=true&rt=nc
=======================================================================================41=
276b – FIGURALE TISCHGLOCKE MESSING
Tischglocke Messing!
Größe: 15cm, DM:7,3cm
Klöppel durch Schrauben ergänzt!
BRASS FIGURAL TABLE BELL
Brass table bell!
Height: 15 cm, Diameter 7.3 cm
Clapper replaced with two hex nuts!
Another fairly standard lady bell, decent brass casting, and reasonable price.
http://www.ebay.de/itm/FIGURALE-TISCHGLOCKE-MESSING-Nr-2-/161581219227?ssPageName=STRK%3AMEBIDX%3AIT&_trksid=p2047675.l2557&nma=true&si=cIs7iyDYXPmb3i0nmF92dLHIU2I%253D&orig_cvip=true&rt=nc
========================================================================================50=
276c – Jugendstil Bronze Handglocke, sign. Friedrich Cauer (1874-1944/45) 1904
Bronze, dunkel patiniert. Bezeichnet 'Susanna', rückseitig signiert und datiert. Griff figürlich gestaltet als die Susanna beim Bade nach der biblischen Erzählung (Buch Daniel). Auf Höhe ihre Füße zwei groteske männliche Köpfe. Cauer war erst in Oberkassel bei Düsseldorf, dann in Kassel als Bildhauer und Maler tätig. Zunächst Schüler seines Vaters, dann Studium an den Akademien in Kassel, München, Karlsruhe und Stuttgart. War Mitglied des Künstlervereins Malkasten Düsseldorf.
Höhe: 22 cm
Art Nouveau bronze hand bell, sign. Friedrich Cauer (1874-1944 / 45) 1904
Bronze, dark patina. Inscribed 'Susanna', reverse signed and dated. Figuratively designed as Susanna in the bath in the biblical story (Daniel). At the height of her feet two grotesque male heads. Cauer worked as a sculptor and painter first in Oberkassel in Dusseldorf, then in Kassel. At first his father's pupil, then studied at the academies in Kassel, Munich, Karlsruhe and Stuttgart. Was a member of the Artists Association of Dusseldorf.
Height: 22 cm
Clearly the star of today's group, and the best bell I have seen on eBay in a long time.
In fact, I have never seen it on eBay previously, and the only other example I have seen
came from the Anselm Lange auction in 2004.
This is about as good as it gets – a large (8.5″) bronze figural bell from the Art Nouveau period,
engraved the names of the subject and sculptor, and the date.
Susanna and the Elders
Wikipedia: As the story goes, a fair Hebrew wife named Susanna was falsely accused by lecherous voyeurs. As she bathes in her garden, having sent her attendants away, two lustful elders secretly observe the lovely Susanna. When she makes her way back to her house, they accost her, threatening to claim that she was meeting a young man in the garden unless she agrees to have sex with them.
She refuses to be blackmailed and is arrested and about to be put to death for promiscuity when a young man named Daniel interrupts the proceedings, shouting that the elders should be questioned to prevent the death of an innocent. After being separated, the two men are questioned about details (cross-examination) of what they saw but disagree about the tree under which Susanna supposedly met her lover. The first says they were under a mastic tree. The second says they were under an evergreen oak tree. The great difference in size between a mastic and an oak makes the elders' lie plain to all the observers. The false accusers are put to death, and virtue triumphs.
The story was a popular subject in painting from the Renaissance to the early 20th century.
There are a few versions as sculpture, including marble and ivory relief.
Guido Reni & Artemesia Gentileschi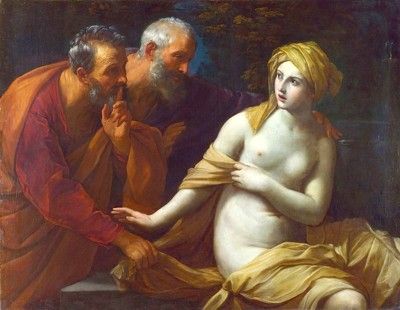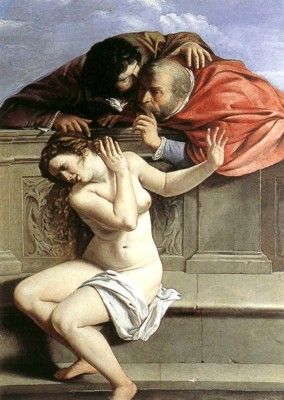 Peter Paul Rubens & Thomas Hart Benton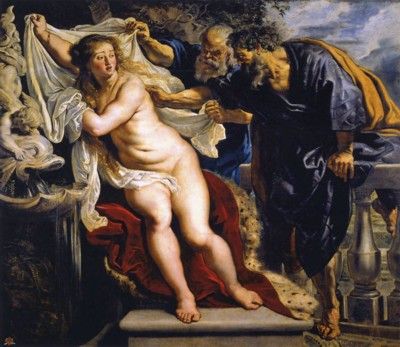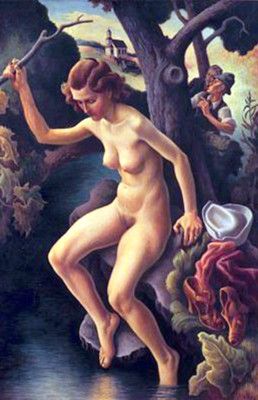 Flemish school & Francis van Bossuit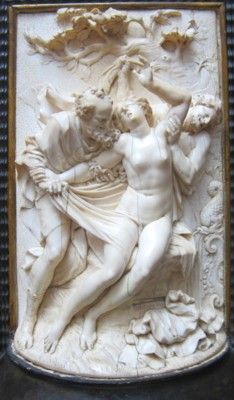 http://www.ebay.de/itm/e1b18-Jugendstil-Bronze-Handglocke-sign-Friedrich-Cauer-1874-1944-45-1904-/381142115886?ssPageName=STRK%3AMEBIDX%3AIT&_trksid=p2047675.l2557&nma=true&si=cIs7iyDYXPmb3i0nmF92dLHIU2I%253D&orig_cvip=true&rt=nc
=======================================================================================455=