Re: Re: So, what is this worth? (Part 27)
June 6, 2011 at 1:31 am
#15131
halanb
Participant
(27-1) Brass bell
Just the sort you would see in a period drama when somebody in bed is ringing for a servant.
8.5 cm tall x 5 cm base
Handle is a swans neck with criss cross markings.
Bell has different patterns and rings quite loudly.
Original clacker.
Very pretty
A listing from a relatively new seller, little description in the title, and only one picture, but that is sufficient. It sold at a low price, but it is definitely not low quality. Rather, it illustrates one of the real bargains that can occasionally be found. Probably dating from around 1900, lost wax construction, excellent detail on the base. Nothing flashy, but many times better than any figurine lady bell that you would find in the same price range.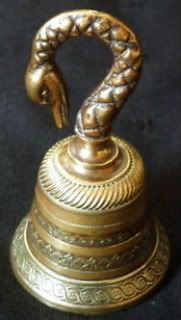 http://cgi.ebay.com/ws/eBayISAPI.dll?ViewItem&item=270755869953&ssPageName=STRK:MEWAX:IT
=================================================================================================
(27-2) ORNATE NUDE LADY WOMAN BRASS BELL VINTAGE OLDER STUNNER
THIS IS A VINTAGE NUDE LADY BRASS BELL. THIS BELL HAS VERY ORNATE DESIGNS. THE TOP PART OF THE BELL HAS FACES OF MEN AND DOGS AND GOATS? THE BOTTOM HALF OF THE BELL HAS NUDE MEN, SOME WITH WINGS, LARGE BIRDLIKE ANIMALS WITH DOG BODIES, MORE GOATS? AND ALSO GOD LIKE MENS FACES. VERY ORNATE DESIGNS. AND OF COURSE THE NAKED WOMAN AT THE TOP (HANDLE). THIS MEASURES APPROX. 5″ HIGH. THE BOTTOM DIAM OF THE BELL IS APPROX. 2 5/8″. THIS BELL IS STUNNING.
Another Leto figure for a handle, as in Part (24b-2). The base is the same as the Gorham "Old Florentine" though the inside picture shows that it does not carry that inscription. The original bell design was by Benvenuto Cellini and dates back to the Renaissance.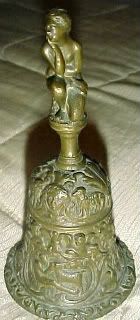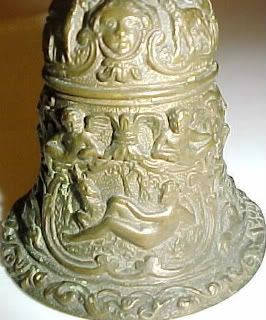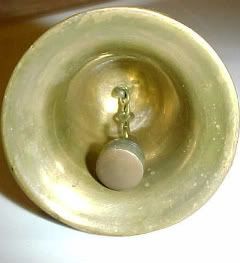 http://cgi.ebay.com/ws/eBayISAPI.dll?ViewItem&item=110694622872&ssPageName=STRK:MEWAX:IT
=================================================================================================