Re: Re: So, what is this worth? (Part 26)
May 29, 2011 at 6:18 pm
#15129
halanb
Participant
(26-1) Old Mechanical Dinner Gong…heavy brass..1930's
Mechanical Dinner Gong…Native and Bird with Gong
Made of heavy brass…press button and native strikes gong
6″ wide….9-1/2″ tall No markings
Made in the 1930's Fine detailed castings
An unusual and seldom seen mechanical bell. By pressing down on the button, the figure turns and strikes the gong. The seller only provided one picture, but that seems to have been sufficient.
If you check the bid history on the item, you will notice that the buyer was very determined. In addition to the winning bid, s/he entered four higher "insurance" bids a short time apart, each time apparently rethinking what it was worth to him/her.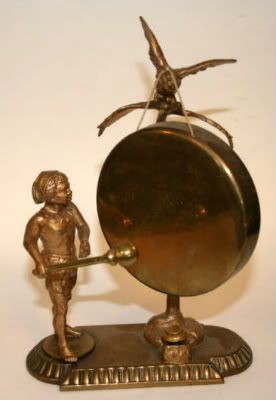 http://cgi.ebay.com/ws/eBayISAPI.dll?ViewItem&item=230625155902&ssPageName=STRK:MEWAX:IT
=================================================================================================
Addendum: 4 June 2011 – It is unusual to encounter a mechanical gong, like the one above. It is even more unusual to encounter a similar item in succession.
(26-2) Rare antique brass serving/servants bell – dinner gong
For your consideration I have a vintage brass serving or servants bell which was originally used in a hotel many years hence, most unusual as it can be operated by either side or both together.
This item is in sound used condition with some wear and tear in keeping with it's age and being used, it would certainly benefit from a good clean/polish – Standing approx 5″ tall and being approx 5.5″ across.
The former gong is operated by the figure ("jack" or "jacques") striking the face of the gong. This one is a double tap bell, operated from either side, with the clapper striking the rim of the gong.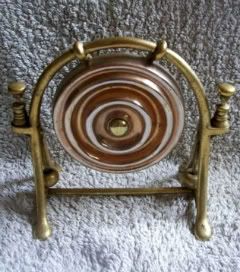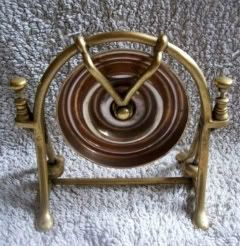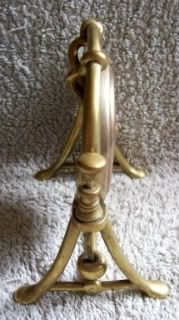 http://cgi.ebay.com/ws/eBayISAPI.dll?ViewItem&item=260794459560
=================================================================================================