Re: Re: So, what is this worth? (Part 25)
May 27, 2011 at 2:06 pm
#15128
halanb
Participant
ANTIQUE GEORG JENSEN STERLING SILVER DINNER BELL
MARKED ON SIDE DESSIN HN DENMARK GEORG JENSEN STERLING 174…
WEIGHTS 2.82 TROY OZ. MEASURES 3″ TALL X 1-5/8″….
Since 1904, Georg Jensen has been the premier Danish silver company. Progressing through Art Nouveau, then Art Deco, and now in modern Scandanavian style, its essence has always been design. The pieces are made in sterling, not silver plate. They are expensive and highly sought.
The seller states that the bell is "antique" but does not show the hallmark.
The third photo shows the various marks from earliest through current.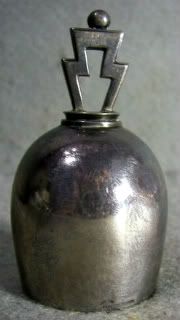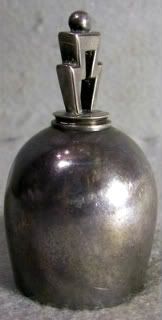 http://cgi.ebay.com/ws/eBayISAPI.dll?ViewItem&item=260787129521&ssPageName=STRK:MEWAX:IT
=================================================================================================