Re: Re: So, what is this worth? (Part 24b)
May 24, 2011 at 5:17 am
#15127
halanb
Participant
(24b-1) Very Rare Bronze Iron Maiden Figurine Bell Good Detail
You are bidding on a very rare bell. This is the iron maiden, and she is bronze. She has good detail. There are no marks. This is in wonderful condition. This used to be really expensive, so the price is right. The height is 3 1/2″, and the base diameter measures 1 1/2″.
Many metal bell collectors have one of these, but they are not often seen and are always snatched up.
The Iron Maiden was a medieval torture device. The best known example was associated with Nuremberg, though that particular well publicized example (pic 3) is now known to be a later reproduction.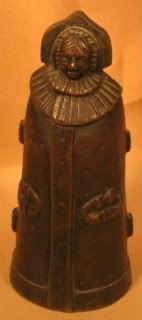 I imagine the sellers were delighted with the final bid price.
http://cgi.ebay.com/ws/eBayISAPI.dll?ViewItem&item=400215659758&ssPageName=STRK:MEWAX:IT
=================================================================================================
(24b-2) STUNNING VICTORIAN NUDE LADY BRASS BELL 12 cm 218g
We are delighted to be offering today for auction on eBay, the following item.
STUNNING VICTORIAN NUDE LADY BRASS BELL 480 g
Depicts a stunning example of the figural nude lady solid brass bell, very good solid brass cast .
Height : 4 3/4 inches – 12 cm Weight : 218 g
Condition: used – Vintage condition no damage, the bell ringing .
This is another good figural bell. The figure is often seen on other bells as well. I think she is Leto, daughter of Titans, and mother of Apollo and Artemis by Zeus. The most interesting feature to me is that the clapper is attached with a spring, rather than wire or chain. I have seen this on other figurals, but they always have a similar style base.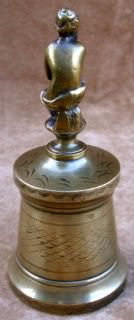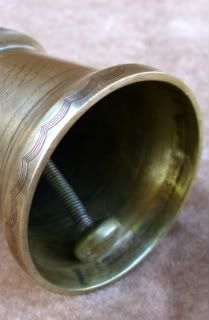 Sold at a reasonable price in my opinion.
http://cgi.ebay.com/ws/eBayISAPI.dll?ViewItem&item=200608764482&ssPageName=STRK:MEWAX:IT
=================================================================================================