Re: Re: So, what is this worth? (Part 24a)
May 24, 2011 at 4:51 am
#15094
halanb
Participant
(24a-1) Antique Silver Figural Lady Bell
This is a stunning looking antique collectable bell that is very ornately made.
It measures 4 -1/2 inches tall and diameter of base is 2- 9/16 inches.
There are 3 markings on this bell which are hard to depict but from left to right are a very ornate crown, the second is a crown with a lion under it and the third is a crown within a shield.
The very definition of a tea bell to summon a cook or maid. It is probably silver, rather than silver-plated. I don't recall the maker's marks, possibly German. British silver marks are well defined and easy to translate, but until the unification of German silver marks in 1886, each city-state had their own. There is often a content designation like .800 or .840 but not necessarily near the other marks. There may not be one on this bell, or the seller may have missed it.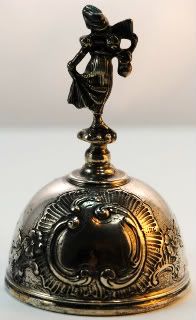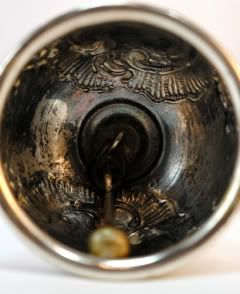 A desirable bell and it sold at a reasonable, or even low, price in today's market.
http://cgi.ebay.com/ws/eBayISAPI.dll?ViewItem&item=140549980817&ssPageName=STRK:MEWAX:IT
=================================================================================================
(24a-2) CLOCHE ARGENT MINERVE BACCHUS SONNETTE DE TABLE
SPLENDIDE CLOCHE DE TABLE EN ARGENT MASSIF.
Elle possède plusieurs poinçons ,au pied de l'Ange,sur le gong et la cloche.
Elle pése 214 grammes.
Elle mesure 13,3cm de hauteur,l'Ange mesure 8cm de hauteur,
la cloche mesure 6,5cm de diamètre.
SILVER BELL MINERVA BACCHUS TABLE BELL
SPLENDID TABLE BELL IN PURE SILVER.
It possesses several marks, at the foot of the figure, on the clapper and the bell.
It weighs 214 grams (7.6 oz).
It measures 13.3 cm (5.3 in) in height, the figure measures 8 cm (3.2 in) in height,
the bell measures 6.5 cm (2.6 in) in diameter.
Another desirable tea bell, with a Bacchic putto bearing grapes, a little larger than the one above. Most 19C French silver will have one mark for silver content and another for the maker. The seller shows pictures of the same content marks on the figure, the bell, and the clapper. The "Minerva head" mark signifies .950 in silver content, higher than the .925 British Sterling standard. A "Minerva" mark followed by a "2" indicates .800 silver content. Both of these are used for silver items which could be sold internally in France. Occasionally you may see an item destined for export only. These bear a "Mercury head" mark, always followed by a number. "1" indicates .920; "2" indicates .840; and "3" indicates .750 content. The seller states that there is a maker's mark, but does not identify it.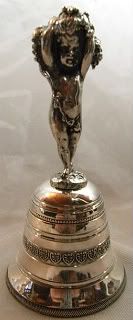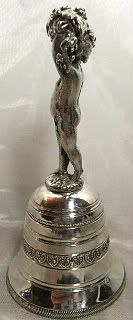 The seller's asking price is way above the market, and there were no takers.
http://cgi.ebay.com/ws/eBayISAPI.dll?ViewItem&item=120723766581&ssPageName=STRK:MEWAX:IT
=================================================================================================