Re: Re: So, what is this worth? (Part 234)
April 28, 2014 at 7:30 pm
#15403
halanb
Participant

234a – VINTAGE HEAVY BRASS TABLE BELL WITH "D'YE KEN JOHN PEEL HUNTING SCENE" HANDLE
Vintage heavy BRASS TABLE BELL,handle features "D'YE KEN JOHN PEEL,HUNTING SCENE".
Excellent condition as per photo,a really nice bell with a very loud ring tone from original clapper,
would be perfect for a reception desk or pub bar,date possibly Edwardian or 1920's,
weighs approx 310g or 11oz unpacked,measures approx 16cm or 6.5″ high,7.5cm or 3″ diameter.
John Peel (1776 – 1854) was born at Park End, near Caldbeck, Cumberland; his family moved a short time after to the Greenrigg farm. Peel married in 1797 to Mary White. Some of the White family's property at Ruthwaite (near Ireby) passed into his hands, which secured Peel a comfortable income. However, he was, as many of his friends admitted, prone to dissipation and he devoted himself primarily to hunting, often two to three days a week. Peel was a farmer by profession, a yeoman and not from the gentry, who kept a pack of fox hounds, often hunted on foot, but did occasionally ride to hounds. He became famous because of an English hunting song, dating from shortly before the middle of the 19th century and written by a friend, John Woodcock Graves, a fellow Cumbrian. He died in 1854 and is buried in the churchyard of St Kentigern's Church, Caldbeck. In 1977 his grave was vandalised by anti-hunting activists.
Song: http://www.youtube.com/watch?v=LxUIWmuJARg
The bells come in several versions, both as handbells and as wall-mounted bells.
Some bear the inscription "D'Ye Ken John Peel", some "John Peel", and others blank.
The same handle with ring may be found on toasting forks, shoe horns, and other items.
Pic 4 is an alternate version, without ring or inscription. Pic 5 shows the full inscription.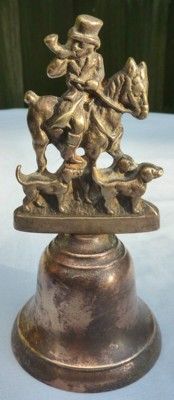 http://www.ebay.com/itm/VINTAGE-HEAVY-BRASS-TABLE-BELL-WITH-DYE-KEN-JOHN-PEEL-HUNTING-SCENE-HANDLE-/191148766473?pt=UK_Antiques_DecorativeAntiques_Collectables_EH&hash=item2c815ab509&nma=true&si=PhOSA7%252ByHJfFUKll8kBUzyCjeC4%253D&orig_cvip=true&rt=nc&_trksid=p2047675.l2557#ht_214wt_664
=======================================================================================12=
234b – HTF Antique Cast Iron Figural Bear Table Bell
HTF antique Cast Iron Bear Figurine Holding a Table Bell..The Bell operates by twisting the knob.. Condition: This Bear Bell is in Near Mint- Condition.. Natural Aged Patina… No Chips, No Cracks, No Dents, No Repairs.. note: the two nuts are replacements.. The Bell is in Fine working Order..
Size: The Bear w/ Bell stands 7″h ..
Looks a little rough to me, and the sale price seems to reflect that.
http://www.ebay.com/itm/HTF-Antique-Cast-Iron-Figural-Bear-Table-Bell-/380889110460?ssPageName=STRK%3AMEBIDX%3AIT&_trksid=p2047675.l2557&nma=true&si=PhOSA7%252ByHJfFUKll8kBUzyCjeC4%253D&orig_cvip=true&rt=nc#ht_230wt_664
=======================================================================================83=
234c – Vintage Figural Turtle Tortoise Shaped Hotel Desk Bell VGC
This vintage figural turtle tortoise shaped metal desk bell is in good working condition and rings when either the head or tail is pressed. This vintage desktop bell measures 6.5 inches in length and 3.75 inches across. This is in excellent condition for its age.
Similar design to the German versions, but not marked as such, and with minor differences.
http://www.ebay.com/itm/Vintage-Figural-Turtle-Tortoise-Shaped-Hotel-Desk-Bell-VGC-/380887310443?ssPageName=STRK%3AMEBIDX%3AIT&_trksid=p2047675.l2557&nma=true&si=PhOSA7%252ByHJfFUKll8kBUzyCjeC4%253D&orig_cvip=true&rt=nc#ht_3572wt_758
======================================================================================138=