Re: Re: So, what is this worth? (Part 23)
May 20, 2011 at 2:52 am
#15126
halanb
Participant
(23-1) VICTORIAN ANTIQUE BRASS CRINOLINE LADY HAND BELL
EXQUISITE VICTORIAN ANTIQUE BRASS CRINOLINE LADY HAND BELL
Presenting an exceptional genuine antique English brass
figural crinoline lady shaped hand held bell.
This highly appealing antique brass bell has the most detailed and
extensive decoration we have seen on any crinoline lady bell.
This bell has been extremely well cast in thick brass.
The detail is magnificent, with exquisite folds
and extravagent fills on the ladies dress.
The crinoline lady's face has exceptionally fine features and
is most appealing. The beautifully proportioned, thin waisted
lady holds a fan in her slender fingers.
With lovely high, jewelled hair, wide sleeves
and an appealing floral detail to the front of her skirt,
this piece certainly is a fine Victorian example.
The beautifully shaped wide skirt acts as the bell,
with the torso and head acting as the handle.
This superb bell is presented in excellent condition, with no losses
or cracks to the brass. This charming piece has developed a wonderful
patina that only years of loving use can bring.
The original donger remains in place.
This highly appealing antique crinoline lady bell stands approx 150mms tall
and measures approx 85mms in width at its base.
A superb addition to any crinoline lady, Victorian period,
antique brass or antique bell collection!
Seems like a pretty hard sell for a common bell, usually known as Madame du Pompadour. If common, why am I featuring it here? The reason is to show that significant differences can exist between these bells.
All the ones I have seen are sand cast, so you know you will never see the detail as on a lost wax bell. However, sand cast bells are quite acceptable if care is taken with the casting process. Less or minimal care, and you can find some really nasty examples. The first set of pictures is one of the best that can be found. The sale price was a little higher than the average, but this bell is well above average. You probably only want one, so why not get the best that you can find?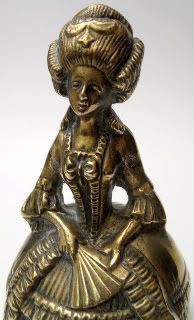 http://cgi.ebay.com/ws/eBayISAPI.dll?ViewItem&item=370509810036&ssPageName=STRK:MEWAX:IT
The next set of pictures is of a bell closer to an average example. Detail is deficient, compared to the one above. It has a lot of nasty gunk that could take you hours to clean off. Yet it only sold for 8 bucks less than the one above.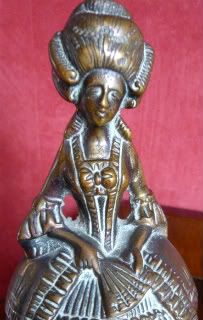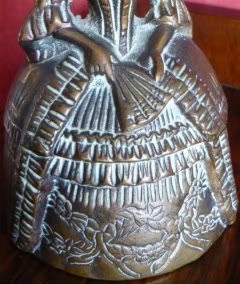 Moving further down, we arrive at places that your mother either did, or should, warn you about.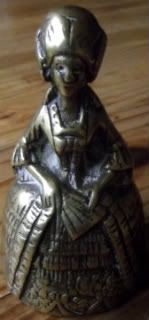 ==================================================================================================
(23-2) ANTIQUE 19THc BRONZE DEVIL SATAN LUCIFER BELL VERY RARE
ANTIQUE 19THc BRONZE DEVIL SATAN LUCIFER BELL IN EXCELLENT CONDITION!!!
THIS ONE IS VERY RARE, ONE OF A KIND FOR SURE!!!!!!!!!!!
IT MEASURES 6 INCHES IN HEIGHT AND 2.5 INCHES IN DIAMETER.
THIS BELL IS VERY DETAILED AND UNIQUE!
EXCELLENT ITEM FOR YOUR COLLECTION. GOOD LUCK!!!!!!!!!
Probably an ONI figure, and an average example of this particular figural bell.
RARE, sure. VERY RARE, might be stretching it a little.
ONE OF A KIND FOR SURE!!!!!!!!!!! Hardly, considering that Manfred exhibited his copy in the previous DEVILS & DEMONS section, I have one, and I have seen other examples (though all of those had the handle rotated 90 degrees).
Unless a prototype or figural marriage, there is no reason to believe that a metal table bell is unique. The design exists, a mold or model exists, and all foundries cast multiple copies, even if only in limited editions.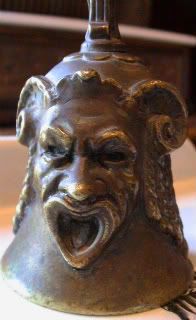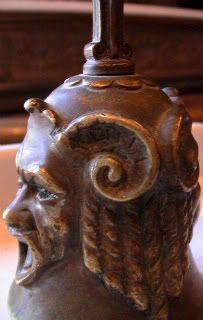 http://cgi.ebay.com/ws/eBayISAPI.dll?ViewItem&item=320698459357&ssPageName=STRK:MEWAX:IT.
=================================================================================================