Re: Re: So, what is this worth? (Part 22b)
May 17, 2011 at 2:02 am
#15125
halanb
Participant
Two bells are covered in this section:
(22b-1) CLOCHE DE TABLE ANCIENNE BRONZE ARGENTE L ENFER RODIN
MAGNIFIQUE CLOCHE DE SERVICE DE TABLE DU DEBUT DU XXéme S , EN BRONZE ARGENTE
SON DECOR EST INSPIRE DES " PORTES DE L ENFER " DE " RODIN " , observez les détails de la cloche !!
DIM 16,8 CMS , DIAM DU DESSOUS 8,4 CMS
CHAQUE PERSONNAGE EST DIFFERENT…….peut etre attribué à ????
OBJET AUTHENTIQUE !!
ANTIQUE TABLE BELL, SILVER PLATED BRONZE, RODIN'S HELL
BEAUTIFUL TABLE BELL FROM EARLY 20 CENTURY, SILVER PLATED BRONZE.
ITS DECOR IS INSPIRED BY RODIN'S 'GATES OF HELL". OBSERVE THE DETAILS OF THE BELL!
HEIGHT 16.8 CMS (6.7 IN), 8.4 CMS (3.3 IN) DIAMETER OT THE BASE
EACH CHARACTER IS DIFFERENT ……. PERHAPS ATTRIBUTED TO??
AUTHENTIC OBJECT!
(22b-2) Ancienne Cloche Messe Noire en Bronze Memento Mori bell
Très ancienne et rare cloche de messe noire.J'affirme messe noire car je ne vois pas d'autre explication à ce thème de la mort et de l'enfer.
Elle est en bronze.
Une production ancienne, XIX ° siècle ou avant ………….
Décor de la mort sur la poignée et de l'enfer avec plusieurs clochers sur le contour.Voir les détails sur photos.
Cette cloche avait beaucoup plus de traces de blanc d'Espagne ( miror ) qui bien qu'en la faisant tremper et brossant a du mal à partir.Des années de polish! Sa patine n'est pas verte, il s'agit de l'effet du flash.
Un prix de départ minime pour une telle curiosité.
Afin de garantir l'authenticité.
Old Bronze Bell, Black Mass, Memento Mori bell
Very old and rare Black Mass bell. I say Black Mass because I see no other explanation for this theme of death and hell.
It is bronze.
Antique production, nineteenth century or before ………….
Subject of death on the handle and of hell with several towers on the base. See details on pictures.
This bell has many traces of polish that even soaking and brushing has trouble to remove. Many years of polish! Its patina is not green, it is the effect of the flash.
A low starting price for such a minor curiosity.
Authenticity guaranteed.
The handles are different but the bases are the same. The first handle is Satan/Lucifer/Mephistopheles. The second handle is a death figure.
I think the first seller's description is more correct. It was probably inspired by Rodin's Gates of Hell design, which itself was based on Dante's Inferno. Rodin (1840-1917) worked on this monumental sculpture for the last 37 years of his life. Several well known figures from it, including The Thinker, were cast in his lifetime, but the entire work was not cast in bronze until 1926 in Philadelphia. Since Rodin did not begin work until 1880, there is no way that the second seller's version of bell construction date can be correct.
The first bell is clearly of lost wax construction of the highest order. I have seen it once or twice before.
I have never seen the second bell previously, and the details are inferior to the first bell. The third photo, a closeup of this second bell, shows a seam and grinding consistent with sand cast production. Very curious.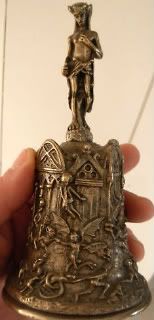 I myself would value the first bell much above the second bell, but the market has spoken.
http://cgi.ebay.com/ws/eBayISAPI.dll?ViewItem&item=220781655196&ssPageName=STRK:MEWAX:IT
http://cgi.ebay.com/ws/eBayISAPI.dll?ViewItem&item=250815452041&ssPageName=STRK:MEWAX:IT
=================================================================================================