Re: Re: So, what is this worth? (Part 220)
March 9, 2014 at 8:58 pm
#15388
halanb
Participant

220a – Vasan als Zimmerklingel – Knopf Tischglocke Glocke Klingelknopf Zimmermädchen
Zustand : Gebraucht, alt
Pheasant as room bell – table bell or doorbell with button to summon a maid
Condition: Used, old
Another hanging type bell push.
http://www.ebay.com/itm/271413184271?_trksid=p2055119.m1438.l2649&ssPageName=STRK%3AMEBIDX%3AIT&autorefresh=true#ht_5193wt_862
=======================================================================================47=
220b – An Antique Bronze Bell of a Lady Playing a Lute c1880/1900
This unusual antique hand bell I think dates from between 1880 and 1900. The bell is made of bronze and has nice colour and patina with age as seen in the photos, the bell is of a lady from the Tudor period playing a lute and has very good detail, the bell measures 3.75 inches high and in good condition apart from a knock to the end of the lute as seen.
Beautiful patina, even if the end of the lute is missing.
We saw one of these previously in Part 18:
viewtopic.php?f=6&t=4193&start=21
http://www.ebay.com/itm/201045393828?_trksid=p2055119.m1438.l2649&ssPageName=STRK%3AMEBIDX%3AIT#ht_54wt_968
=======================================================================================70=
220c – Tischglocke
Antike Tischglocke.
Höhe: 9,9cm.
Durchmesser am Boden: 7cm.
Messing.
Falls Frage, bitte anfragen.
Table bell
Antique table bell.
Height: 9.9 cm.
Diameter at the bottom: 7 cm.
Brass.
Beautiful figural bell, probably bronze, with deep relief.
Unfortunately the handle seems to have been missing,
and someone replaced it with a drawer pull.
http://www.ebay.com/itm/221385620643?_trksid=p2055119.m1438.l2649&ssPageName=STRK%3AMEBIDX%3AIT#ht_371wt_968
======================================================================================117=
220d – Ancienne Sonnette DE Comptoir cloche DE table JP NOUVEAU TIMBRE DIT ELECTRIQUE
patte de lion tripode
je pense en metal argente mais pas de poinçon
elle fonctionne, mais il faut la remonter souvant car on ne peut pas la remonter beaucoup
hauteur 13cm
diametre 9cm sans compter les pattes
Old bell desk bell OF THE NEW STAMP DIT table JP ELECTRICAL
lion's paw tripod
I think silver metal but no stamp
it works, but it must often be reset because the ring does not last long
height 13cm
diameter 9cm excluding feet
This is a well made mechanism, probably needs cleaning and lubrication.
http://www.ebay.com/itm/161238955888?_trksid=p2055119.m1438.l2649&ssPageName=STRK%3AMEBIDX%3AIT#ht_427wt_968
======================================================================================154=
220e – cloche en bronze porte montre sonnette et encrier
objet complexe deuxième moitié du XVIIIe siècle , porte montre , sonnette et encrier
la sonnette fonctionne , pas de fêle , le porte montre en bon état ,la montre fonctionne
encrier de couleur rouge , manque après un bouchon voir photo le socle est recoller a un endroit , pas visible sur le dessus
la cavité au-dessus de la sonnette est en nacre et contenait du talc pour assécher l'encre
belle objet et pas courant , encore en bon état pour son âge
hauteur total :19 cm ,dimensions du socle :18 X 10 X 1 cm , hauteur des encriers :6 cm , diamètre du timbre :6 cm
bronze bell, watch holder, and inkwell
complex object second half of the eighteenth century, shows a watch, bell and inkwell
the doorbell works, no cracks, shows the watch in good condition, the watch works
red ink, after missing a plug pictured the base is pick a place not visible on top
the cavity above the bell is mother of pearl and contained talc to dry ink
beautiful object and not current, still in good condition for its age
Total height: 19 cm, base dimensions: 18 X 10 X 1 cm, height inkwells: 6 cm, diameter of the stamp: 6 cm
Certainly not 18C, probably late 19C.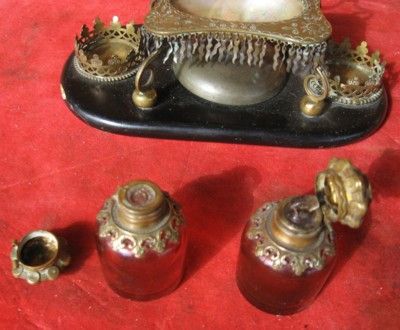 http://www.ebay.com/itm/291092584543?_trksid=p2055119.m1438.l2649&ssPageName=STRK%3AMEBIDX%3AIT#ht_283wt_968
======================================================================================309=
220f – Sonnette ou cloche de table XIX bronze dorée Bell tête mobile
Charmante sonnette de table d'époque XIX éme en bronze massif.
Le personnage est un jeune étudiant, à la tête mobile.
Pas de choc, état correct, prévoir un léger nettoyage.
Hauteur 11,5 cm, diamètre 7,5 cm, poids : 503 grammes.
Bell or bell table XIX mobile Bell gilded bronze head
Charming antique table bell XIX C in solid bronze.
The character is a young student, the head is mobile.
No faults, correct condition, needs a light cleaning.
Height 11.5 cm, diameter 7.5 cm, weight: 503 grams.
Possibly another aprocyphal identification, but this bell is often said
to represent French novelist George Sand (woman).
Wikipedia: Amantine (also "Amandine") Lucile Aurore Dupin, (1 July 1804 – 8 June 1876), best known by her pseudonym George Sand, was a French novelist and memoirist. She is also equally well-known for her much publicized romantic affairs with a number of celebrities including Frédéric Chopin and Alfred de Musset.
Always known simply as "Aurore" she was born in Paris but raised for much of her childhood by her grandmother, Marie Aurore de Saxe, Madame Dupin de Francueil, at her grandmother's estate, Nohant, in the French province of Berry (see House of George Sand). Sand later used the setting in many of her novels. It has been said that her upbringing was quite liberal. Her father, Maurice Dupin, was the grandson of the Marshal General of France, Maurice, Comte de Saxe, himself an illegitimate son of Augustus II the Strong, King of Poland and a Saxon elector, and a cousin to the sixth degree to the kings of France Louis XVI, Louis XVIII and Charles X. Sand's mother, Sophie-Victoire Delaborde, was a commoner.
In 1822, at the age of eighteen, Sand married Casimir Dudevant (1795–1871), illegitimate son of Baron Jean-François Dudevant. She and Dudevant had two children: Maurice (1823–89) and Solange (1828–99). In early 1831, she left her husband and entered upon a four- or five-year period of "romantic rebellion." In 1835, she was legally separated from Dudevant and took her children with her.
Sand conducted affairs of varying duration with Jules Sandeau (1831), Prosper Mérimée, Alfred de Musset (summer 1833 – March 1835), Louis-Chrysostome Michel, Pierre-François Bocage, Félicien Mallefille, Louis Blanc, and Frédéric Chopin (1837–47). Later in life, she corresponded with Gustave Flaubert. Despite their obvious differences in temperament and aesthetic preference, they eventually became close friends. She engaged in an intimate friendship with actress Marie Dorval, which led to widespread but unconfirmed rumors of a lesbian affair.
Sand's reputation came into question when she began sporting men's clothing in public — which she justified by the clothes being far sturdier and less expensive than the typical dress of a noblewoman at the time. In addition to being comfortable, Sand's male dress enabled her to circulate more freely in Paris than most of her female contemporaries, and gave her increased access to venues from which women were often barred — even women of her social standing. Also scandalous was Sand's smoking tobacco in public; neither peerage nor gentry had yet sanctioned the free indulgence of women in such a habit, especially in public (though Franz Liszt's paramour Marie d'Agoult affected this as well, smoking large cigars).
These and other behaviors were exceptional for a woman of the early and mid-19th century, when social codes—especially in the upper classes—were of the utmost importance. As a consequence of many unorthodox aspects of her lifestyle, Sand was obliged to relinquish some of the privileges appertaining to a baroness, though the mores of the period did permit upper-class wives to live physically separate from their husbands, without losing face, provided the estranged couple exhibited no blatant irregularity to the outside world.
George Sand died at Nohant, near Châteauroux, in France's Indre département on 8 June 1876, at the age of 71 and was buried in the grounds of her home there. In 2004, controversial plans were suggested to move her remains to the Panthéon in Paris.
I am surprised that nobody purchased this bell, a rare nodder in good condition and very hard to find.
Perhaps the high opening price scared off some potential bidders.
http://www.ebay.com/itm/121284585201?_trksid=p2055119.m1438.l2649&ssPageName=STRK%3AMEBIDX%3AIT#ht_20wt_968
======================================================================================485=