Re: Re: So, what is this worth? (Part 212)
February 8, 2014 at 1:50 am
#15288
halanb
Participant

212a – Tischglocke Tischklingel Dienerruf Klingel Art Déco versilbert Zierobjekt Glocke
Sehr schöne Tischglocke – Dienerruf – antik !!!!
Die Glocke ist aus Metall, versilbert.
Sie ist rund, gebaucht, mit rundem Klöppel. Den Griff bildet ein rund gewölbter Vogel- oder Entenhals mit Raubvogelkralle am Ansatz. Die Glocke ist mit einem geometrischen Zierband ziseliert.
Ein sehr schönes Zierobjekt !!!!!
Sehr guter Zustand mit altersbedingten Gebrauchsspuren. Keine Mängel.
Maße ca: Höhe 11 cm, Durchmesser 8 cm, Gewicht 129 Gramm
Table bell Art Deco silver plated decorative object bell
Very nice table bell – antique!!
The bell is made ​​of metal, silver plated.
It is round, bulged, with a round clapper. The handle is a round arched bird or duck neck with bird of prey claw at the base. The bell is engraved with a geometric ribbon.
A very nice decorative object!!
Very good condition with age related wear. No defects.
Dimensions approx: Height 11 cm (4.3 in), diameter 8 cm (3.1 in), weight 129 grams
http://www.ebay.com/itm/151222593171?_trksid=p2055119.m1438.l2649&ssPageName=STRK%3AMEBIDX%3AIT#ht_2519wt_968
=======================================================================================36=
212b – Jugendstil Era Figural Iron Frog Gong Bell
Offered for your consideration is a very unique (I have tried to find one on the internet and had no luck) figural gong bell. The material is iron with a bronze finish; it is 12″ high x 7.5″ wide. It is a frog sitting on a lily pad holding an umbrella. The umbrella is the bell. The mallett is missing. It was produced by the Goberg Company in Germany and is stamped on the bottom Goberg/German/Ges. Gesch. Condition is very good on this piece. It is from the estate of a bell collector in Massachusetts. She logged it in as a "German folk frog holding a mushroom for an umbrella from a child's story book." Goberg was known for its decorative metalware.
http://www.ebay.com/itm/111268884913?_trksid=p2055119.m1438.l2649&ssPageName=STRK%3AMEBIDX%3AIT#ht_101wt_968
=======================================================================================91=
212c – Ancienne Sonnette de Comptoir , cloche de table fonderie XIXeme reliquaire bell
Superbe sonnette de table en cuivre et porcelaine emaillée.
Elle représente 3 scènes
La marque est celle de la célèbre fabrique de cloche
dimensions : 11 cm
fonctionne parfaitement
Antique desk bell, religious table bell cast in nineteenth century
Beautiful table bell in porcelain and enamelled copper.
It shows 3 scenes
The item is one of the famous cathedral bells
dimensions: 11 cm (4.3 in)
works perfectly
This is one of the tap bells with scenes of various churches, basilicas, and monuments.
This one is the Sacré Cœur (Sacred Heart) Basilica on the summit of Montmartre in Paris.
The first panel shows the 19 ton Savoyarde bourdon, the largest of the five bells at the basilica,
http://en.wikipedia.org/wiki/Sacr%C3%A9-C%C5%93ur,_Paris
http://www.youtube.com/watch?v=EjSNwY5xCjM
The most common one has pictures of Lourdes.
For more information, see The Bell Tower Nov-Dec 2012.
http://www.ebay.com/itm/321310101034?_trksid=p2055119.m1438.l2649&ssPageName=STRK%3AMEBIDX%3AIT#ht_1238wt_5220
=====================================================================================139=
212d – ANTIQUE BRONZE BELL WITH TRAY
THIS BELL IS REALLY BEAUTIFUL. IT HAS BEEN IN THE FAMILY OVER 40 YEARS PREVIOUSLY PURCHASED FROM AN ANTIQUE SHOP IN POOLE. THE ONLY DAMAGE IS A VERY SMALL DENT TO THE RIM OF THE TRAY.
This is a more common version of the St Peter's bell, one of which we saw last time.
It is missing the small cross at the top of the pope's tiara, not uncommon but not desirable.
Casting details are decent, but it has a heavy and somewhat ugly patina.
It does have the underplate that most of these bells do not have.
These first pictures are an example of the St Peter's bell with the cross.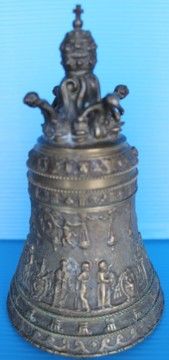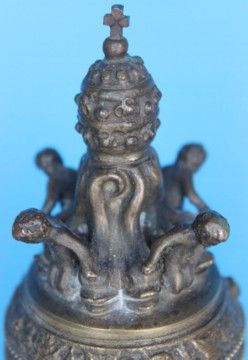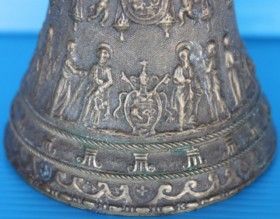 A little high in today's market, but the underplate does add to the value.
http://www.ebay.com/itm/111271103812?_trksid=p2055119.m1438.l2649&ssPageName=STRK%3AMEBIDX%3AIT#ht_146wt_968
======================================================================================318=