Re: Re: So, what is this worth? (Part 21)
May 12, 2011 at 2:22 am
#15123
halanb
Participant
Jolie Clochette aux fables, Bronze argenté, XIXe
A rare Victorian table bell, Elkington & Co.1874
Voici une amusante sonnette de table en bronze ciselé, à belle patine argentée, décor de fables, poignée: le Renard et la Cigogne, profond relief, bien ciselé. Au dessous, des poinçons, qui seraient d'après des renseignements britaniques, de la maison Elkington et associés, le Christofle Anglais, lettre date: 1874…..
beau travail du XIXe siècle, authenticité garantie
Dimensions: 15cm x 7,5cm
État: bon, pas de défaut important, le battant n'est sans doute pas d'origine
Pretty Table Bell with Fables, Silver-plated Bronze, 19th Century
Here is a fun table bell engraved bronze, beautiful silver plating, depicting fables. Handle represents the Fox and the Stork, deep relief, well modelled. Below, hallmarks, that are, based on British information, firm Elkington and Associates, the English version of Christofle, letter date: 1874.
Beautiful work of the nineteenth century, authenticity guaranteed.
Dimensions: 15cm x 7.5 cm (6 in x 3 in). Condition: good, no major defect, the clapper is probably not original.
The seller describes the handle as the fable of the Fox and the Stork. In fact, it should be the Wolf and the Stork, a tale first attributed to Aesop as told by Phaedrus, then a La Fontaine poem (http://www.readbookonline.net/readOnLine/19874/). It also appears in a Guy de Maupassant story, and in various Eastern literature. The Wolf is always present, but the bird may be a Stork, a Crane, or a Heron. The last picture below shows Stefan Horota's 1968 sculpture of the fable in Berlin's Treptower Park.
Basically the story is that a wolf had a bone stuck in his throat and, with gestures depicting the problem, persuaded a stork to remove it with his large beak. When the stork asked for a modest payment for the service, the wolf replied that, knowing the general nature of a wolf, the stork should accept as payment the fact that the wolf did not bite off the stork's beak.
Three different animal heads protrude from the bell, with fables beneath. The bell is depicted on the cover of Dorothy Anthony's World of Bells No. 5, in a gilt version.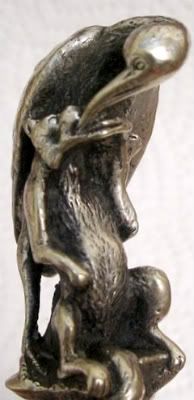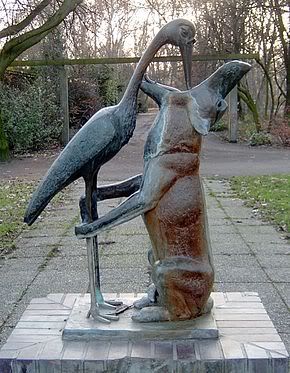 http://cgi.ebay.com/ws/eBayISAPI.dll?ViewItem&item=350461048621
=================================================================================================