Re: Re: So, what is this worth? (Part 206)
January 15, 2014 at 1:21 am
#15376
halanb
Participant

206a – RARE GERMAN JD SCHLEISSNER HANAU 800 SOLID SILVER HOTEL BELL EXT RARE c.1860
Here we have a super rare and impossible to find Antique ca.1860-80 German Hanau J.D. Schleissner & Sohne Hotel bell. This is a wind up automated ringing bell that once pushed the top bell spins and rings. It's incredible and fun. The putti's and nude angels encircle the entire piece and literally come off the piece. Standing 4 1/2″ tall x 4″ in diameter at the base and is so superb. The piece has Schleissner & son marks along with 800 marks and even more marks next to it and is marked with R & Z or B & Z with early English Hallmarks or Import marks. This looks to be important into the UK over a hundred years ago and then I believe has Re-entry marks back into Germany. This may be an expo piece. Numbers on the other side as well. Weighing 7.3 standard ounces. The mechanism for the piece a clockwork mechanism and does work but needs someone with a good hand at putting it back in order. It sounds beautiful when it does but was wound too much at one time and just needs some re-adjustment. I never touched it and don't but this is Rare and works.
http://www.ebay.com/itm/390740691565?ssPageName=STRK:MEWAX:IT&_trksid=p3984.m1438.l2649#ht_10559wt_948
======================================================================================560=
206b – TIFFANY & Co. ANTIQUE c.1901 HEAVY RARE STERLING SILVER DINNER BELL 6oz
Here we have a rare No nonsense incredible expo quality thick heavy guage hand done Tiffany & Co. Sterling silver Dinner bell. The handle is incredible and thick and you cannot bend it if you tried. A very sturdy piece dated Apr. 1901 and being 113 years old now and stands 5 1/2″ tall x 2 3/4″ in diameter and in fine condition and being too thick and heavy to break when using the bell. What a sound it makes. This is the Real Tiffany & Co. and is marked accordingly on the sterling weight and has a stock number that may be exposition made. Has a monogram on the obverse of the date. An important piece. No chips, cracks or repairs.
Many pictures, Tiffany marks are shown on the clapper, but strange to me that seller did not show marks that would have been on a Tiffany bell itself.
http://www.ebay.com/itm/390738660902?ssPageName=STRK:MEWAX:IT&_trksid=p3984.m1438.l2649#ht_7973wt_948
======================================================================================688=
206c – Pairpoint Art Glass Wedding Bells
A series of these was sold yesterday, all nominally 11.5″ x 5″.
Pictures and prices are for comparison and information.
Compare also the two that were covered in Part 205 above.
Note that some of the handles contain reflections of other bells placed nearby.
Pairpoint Cranberry Art Glass Bell w/Red, White & Blue Twist Handle – $153
One of the older bells, plaster junction, no clapper.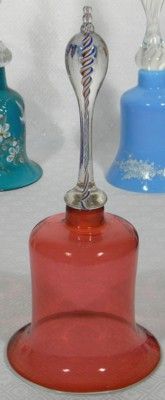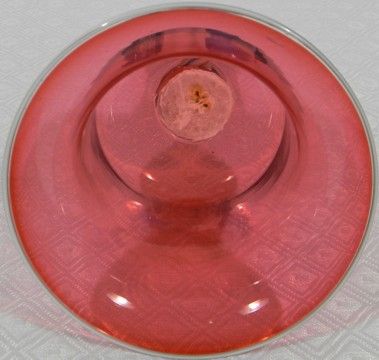 Pairpoint Amberina Amber Bottle Twist Art Glass Bell – $153
Another of the older bells, no clapper.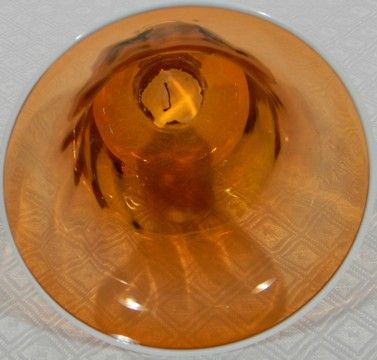 Pairpoint Peach Blow Art Glass Wedding Bell w/Enamel Decoration – $123
This and all following bells are from the newer series.
To me this was the most interesting bell but also the lowest priced.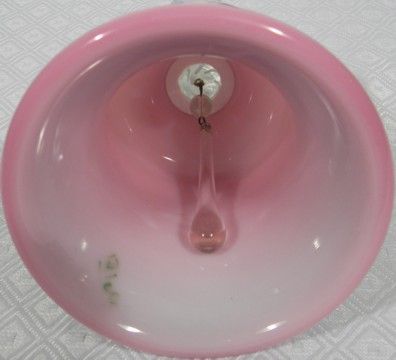 Pairpoint Aquamarine Art Glass Bell w/Enamel Decoration & Twist Handle – $153


Pairpoint Blue Opalescent Art Glass Bell Enamel Decoration Twist Handle – $149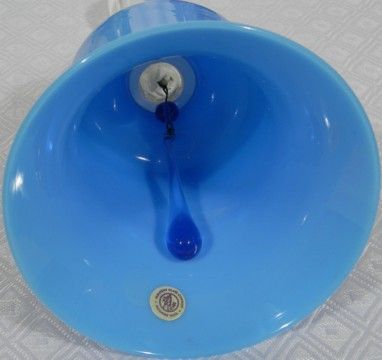 Pairpoint Amethyst Purple Art Glass Bell Enamel Decoration Twist Handle – $175
(Each of the eBay auctions ended five minutes apart. Perhaps these last two sold at higher prices because group was ending, some bidders had not yet gotten one, and were willing to offer higher bids to make sure they did get one?)


Pairpoint Cobalt Blue Art Glass Bell w/Enamel Decoration & Twist Handle – $189