Re: Re: So, what is this worth? (Part 19)
halanb
Participant
Sonnette alarme Napoléon III objets de bureau
Ancienne sonnette de bureau
pouvant servir d'alarme de porte
d'époque XIXème siècle
bon état – fonctionne
Poids : 365 g Longueur : 11,5 cm
Alarm bell, Napoleon III era (1850-70), office equipment
Antique office bell,
can serve as a door alarm
from the 19th Century
good condition – works
Weight: 365 g (~12 oz) Length: 11.5 cm (4.6 in)
This wind-up alarm is more intended for a hotel room, I think. The theory is that it should be placed at an angle so the sharp-pointed legs press into the floor and the sharp-pointed tongue presses against the door. The tongue will retract if the door is opened and the bell will ring. Pressing down on the tail will also activate the ring.
Many metal bell collectors have one, and they often sell these days in the $150-200 range. They are not often seen on US eBay, but they are listed fairly often on French eBay.
There are other devices also intended to detect intrusion. One such alarm clamps vertically to the door knob, and will ring if the knob is turned.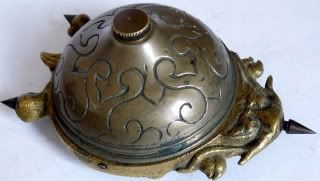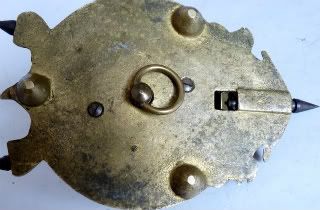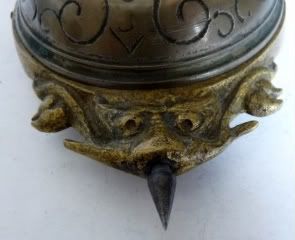 This one looks fine, and was listed at a reasonable opening price, yet failed to attract a bid.
http://cgi.ebay.com/ws/eBayISAPI.dll?ViewItem&item=150598959141&ssPageName=STRK:MEWAX:IT
=================================================================================================