Re: Re: So, what is this worth? (Part 186)
September 10, 2013 at 11:53 pm
#15354
halanb
Participant

=================================================================================================
186i – Hermes Paris Silber Bronze Tischglocke Glocke Pferde Figur
Wunderschöne Hermes Paris Silber Bronze Tischglocke.
Die versilberte Tischglocke mit versilberter Bronze-Figur
auf Glocke hat eine Höhe von ca. 8 cm.
Sie ist mit Hermes Paris gestempelt.
Hermes Paris Silver Bronze horse figure bell table bell
Beautiful Hermes Paris Silver Bronze table bell.
The silver plated table bell with silver plated bronze figure
on bell has a height of about 8 cm.
It is stamped with Hermes Paris.
First time I have seen a bell marked Hermes,
but of the quality expected for one of their products.
http://cgi.ebay.fr/ws/eBayISAPI.dll?ViewItem&item=350864248437&ssPageName=STRK:MEWAX:IT&_trksid=p3984.m1438.l2649#ht_3638wt_1118
=================================================================================================
186j – Antique Early-20thC Mounted Graduated Bell Bronze Musical Instrument & 2 Mallets
A set of 8, in tuned, Graduated Bells which are mounted to a 12 ½" by 19 ½" oval Oak backboard.
These bell-bronze Bells are each individually mounted on bronze arms and then hung with a piece of leather.
Only 4 out of the 8 bells are still hanging by the original leather, the others have been reattached with copper wire. Mounted in the center of this board are two 8 ¼" mallets which have clearly struck these
bells many, many times.
http://www.ebay.com/itm/130977901898?ssPageName=STRK:MEWAX:IT&_trksid=p3984.m1438.l2649#ht_14794wt_1046
=================================================================================================
186k – MAGNIFICENT & IMPRESSIVE KAYSERZINN ART NOUVEAU MAIDEN TABLE BELL
SUPREMELY ELEGANT & RARE SECESSIONIST ART NOUVEAU PEWTER TABLE BELL, PRODUCED DURING THE JUGENDSTIL DESIGN PERIOD OF THE EARLY 1900'S AND MADE BY THE WORLD FAMOUS KAYSERZINN FACTORY. IT HAS BEEN PROFESSIONALLY POLISHED TO A VERY HIGH STANDARD AND AS A RESULT THERE IS NO LOSS OF DEFINITION TO THE WONDERFUL FULL LENGTH ART NOUVEAU MAIDEN THAT FORMS THE BELL, HER SERENE FEATURES ARE CRISP AND CLEAR,RIGHT DOWN TO THE INDIVIDUAL RINGLETS UNDER HER PURITAN BONNET,EVEN THE LACES ON HER BODICE ARE IN EVIDENCE AS ARE HER LONG SLENDER FINGERS,THE BELL RETAINS ITS ORIGINAL BRASS CLAPPER AND HAS A LOVELY TONE,IT MEASURES 7″(17.5CM) TALL, FULLY MARKED UP INSIDE WITH THE KAYSERZINN MARK IN THE OVAL CARTOUCHE 4651 (DIFFICULT TO READ AS IT IS UP BEHIND THE CLAPPER) WITH NO DAMAGE OR REPAIR
Everything the seller says is true. Kayserzinn only made two table bells, this is the only figurine bell,
and the harder to find of the two. The bell has been polished and hard to photograph.
Price is reasonable, but high starting prices often scare away bidders.
http://www.ebay.com/itm/151105894737?ssPageName=STRK:MEWAX:IT&_trksid=p3984.m1438.l2649#ht_444wt_948
Kayserzinn, and most pewter of that period, had a significant lead content.
This lead will oxydize and turn a soft gray, and can even form scale like rust.
The pictures below show the bell as usually found – gray color but free of scale.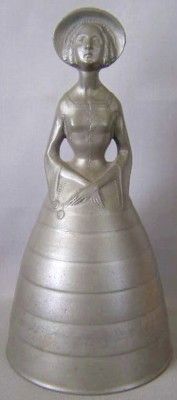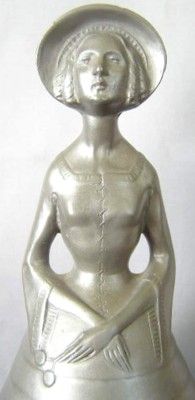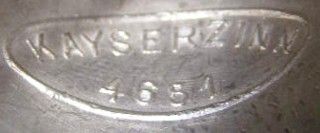 =================================================================================================
186l – Superb French Art Nouveau bronze Monastery bell Guimard Galle era RARE
Superb French made art nouveau bronze bell. Each part of this unique bell breathes Art Nouveau from teh wall mount bell holder and beel itself. Was in a monestery for years and used. Unfortunally not marked or signed. Reminds very much of the words of Hector Guimard.
Bell is made out of four sections each section shows an animal (bird) There is a pheasant family, a bat and frog, an eagle? and a rooster. A beautiful griffin on the mount and lots of art nouveau swirls. Bell in excellent condition with beautiful patine.
It measures 13 inch ( 30.5 cm) in length and 8 1/2 inch( 22 cm) deep
By far the best of these monastery bells that I have seen.
http://www.ebay.com/itm/231007038390?ssPageName=STRK:MEWAX:IT&_trksid=p3984.m1438.l2649#ht_5650wt_1026
=================================================================================================