Re: Re: So, what is this worth? (Part 185)
September 1, 2013 at 10:20 pm
#15351
halanb
Participant

185d – Art Deco 1930s Chase Chrome Bakelite Dinner Bell Vintage Machine Age Industrial
This listing is for Vintage 1930's Art Deco Period Chrome Dinner Bell by Chase.
Black Bakelite handle not tested. Machine Age, Industrial, Streamline.
The bell is signed on the interior Chase along with the Archer symbol.
The ring tone is magnificent. The basic measurements are 3 1/4" total height x 2" diameter.
Used vintage condition, typical age related scratches, roughness /dings on the rim & top edge of the handle.

Wikipedia: Founded in 1876, in Waterbury, Connecticut, it was one of the brass manufacturers that contributed to Waterbury's nickname "The Brass City".
Art Deco era – Chase entered the consumer market with a line of chrome Art Deco household items in the 1930s, created by leading designers of the day such as Russel Wright, Rockwell Kent and Walter VonNessen. They were usually signed with the distinctive company logo of a centaur drawing a bow. These items are sought after today as collectibles.
Chase discontinued this line in the early '40s, when it turned its attention to wartime production. Chase production of their 'Specialty' items lasted only 12 years, but during that time they issued over 500 items, and 500 more lamps and lighting fixtures.
Another of the Chase chrome-plated bells with bakelite handle. The same design may be found with different colors of the bakelite.
http://www.ebay.com/itm/111150152342?ssPageName=STRK:MEWAX:IT&_trksid=p3984.m1438.l2649#ht_223wt_948
=================================================================================================
185e – BRASS LADY BELL TABLE BELL UNUSUAL AND EXTREMELY HEAVY
LARGE UNUSUAL BRASS LADY BELL.
HER CLANGER IS MISSING FROM THE END BUT SHE HAS THE
METAL DANGLY BIT,THINK THE END BIT MUST OF SNAPPED OFF.
SHES REALLY UNUSUAL AND VERY HEAVY COMPARED TO OTHER BELLS.
WEARNG A BONNET AND CONTENTED LOOK.
Lady bell measures 5 and quarter inches high, weighs over 600 grams.
Another of the early Pearson Page bells, c. 1920, called "The Singing Girl" in the catalog.
http://www.ebay.com/itm/231040367760?ssPageName=STRK:MEWAX:IT&_trksid=p3984.m1438.l2649#ht_464wt_948
The same bell is occasionally seen with the left arm in a raised position.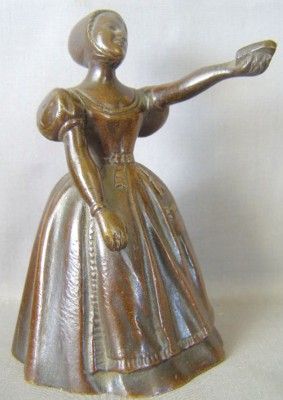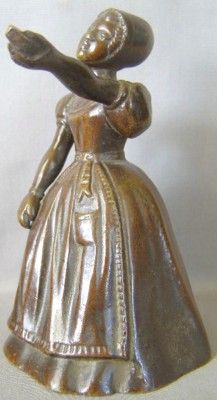 =================================================================================================
185e – Original Antique Dunlop 31 Dimple Golf Ball Bronze Bell c1915 Advertising
An Original Antique Dunlop 31 Dimple Golf Ball Bronze Bell c1915.
Advertising desktop bell for the launch of the Dunlop 31 dimple golf ball c1915.
I believe it was given to golf shops and clubs as an advertising gimmick to promote
and advertise Dunlop products. Rare original. Some surface corrosion and tarnishing.
Approx 3.5″ high.
Dunlop used the figure of a golf caddie in their advertising.
Lower left – Dunlop "blue dot" c. 1910; Upper right – Dunlop 31, c. 1920.
Dunlop 31 chrome car mascot which could be bolted thru the external radiator cap of early autos.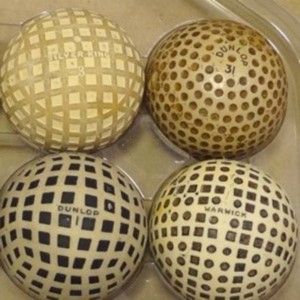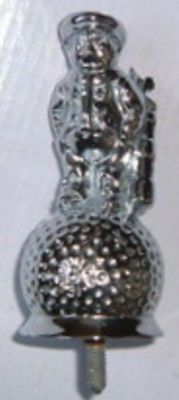 The original Dunlop 31 bells always sell at a premium, expecially when with such an attractive patina.
http://www.ebay.com/itm/370875332818?ssPageName=STRK:MEWAX:IT&_trksid=p3984.m1438.l2649#ht_91wt_948
=================================================================================================