Re: Re: So, what is this worth? (Part 183)
August 20, 2013 at 1:51 am
#15348
halanb
Participant

183d – Antique Brass Decorative Figural Bird Branch Flower Hand Bell
5 1/4 inches tall. Works. Light oxidation spots. One small chip to rim.
Otherwise no damage. No markings. Brass or bronze.
The top and flowers are brass. I wouldn't be surprised if the bell were steel.
http://www.ebay.com/itm/350851758022?ssPageName=STRK:MEWAX:IT&_trksid=p3984.m1438.l2649#ht_512wt_1301
=================================================================================================
183e – Antique Cast Iron & Brass Hotel Store Shop Desk Service Call Bell
Marked Pat'd 1863 and other dates. No damage. Works. Has some oxidation/rust spots.
I did not clean it. 7 1/4 inches tall. Figural.
Should clean up nicely. I would disassemble and polish the brass bell, tap, and finial. Take care not to stress the cast iron parts, as old cast iron can break easily. I would use a wire wheel to remove rust on the cast iron parts, achieve a uniform tone on all pieces, finish with oil, stove polish, or paint.
http://www.ebay.com/itm/350851760835?ssPageName=STRK:MEWAX:IT&_trksid=p3984.m1438.l2649#ht_512wt_1301
=================================================================================================
183f – Vintage Glass & Brass Hotel Desk Bell, Counter Bell, Sick Room Bell
Here is a very pretty bell; looks like it might be for a lady's room. It is made of brass and glass and is quite ornate. The off white glass needs to be cleaned, but I will leave that to the buyer. The flowers that were painted on the glass have worn off, probably from someone cleaning it too much. The flowers could be repainted if you are talented with that kind of thing. The bell sits on four very pretty feet and the bell part is on the bottom. The glass has been broken and repaired. There is one small chip out of the glass where the brass meets it. You can hardly see it unless you are looking for it. There is a long crack from the "dinger" to the edge of the glass. That is the part that has been repaired. This bell is a bit unusual in that you twist the very top part just a bit, and the bell makes a very melodic sound. It does not make any sound at all if you tap on it. You have to twist it. This bell is absolutely charming, and that is why I think it was for a lady's room.
Measurements: 3-1/2 inches tall, 4 inches across the base at the feet.
The seller did not mention it, probably did not know, but this is a Wavecrest bell, not all of which
are marked. Even with the crack, it probably would have sold at a higher price if so listed.
wavecrestcollectorsclub.org: In 1880 Charles Fabyan Monroe started his own business in Meriden, Connecticut selling imported glass and soon his first shop was enlarged to become a decorating studio and showroom. By 1886 the studio evolved into the C.F. Monroe Company. The company became renowned for its elegant and finely decorated Victorian opal glass known as "Wave Crest" – a name which has virtually become a synonym for the Monroe Company itself. As business increased, the company was formally incorporated in 1892. However, the Art Nouveau era was ending and times were changing. By 1916 the company closed its doors and the corporation was officially dissolved the next year.
Other Wavecrest bells. (Note the finial on the first is upside down.)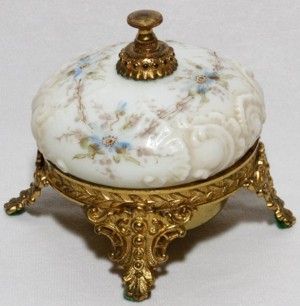 http://www.ebay.com/itm/200951610313?ssPageName=STRK:MEWAX:IT&_trksid=p3984.m1438.l2649#ht_945wt_948
=================================================================================================