Re: Re: So, what is this worth? (Part 171)
June 6, 2013 at 6:15 pm
#15324
halanb
Participant

171a – Vintage Dated 1905 Gorham Silver Bell #A21
Item is in vg cond, approx size:4 inches hight by two inches wide,
has monogram of intials on one side and the date 9/17/1905 on other.
Looks like a typical Gorham silver-plated tea bell of the type made from roughly 1880 – 1930.
It is not one of the silver-plate models pictured in the Gorham catalog page, as shown by Springer
If marked "A21", that does not follow the typical practice of using three digits, e.g. "041".
There were also sterling tea bells, but the ones I have seen are clearly marked STERLING,
and also have a three digit number. No interior photos are shown for the bell now listed.
From Springer.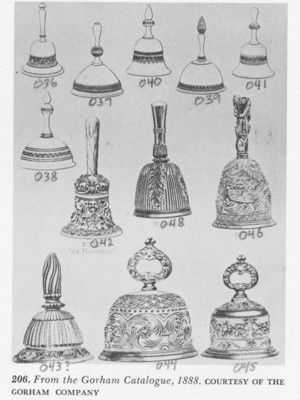 Typical price for one of the Gorham silver-plated tea bells.
http://www.ebay.com/itm/121115130566?ssPageName=STRK:MEWAX:IT&_trksid=p3984.m1438.l2649#ht_95wt_948
=================================================================================================
171b – Antique BOJ Turtle Brass Hotel Bell Damascene Wind Up Works
Beautiful turtle bell is meant to sit at front desk of hotel. When head or tail is pressed, the bell sounds.
There is a wind up lever on underside. It is very ornate as you can tell by the photos.
He is marked on the bottom with BOJ pat no# 19536 and 30366.
It is 5 1/2 inches long from head to tail.
Not accurate to call this an antique, but it is one of the earlier style, and is said to be 5.5″ long.
There seem to have been two variations of head design.
The earlier, like this bell, is what I would call a Pointed Head (PH), and the later a Flat Head (FH).
Within each design, there seem to have been two lengths, though there may be other variations with which I am not familiar. These were also copied by other makers, and that may add to the confusion.
From what I can tell, and not specifically collecting these bells:
… PH Standard – 4.75″ and PH Large – 5.5″
… FH Standard – 6″ ….and FH Small – 5″.
This bell would therefore by classed as a PH Large.
Comparison of FH and PH, plus a German turtle bell.
Note the German bell is more like the BOJ PH.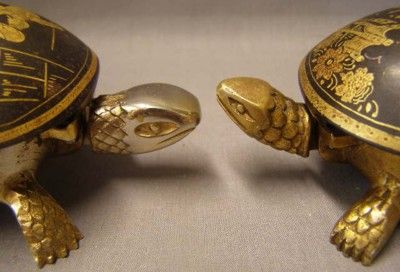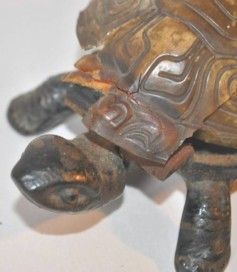 http://www.ebay.com/itm/130919197266?ssPageName=STRK:MEWAX:IT&_trksid=p3984.m1438.l2649#ht_121wt_948
=================================================================================================
171c – VINTAGE CAST IRON TORTOISE FORM COUNTER BELL – PRESS THE HEAD TO RING
A TORTOISE FORM COUNTER BELL WHICH DOES HAVE DAMAGE TO THE FAUX SHELL ON ITS BACK.
WIND THE KEY AND PRESS EITHER THE HEAD OR TAIL TO RING THE BELL.
This is the bell shown in the last picture above.
Wikipedia: Tortoises (Testudinidae) are a family of land-dwelling reptiles in the order Testudines. Like their marine relatives, the sea turtles, tortoises are shielded from predators by a shell. The top part of the shell is the carapace, the underside is the plastron, and the two are connected by the bridge. The tortoise endoskeleton has the adaptation of having an external shell fused to the ribcage. Tortoises can vary in size from a few centimeters to two meters. They are usually diurnal animals with tendencies to be crepuscular depending on the ambient temperatures. They are generally reclusive animals.
The usual German bell has a cast iron shell, but is occasionally found with a celluloid shell, as shown here.
Many of the celluloid shells have suffered considerable damage over the years, though a few may be found in perfect condition. The celluloid is susceptible to UV damage and will also react to certain chemicals such as ammonia. Sometimes the original components were incorrectly mixed and there could be internal chemical reaction and breakdown over the years.
http://www.ebay.com/itm/200925225343?ssPageName=STRK:MEWAX:IT&_trksid=p3984.m1438.l2649#ht_6711wt_986