Re: Re: So, what is this worth? (Part 170)
May 28, 2013 at 4:30 pm
#15322
halanb
Participant

170a – TISCHGLOCKE, Messing, Glocke,Klingel,Dame,Handglocke
ALTE TISCHGLOCKE / GLOCKE / KLINGEL / LADYBELL in Form eine Dame
Sehr elegantes Kleid
Evtl. Biedermeier, Historismus
Schöne Patina, Guter Zustand
Höhe ca 13 cm, Massiv gearbeitet, Wiegt ca 0,5 Kg
OLD TABLE BELL, BRASS, HAND BELL, LADY BELL in the form of a lady
Very elegant dress
Possibly Biedermeier, Historical
Beautiful patina, good condition
Height about 13 cm (5.2 in), solid workmanship, weighs approx 0.5 Kg
Another of the so-called "Becky Sharp" lady bells.
Made in Germany, actually has nothing to do with the character from the "Vanity Fair" novel.
This is one of the more common sand cast versions, good but not great details.
These show comparison of lost wax (left) and sand cast (right).
Lost wax has continuous pattern around skirt. Sand cast has vertical swath.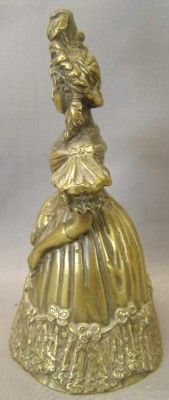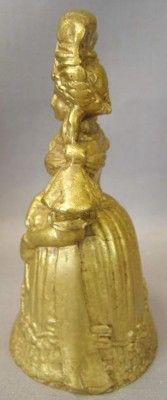 Lost wax has better details on top of sleeve and through hair.
Sand cast has no detail on top of sleeve and flat area through hair (parting line of mold).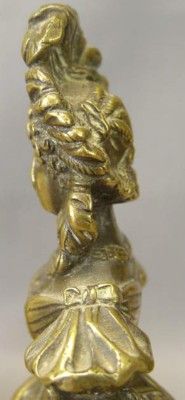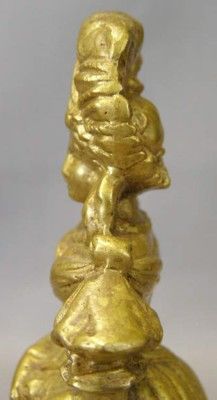 Good price for a decent example of this type.
http://www.ebay.com/itm/290918239787?ssPageName=STRK:MEWAX:IT&_trksid=p3984.m1438.l2649#ht_983wt_948
=================================================================================================
170b – VICTORIAN WHITE METAL/BRASS PRESENTATION HAND BELL, WITH LOZENGE MARK FOR 1876.
MEASURING 7″5/8 HIGH , WITH THE BELL BEING WITH A FINE CAST TAPERING LINE DESIGN…WITH A FLORAL RAISED RIM…BRASS COLLAR, HOLDING THE WELL TURNED LIGNUM VITAE HANDLE……ONE SIDE BEING FLAT WERE THEY WAS PROBABLY A SILVER INSCRIBED PRESENTATION PLAQUE AT ONE TIME…..THE BELL STILL RETAINS ITS ORIGINAL BRASS CLAPER……ON THE INSIDE OF THE RIMS BELL IS THE LOZENGE MARK, THAT TELLS WHEN THE BELL WAS MADE…..ON THE 16th DAY OF AUGUST 1876…..THE BELL MEASURES 3″1/4 IN DIAMETER…..AN INTERESTING ORIGINAL VICTORIAN BELL, IN VERY GOOD CONDITION….FREE FROM ANY REPAIR.
More interest than I anticipated for this bell.
Attractive design and certifiably almost 140 years old.
http://www.ebay.com/itm/161019350098?ssPageName=STRK:MEWAX:IT&_trksid=p3984.m1438.l2649#ht_744wt_948
=================================================================================================
170c – VERY FINE ANTIQUE ENGLISH SILVER SP BRONZE TABLE BELL IN RENAISSANCE TASTE
Wonderful antique, late 19th / early 20th century, English hallmarked silver plated bronze table bell with allover relief decoration & cherub figural handle in the renaissance / baroque taste. has original clapper. approx 5 1/8″ tall. CONDITION: overall good, no apparent damage or repairs observed unless as described above, wear as expected with age & use.
Same base, supposedly a Cellini design, as used on the Gorham "Old Florentine" bell.
See Bell Tower, Nov-Dec 2010 for more details.
This cherub handle is less often seen than the Gorham version, yet details are generally not quite as good.
I don't see much wear to the bell, about like new.
Silver plating tends to smooth out some of the details that could be apparent in the bronze versions.
This design is also found in brass, sometimes smaller, often even less detail, and some rather nasty.
This example is about as good as will be found on this version of the bell.
Gorham "Old Florentine" from Part 161d.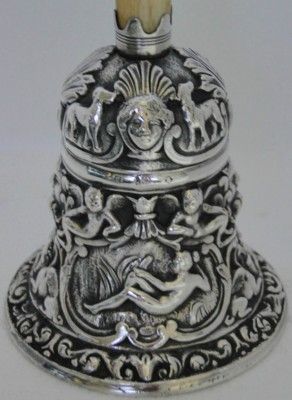 http://cgi.ebay.com/ws/eBayISAPI.dll?ViewItem&item=121074608807
=================================================================================================